Grid Studio Repurposes Discarded Electronics into Beautiful Art Pieces
An art studio is framing classic electronic products such as the iPhone 2G and the Blackberry 9000 to give them new life instead of adding to the growing problem of e-waste.
Grid Studio collects thousands of devices so it can deconstruct an item piece by piece, then lay out each individual part. The components are then labeled and framed to create a modern twist on an art piece.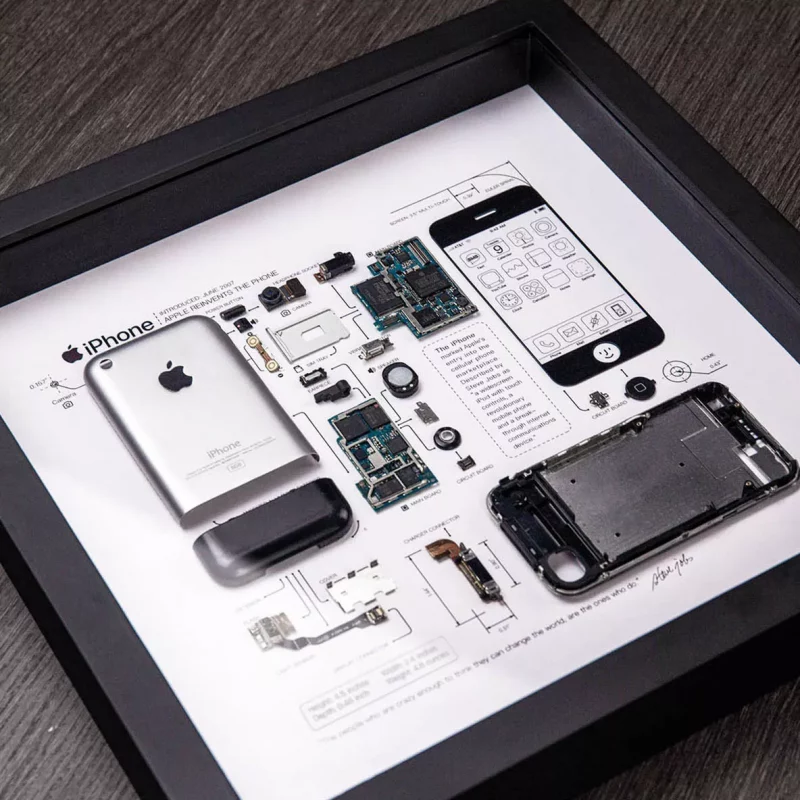 Marketing Developer Ben Tse spoke to PetaPixel to explain how Grid Studio has collected over 10,000 discarded cell phones as they hunt for classic modern technology pieces that also include gaming consoles, smartwatches, and processor chips.
"Our production process starts with collecting and disassembling the equipment. After we ultrasonically clean the parts, and after making sure the parts are clean, we stick the parts on the drawing. After which it will sit for three eto five days to make sure the glue dries out, and finally put into the frame for packing," explains Tse.
Grid Studio, which is based in Shenzhen, China, says it spends a lot of time ensuring customers receive the perfect products. Each item will typically take one week to build, and the company collects all of the devices from repairers and retro collectors.
The team has taken apart camera phones including the Nokia E71, Blackberry 9000, Samsung Galaxy 1, and Google Pixel 1. They've taken apart many past iPhone models as well, including the very first ones unveiled by Steve Jobs in January, 2007.
The iPhone 1, also known as the iPhone 2G, is a very rare find according to Tse, despite Apple selling over six million units.
"The iPhone 2G is a very rare resource in the market right now, and most of them are in pretty bad condition. Therefore, we must spend more time and energy to find iPhone 2G in a good condition and clean it up as well," explains the 35-year-old.
Environment and Technology
The six-person team at Grid is proud of their green credentials and are offering customers discounts on Earth Day in addition to donating 10 percent of sales to charity. Tser believes that the company fits into the "circular economy" in the tech world, as they recycle and save resources.
"We recycle old discarded equipment and turn them into a beautiful and extraordinary artwork, and also avoids the serious pollution of waste electronic products to the environment," explains Tse.
The collection of available art pieces can be found on Grid Studio's website and more examples of the company's work can be found on Instagram.