Photographer Builds Giant Camera and Darkroom Bus
Photographer Bill Hao from Vancouver, Canada, spent two years building a huge oakwood camera. It shoots gigantic wet plate collodion photos measuring 32×48 inches.

The collodion wet plate process has one very critical requirement: the photographer must be able to coat, expose and develop the plate while wet within 15 minutes. This would be fine for shooting in a studio with an attached darkroom for quickly developing, but Hao had other ideas. He wanted to take the camera out to his favorite spots in the Canadian Rocky Mountains and shoot landscapes.
The instant processing requirement led to a traveling darkroom, which also had to be huge. Hao built one out of a Prevost bus/RV.
The Wet Plate Collodion Photography Process
The wet plate collodion photographic process was invented by Frederick Scott Archer in 1851 in England as he was dissatisfied with the poor definition and contrast of the calotype, invented by William Henry Fox Talbot, which used paper negatives.
By the end of the 1860s, wet plate collodion had almost entirely replaced the first-announced photographic process, the daguerreotype. It was relatively inexpensive, using glass instead of silver-coated copper plates, and did not require polishing equipment or the highly toxic fuming boxes needed for the daguerreotype.
Gelatin dry plates—glass plates with a photographic emulsion of silver halides suspended in gelatin started replacing wet plate collodion in the 1880s. This was more convenient and more sensitive, which helped reduce exposure times. George Eastman developed a machine to coat glass plates in 1879 and opened the Eastman Film and Dry Plate Company, reducing the cost of photography.
Every year the first Saturday in May can be booked as World Wet Plate Day. This, however, is not anything official but seems to be a call for reenactment from lovers of old photo techniques from tintypes to ambrotypes.
"I'm not saying that the old process is better than digital," Hao tells PetaPixel. "Of course, today's digital technology is simple, fast, and great. But for me, the image capture techniques of the old days, especially the wet collodion process, offer better quality, more tone, more detail, and a larger format.
"An image made with the old process looks more realistic…and can be preserved for longer. More importantly, I like it."
Making a Large Camera That is Portable
Hao operates the camera single-handedly and needed something he could maneuver himself without it being too heavy to assemble and disassemble.
"The camera is made from oak wood, black fabric, and a little metal," explains Hao. "I made this camera between 2019 and 2021."
The plan and design changed many times during that period. Parts even had to be built and rebuilt by trial and error till they functioned properly. Making the bellows was a significant problem. It ended up being either too soft or too heavy and had to be built twice before it was operational.
Every beginner photographer remembers his mentor's advice that the tripod must be stable to get a sharp picture. But here, the artist from British Columbia had to use not just one heavy-duty sturdy tripod but three of them to support the weight and large dimensions of the camera.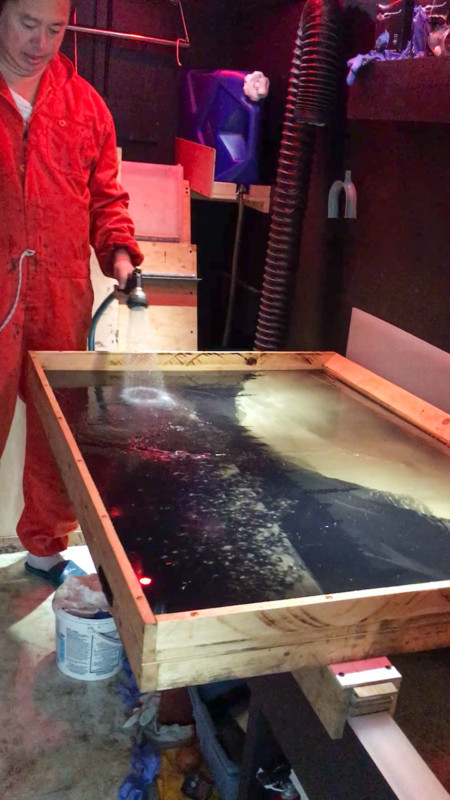 The Size of the Gigantic Camera
The camera stands at 52x37x70 inches when fully open. And when closed, it shrinks to 52x37x8 inches. The camera's weight is 110lb (50kg), which is without the lens and film holder, which is 44lb (20kg). And the three tripods come in at 22lb (10kg) each.
The glass plates are 3mm thick and made of half-tempered glass. And a photographer typically wants to carry at least two dozen glass plates while traveling.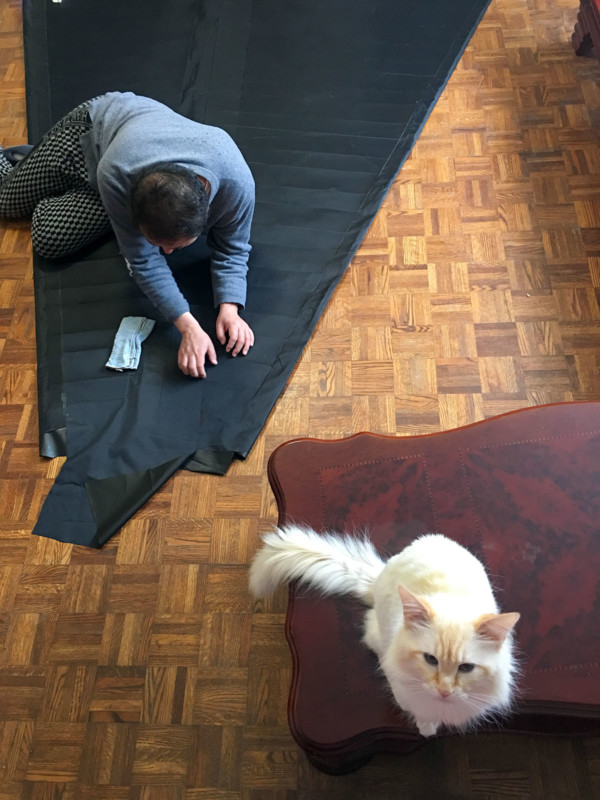 With a plate size of 32×48 inches, the lens also has to have a humongous rear circle of projection. His lens choices include Carl Zeiss Tessar and Goerz Dagor. The largest lens he has is a 1200mm, where the image circle is 1890mm (74in). Other lenses include a 900mm with an image circle of 1418mm (56in) and a 600mm with an image circle of 945mm (37in).
The lens is at the photographer's eye level and would be providing a view of the world as he sees it standing up. The "extra-large format" photographer does shift and tilt but only "sometimes."
Challenges of Shooting Landscapes with the Camera
Assembling the camera from location to location is tiring, and heavy equipment must be moved around.
"The wet plate process is very dependent on weather, sunlight, and temperature," says Hao.
He can only pack a limited supply of chemicals for his mobile darkroom and must carefully manage them during travels. Plus, he must keep upgrading his equipment, technique, and processes to keep improving his results. He relies on his own experiments as there is no available reference for creating images at this size and scale.
"[Capturing] clouds is very difficult because blue sky and clouds look the same on the plate," says Hao.
But he still wants to get the clouds to register, and most wet plate photographers have not had success with it until recent times. Another difficulty he has is that the image develops rather rapidly.
"I can coat a smaller plate within one minute, but I need 3-5 minutes to coat a big plate," says the collodion photographer. "Exposure time varies depending on the weather, time, and light. The [plate] development time is almost 20 seconds; it is so fast and difficult to control!"
In one of the videos, we see Hao hurrying to the bus-darkroom with the heavy plate holder to develop it promptly before the emulsion starts to dry out. In a previous instance, he ran into an argument with local police when he was shooting a cruise ship which resulted in the emulsion drying out and the latent image was unsalvageable.
Getting into Photography and Going Larger
Hao got hooked on photography at 16 in middle school when he developed his own film in the darkroom. As his passion for photography grew, he used and experimented with 35mm, 66 and 67 (medium format), 4×5, and finally 8×10 view cameras.
In 2015 he got into wet plate collodion. He made an 11×11″ camera and built a darkroom in a Dodge Caravan for wet plate processing. He used Zeiss Protar and Goerz Dagor lenses.
As time passed, he was consumed by a desire to make larger images. And with collodion, the only way is to expose a larger glass plate in an even larger camera. This led to the current 32×48″ plate camera in 2019 and a "big bus darkroom."
"I bought this bus [in 2007] not for my photography but for my tour company use. Right now, I have converted it to a motor home with a darkroom."
The Negative is the Positive
The glass plate that comes out of the camera is the final artwork. It is too big to scan, so he does photograph it but is never fully satisfied due to the reflectivity of the glass.
"Please see the original plate, if possible!" he advises viewers who wish to see the work.
Hao has made special boxes where he stores the glass plates, and that is his archive – all one-of-a-kind images, impossible to repeat or duplicate.
"This glass is [the] final result already," he clarifies. "You can just put it on a black background and then see a positive picture.
"I think I am doing the Ambrotype process because I make positive photographs on glass by the wet plate collodion process, so I think I am."
The only portraits he has ever shot with his giant camera are of his wife.
"She is my best assistant and provides the background music in my videos," Hao says. "She loves music. I support her and she supports me."
Hao is not a professional photographer and has not made any money so far from his passion. He owns and operates an international tour company.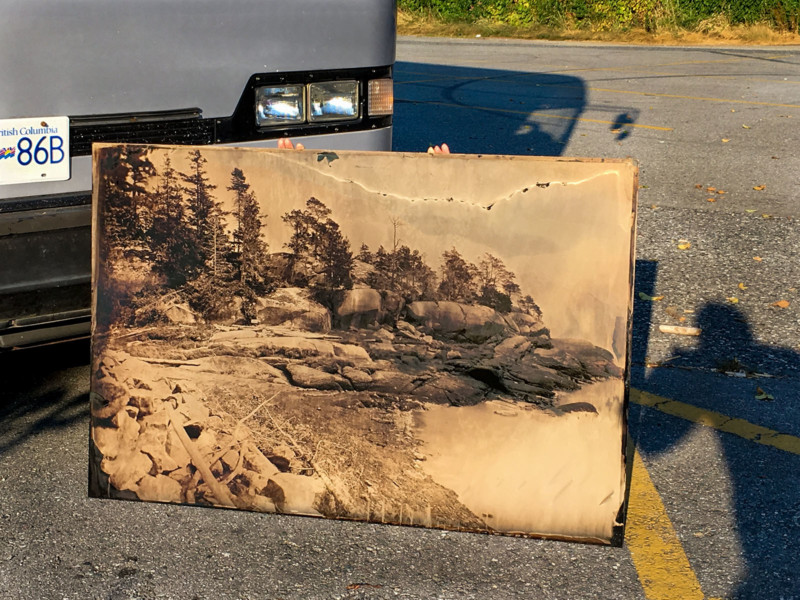 "I have taken over one hundred ambrotype glass plate pictures with my 11X11″ 'smaller' camera," says Hao. "I have got only 15 big plates [32×48″] until now. I shot them on the last trip in September. I will go to the Rocky Mountains in the next two weeks and make more plates… Anyway, now I travel just for photography."
Read also: This Was the World's Largest Camera Back in 1900.
"Everybody thinks I am crazy! But they also envy my life just because I can do whatever I want," Hao proudly says.
You can see more of Bill Hao's work on his Instagram, Facebook, and YouTube channel.
---
About the author: Phil Mistry is a photographer and teacher based in Atlanta, GA. He started one of the first digital camera classes in New York City at The International Center of Photography in the 90s. He was the director and teacher for Sony/Popular Photography magazine's Digital Days Workshops. You can reach him here.
---
Image credits: All photos supplied by Bill Hao.