Photographer Captures Motocross Riders on a Wet Plate Camera
Photographer Matt Alberts used an antiquated wet plate tintype camera to cover the modern world of freeride motocross.
Alberts, who has been shooting portraits of extreme sports athletes on wet plate for the Lifers Project, attended the Red Bull Imagination event that took place in Kansas last weekend.
Alberts' extremely detailed, personal portraits show the daredevils taking a break from launching motorbikes into 56-meter jumps as they sit patiently for the anachronistic camera.
Alberts tells PetaPixel about the difficultues of using an 11×14 Chamonix view camera on location.
"It can be [very challenging], depending on the weather and elements. Red Bull Imagination was particularly challenging due to the lack of shade on course and all the dust in the air," he says.
Wet plate cameras have to be developed near instantaneously meaning that Alberts has to bring a portable dark box to process the plates while in the field.
"It was surreal to have my tintype darkroom parked right on the course and in the middle of all the action," he says.
Alberts' Lifers Project was inspired after learning about the wet plate process from Quinn Jacobson in Denver and making a triptych portrait of his skateboarder friend Chet Childress.
"I use the wet plate collodion process because of its archive ability and sensitivity to UV light," he explains.
"Collodion sees layers beneath the skin. The LIFERS Project has been about documenting people who have dedicated their lives to their passions, and using the wet plate collodion process allows me to capture the most authentic version of the subjects."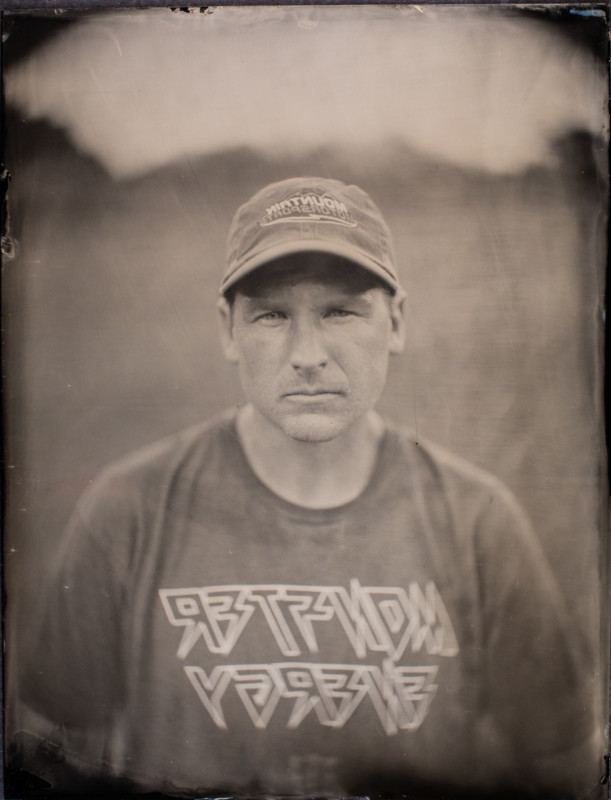 The Red Bull Imagination event tasks place on the largest freeride course in the world where ten of the world's top riders got together and pushed the boundaries of what is possible on a motorbike.
Tyler Bereman hit a 56-meter (184-foot) jump reaching 21-meters (70 feet) in the air — soaring in the sky for an eternity of six seconds.
Last year, PetaPixel featured photographer Chris Tedesco who received exclusive access to shoot the freeride event. Not using a wet plate camera, Tedesco captured more action than portraits, showing the very different results photographers will achieve from the same event.
---
Image credits: All photos by Matt Alberts.