The DJI Mini 3 Pro is a Fully Featured Sub-249g, 48MP, 4K Camera Drone
DJI says its Mini 3 Pro is out to redefine what a sub-249 gram drone can do. It is equipped with some of the company's best aerial features along with a 1/1.3-inch sensor that captures 48-megapixel photos and 4K video at up to 60 frames per second.
Because the DJI Mini 3 Pro weighs less than 249 grams, it is policy-friendly to use in many regions and countries. That means operators will not have to register it, though they still will be required to adhere to local drone flight laws. Most drones of this small size are also light on features, but DJI set out to change that with the Mini 3.
This new drone delivers many of DJI's more advanced drone features despite the small size, including 48-megapixel photos, 4K video at up to 60 frames per second (FPS), Active Track, tri-directional obstacle sensing, and 90-degree gimbal rotation that can shoot in a vertical orientation, and a battery that can maintain flight for up to 34 minutes.
"Mini 3 Pro was made with more built-in features than any other DJI drone its size, thanks to enhanced flight performance, camera system, battery life, and intelligent features that were previously only available in the Air and Mavic series," DJI says.
48-Megapixel, 4K camera
DJI equipped the Mini 3 with a camera that it says creates "pro-quality" content. It uses a 1/1.3-inch CMOS sensor with dual native ISO, a feature the company points out is generally only available on cinema cameras and a few dedicated mirrorless cameras.
That sensor, which captures up to 48-megapixel photos, is set behind a lens with an aperture of f/1.7 which allows it to shoot in lower light conditions than other cameras before it has to rely on increasing ISO and, therefore, noise. On that note, DJI says that it improved image performance with 2.4μm pixels that capture more image detail, which is especially helpful in low lighting and night.
The camera rotates 90-degrees which allows pilots to orient the camera to shoot photos and videos in the portrait orientation without needing to zoom, crop, or create a multi-image stitch. If zoom is desired, the Mini 3 can digitally zoom 2x in 4K, 3x in 2.7K, and 4x in Full HD.
The camera also supports HDR video recording at up to 30 FPS. Additionally, pilots can choose to shoot in the camera's Natural color setting or in DJI D-Cinelike format, though the company doesn't say that log profiles will be available in the Mini 3.
The photos below were captured with the DJI Mini 3 Pro: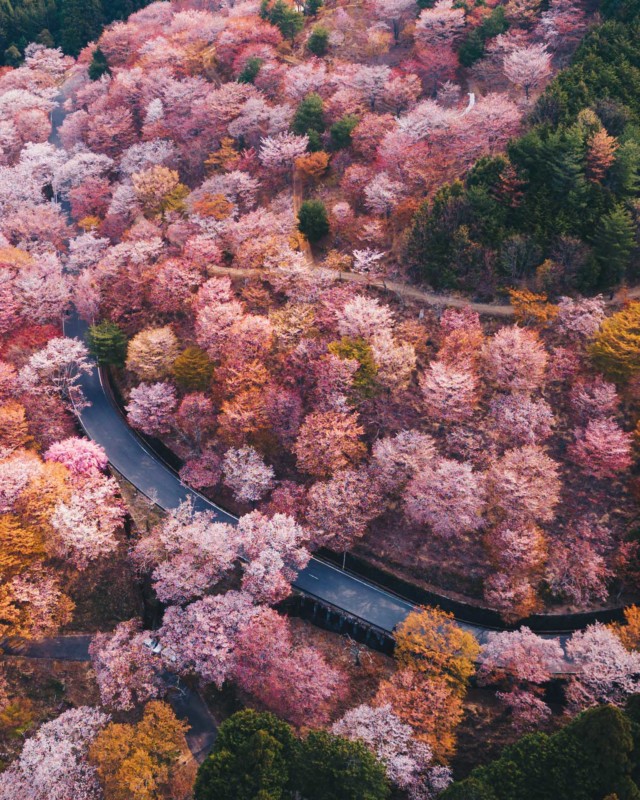 Obstacle Avoidance and Extended Battery Life
The DJI Mini 3 uses the company's Tri-Directional Obstacle Sensing, which consists of forward, backward, and downward visual sensors. These sensors also enable Advanced Pilot Assistance Systems (APAS) 4.0, which automatically detects and finds a safer path around obstacles during flight.
In addition, these sensors also enable the entire FocusTrack suite of software options, which allows users to select a subject that the drone automatically keeps within the center of the frame during flight while automatically planning a safe flight route. The DJI Mini 3 Pro is the first of the Mini lineup to integrate APAS and FocusTrack.
The battery life of the Mini 3 Pro extends up to 34 minutes despite its diminutive size. For those who need longer flight times, DJI is also offering an extended flight battery option that boosts that flight time to 47 minutes, but increases the weight of the drone beyond 249 grams and, as a result, won't be available in all countries or regions.
A New Controller
DJI is also launching the new DJI RC controller along with the Mini 3 Pro. This new controller is small and light but also features a built-in 5.5-inch touchscreen that comes with the DJI Fly app already installed. This controller is self contained and does not require the use of a pilot's smartphone.
Pricing and Availability
The DJI Mini 3 Pro will be available for $669 without a controller and is the most affordable option for those who already have a compatible model to control the drone. To receive a DJI RC-N1 controller with the drone will cost $759. The DJI Mini 3 Pro can be paired with the new DJI RC controller for $909.
---
Image credits: DJI