DJI Mini 4 Pro is a Sub-249g 48MP 4K Camera Drone that is Easier to Fly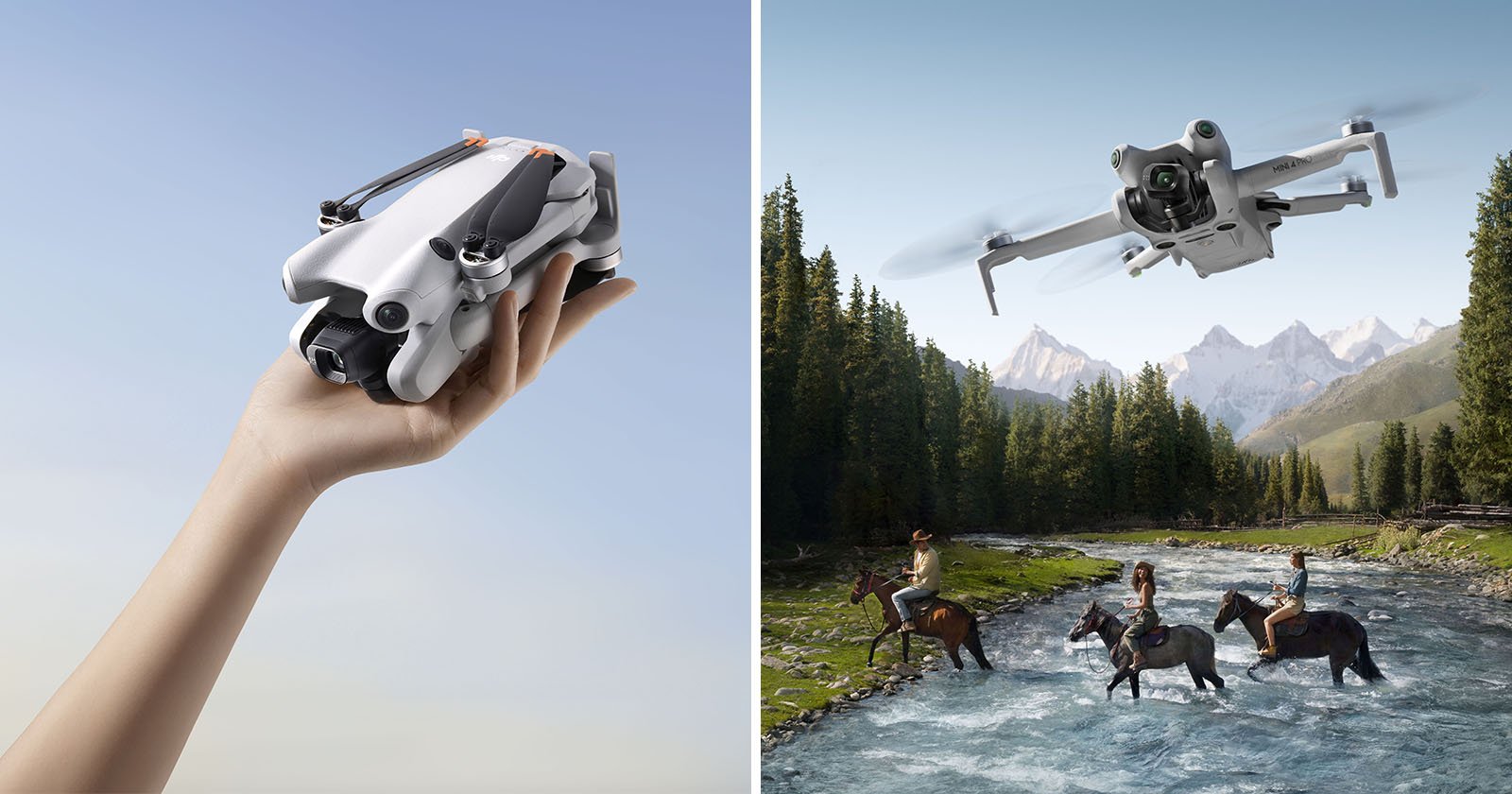 DJI has announced the DJI Mini 4 Pro, what the prominent drone-maker calls its "ultimate mini camera drone." Designed to be the perfect companion for adventurers and outdoor enthusiasts, the Mini 4 Pro incorporates sophisticated omnidirectional obstacle sensing and DJI's O4 video transmission technology.
"The Mini 4 Pro perfectly marries professional-grade capabilities while keeping its hallmark lightweight design, offering unmatched freedom and adaptability," says Ferdinand Wolf, Creative Director at DJI. "This drone emerges as the ultimate all-rounder, designed to elevate your creative toolkit."
48-megapixel Image Sensor Delivers RAW Photos and 4K/60p HDR Video
At the heart of the Mini 4 Pro is a 48-megapixel Type 1/1.3-inch CMOS image sensor and a new image-processing platform. Like many cinema-oriented camera systems, the Mini 4 Pro includes dual native ISO. Paired with the nearly 50-megapixel sensor is a 24mm-equivalent f/1.7 lens with an 82.1° field of view. The sensor itself is unchanged compared to the DJI Mini 3 Pro.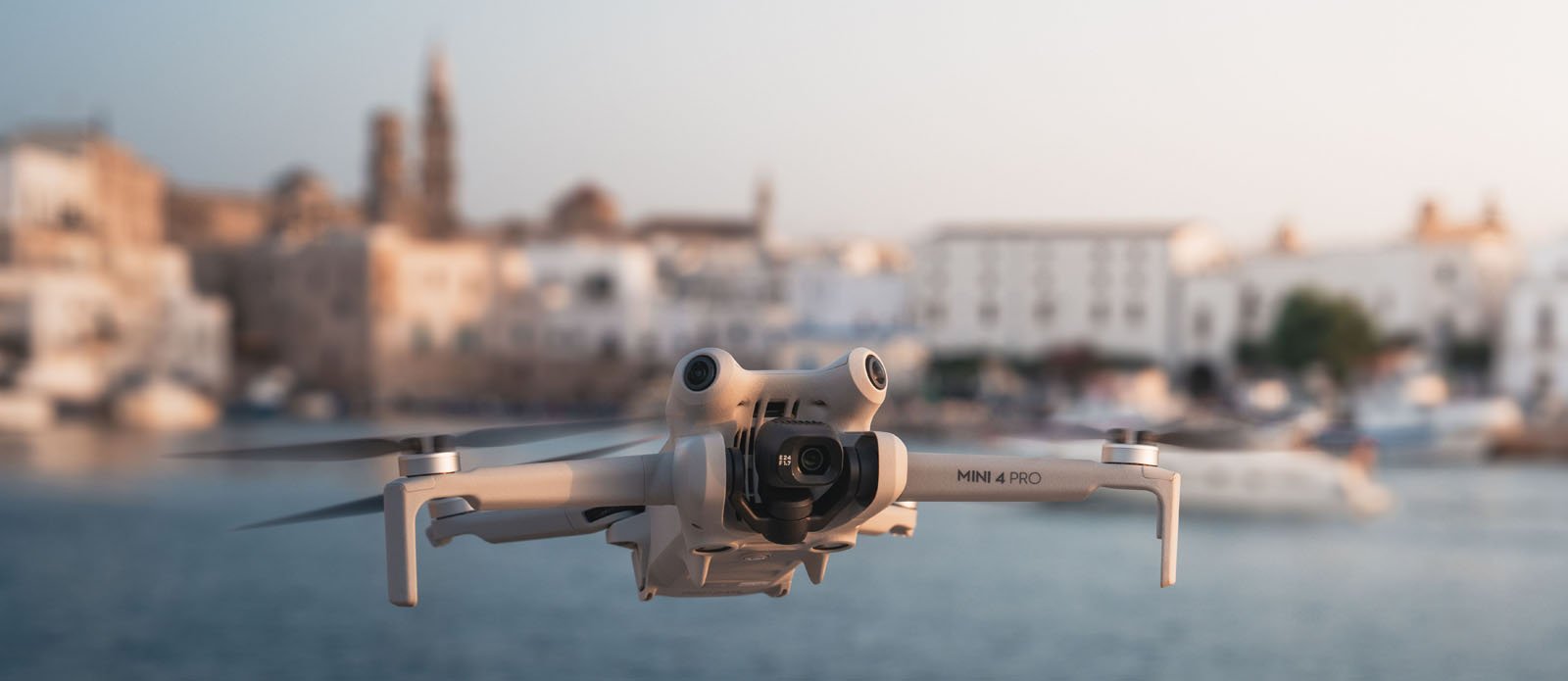 Alongside 48-megapixel still images, the new drone shoots 4K/60p HDR video and record slow-motion 4K footage at up to 100 frames per second. Video recording also benefits from an enhanced noise reduction algorithm in Night Shots mode. The drone also includes True Vertical Shooting, a special mode optimized for social media and smartphone video.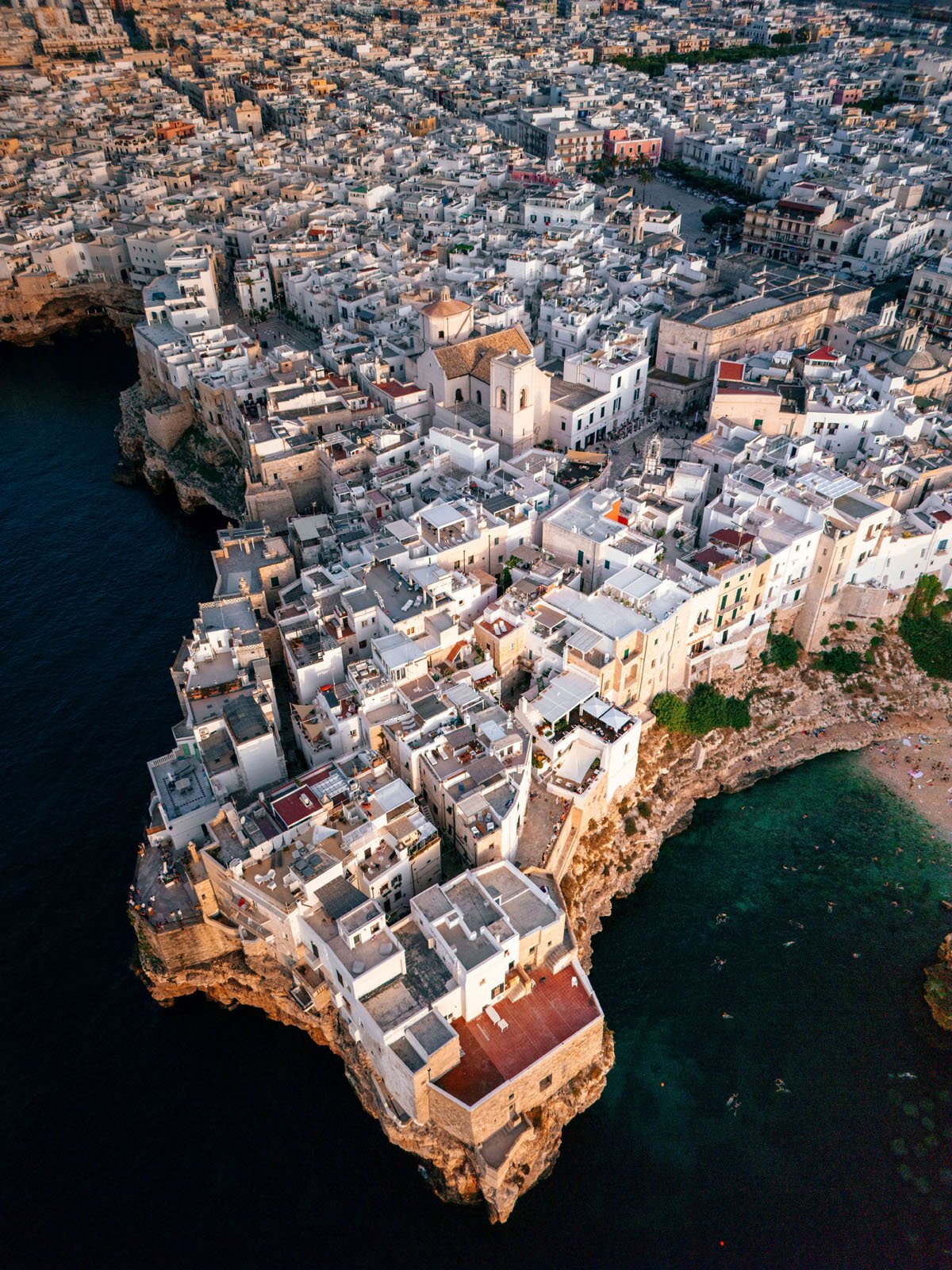 The drone also captures 10-bit D-Log M video, which DJI promises ensures "natural colors" and "true-to-life" brightness. The HDR video modes are joined by SmartPhoto technology for still images. Alongside RAW image capture, SmartPhoto mode utilizes HDR imaging, scene recognition, and more to capture pictures that promise to look good straight from the camera.
Weighing Under 250 Grams, Mini 4 Pro Doesn't Require Registration in the U.S.
Like its predecessor, the Mini 4 Pro weighs just 249 grams (8.8 ounces). Aside from being easy to carry, the lightweight design of the drone also ensures that it can be legally flown in many countries and regions. For example, the 249g weight is vital because drones under 250g do not need to be registered with the Federal Aviation Administration (FAA) in the United States.
Improved Obstacle Avoidance
Flying without worry is a large part of DJI's goal with its Mini 4 Pro drone. The new compact drone sports enhanced safety features, including robust omnidirectional obstacle sensing, improved from its predecessor's tri-directional sensing. The latest drone detects obstructions from all directions using multiple wide-angle and downward vision sensors. It also includes an Advanced Pilot Assistance System (APAS), enabling automatic braking and obstacle bypass.
As for flight time, without extra accessories, the Mini 4 Pro can fly for up to 34 minutes. This can be further extended with the Intelligent Battery Plus, which increases flight time to about 45 minutes — two minutes shorter than its predecessor using the same battery. This optional battery is not sold in Europe, by the way.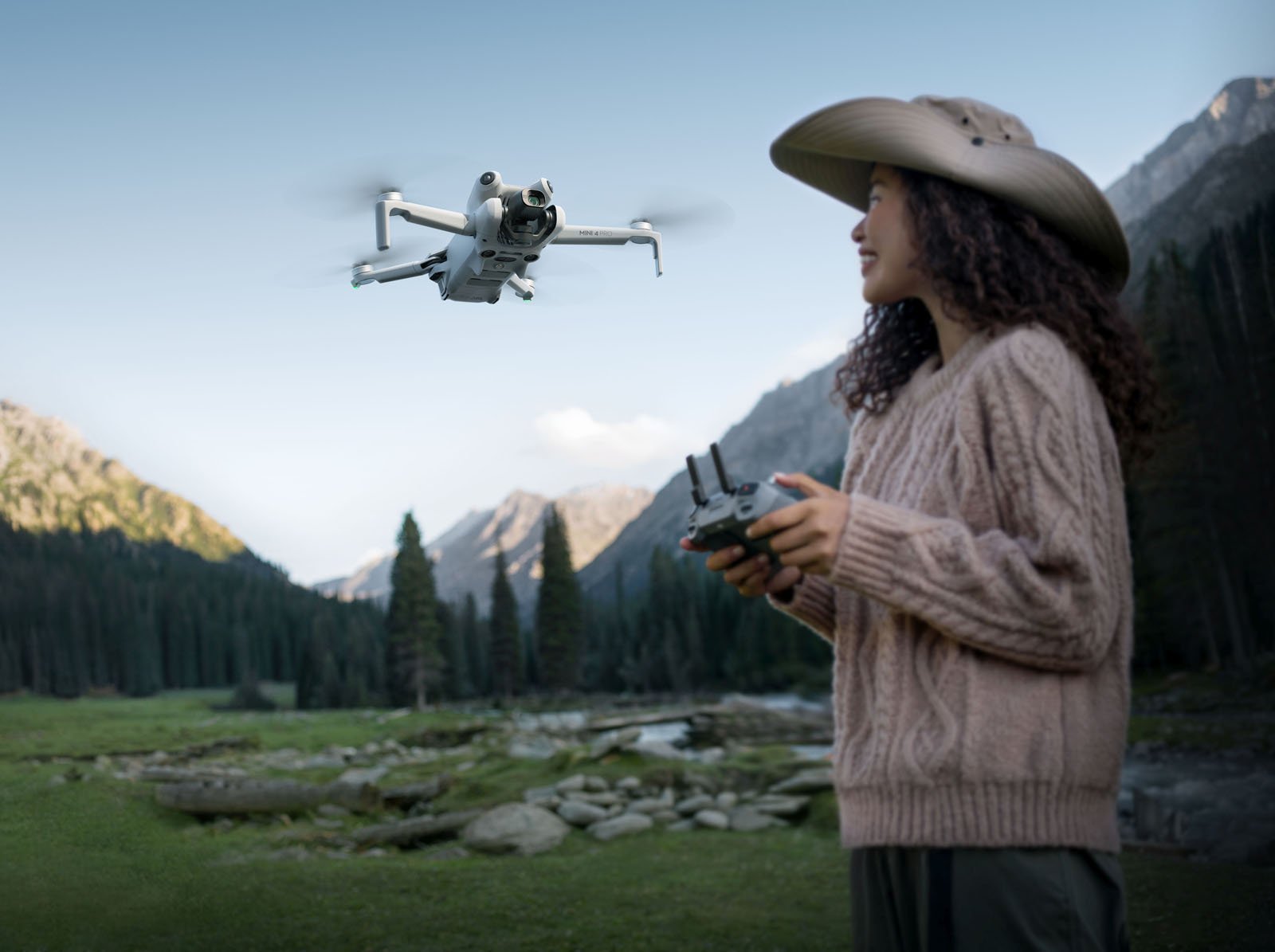 1080/60p Video Transmission is Smoother Than Ever
While flying, pilots enjoy smooth 1080/60p video transmission thanks to DJI's O4 video transmission technology from up to 20 kilometers (12.4 miles) away. Compared to the O3 transmission in the DJI Mini 3 Pro, O4 offers double the frame rate, ensuring smoother video performance. Pilots can also use Waypoint Flight for automatic route functionality. The drone's Advanced Return-to-Home system ensures it safely returns to the pilot.
Flexing Creative Muscles in the Sky
These advanced safety functions also complement the drone's creative shooting modes. Spotlight, Point of Interest, and ActiveTrack 360° shooting modes allow users to bypass obstacles to record smoother video with more stable tracking. Omnidirectional sensing ensures the drone tracks a selected subject without crashing into any obstructions.
The drone also includes MasterShots, QuickShots, and Hyperlapse modes to record videos with diverse angles and dynamic movement. The Mini 4 Pro also has a panorama mode that can shoot 180° panoramas and even spherical panorama photos.
From the Sky to the Web
DJI has designed its latest compact drone with ease of use and speed in mind. The drone's QuickTransfer feature ensures that photos and videos arrive quickly on the pilot's smartphone and are ready to share. DJI's LightCut feature uses artificial intelligence (AI) to create edited videos in a single tap. LightCut includes sound effect matching and numerous aerial shot templates, promising to make creating high-quality video extremely straightforward.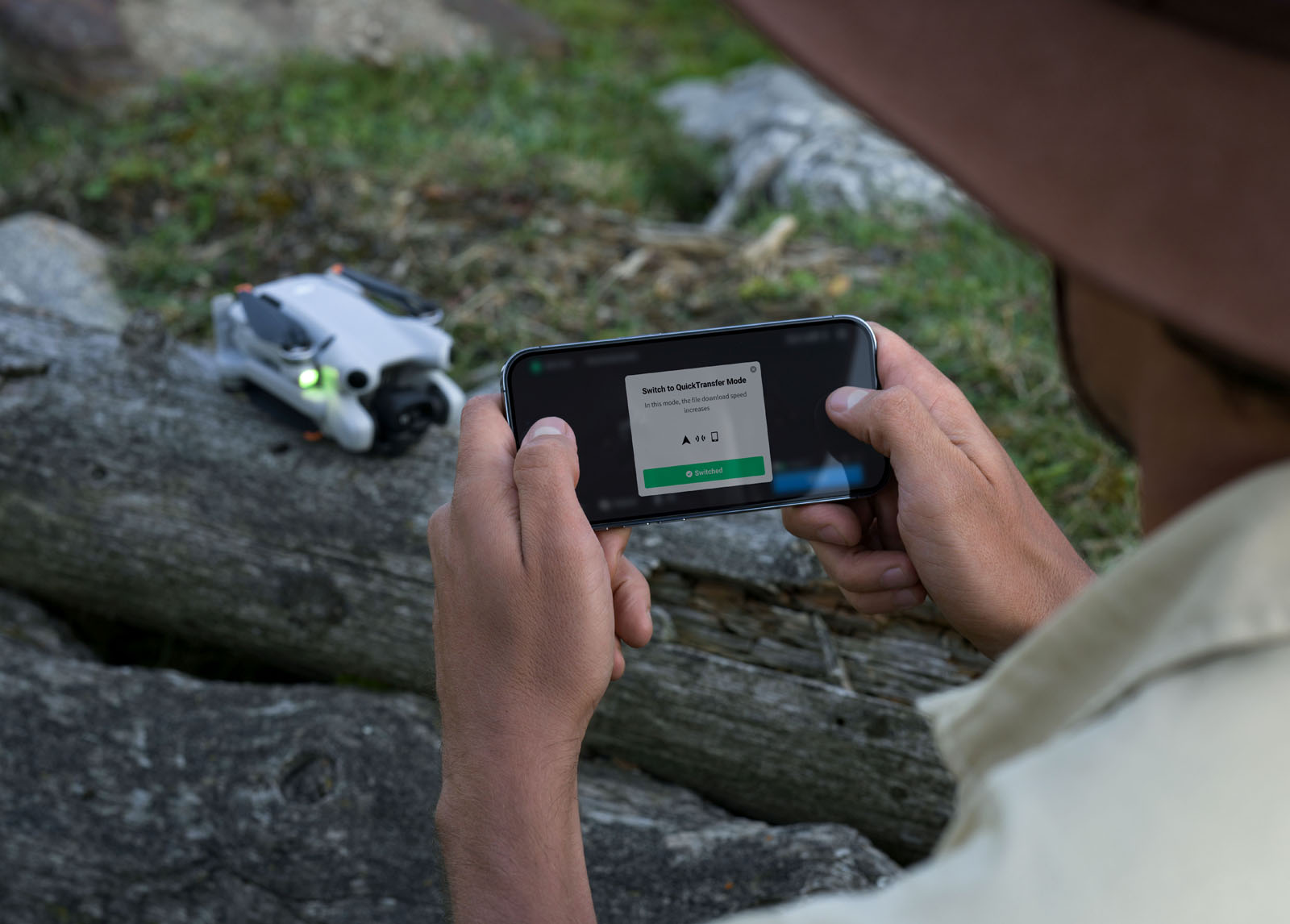 Other Features
Alongside its many safety features, the drone is also available with DJI Care Refresh, the company's comprehensive protection plan that includes accidental damage, including collision and water damage. It is similar to AppleCare+ insofar as the service covers damage that a typical warranty wouldn't cover but still requires the customer to pay some (reduced) fee for product replacement. DJI Care Refresh includes up to four replacements over two years. The complete details of the program are available on DJI's website.
Aerial photographers can share their most outstanding images with the reimagined SkyPixel digital platform. Designed to elevate the world of aerial photography, SkyPixel includes an extensive database of great spots to fly, expert flying tips, and a vast community of talented drone photographers.
Pricing and Availability
The DJI Mini 4 Pro is available now in multiple configurations. The DJI Mini 4 Pro (DJI RC-N2) costs $759 and includes the drone, the DJI RC-N2 Remote Controller, connection cables (USB-C and Lightning), the DJI Mini 4 Intelligent Flight Battery, a pair of propellers, the required screwdriver, a gimbal protector, propeller holder, and USB-C to USB-C power delivery cable.
The DJI Mini 4 Pro (DJI RC 2) configuration for $959 includes the more advanced DJI RC 2 Remote Controller instead of the RC-N2.
A "Fly More Combo" (DJI RC 2) adds two more Intelligent Flight Batteries, an additional two pairs of extra propellers, a DJI Mini Shoulder Bag, and the DJI Mini 4 Pro/Mini 3 Series Two-Way Charging Hub and costs $1,099.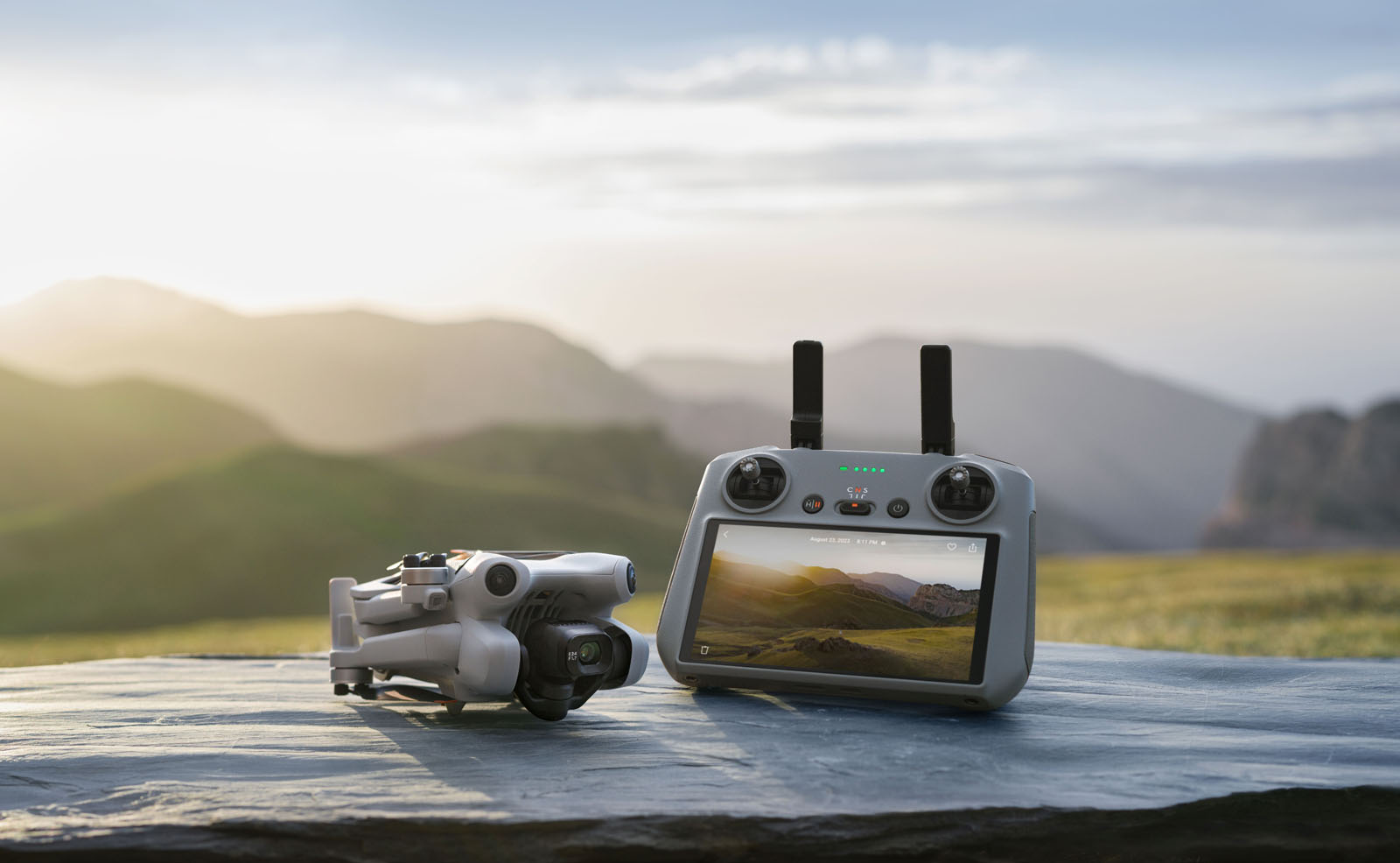 The $1,159 Fly More Combo Plus (DJI RC 2) rounds out the available kits. This kit includes the Intelligent Flight Battery Plus, promising extended flight times. However, this battery puts the drone past the FAA's 250-gram limit, meaning it cannot be flown without registration.
---
Image credits: DJI