The DJI Mini 3 Has a Rotating Camera and Weighs Less Than 249 Grams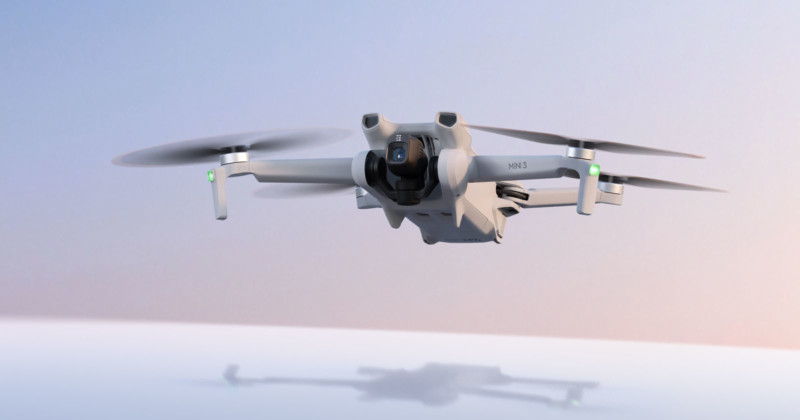 DJI has announced a new member of its Mini drone lineup: a sub-249 gram drone with a 1/1.3-inch sensor called the DJI Mini 3.
The DJI Mini 3 — not to be confused with the DJI Mini 3 Pro that was announced earlier this year — can capture 4K HDR video and 12-megapixel photos using the company's True Vertical Shooting with the drone's camera, which can rotate 90 degrees to capture content in a vertical aspect ratio just like the Mini 3 Pro can.
DJI says that the sensor's design, which has pixels "as large as 2.4 μm," improves low light performance thanks to the Type 1/1.3 CMOS sensor and a fixed f/1.7 aperture lens. The company adds that this design allows for "greater image resolution, sharper depth of field, and lower image noise in even low lighting and high contrast."
The sensor on the Mini 3 is described as having "4-in1 pixel technology" for images up to 48-megapixels in resolution, which suggests that the DJI Mini 3 features a 48-megapixel sensor, which is being used to gather more light by binning (combining) four pixels together to act as a single pixel for the standard 12-megapixels. This technique is not uncommon in cameras and, depending on how the sensor is manufactured, allows a camera to capture lower-res but higher-sensitivity images or higher-res but lower-sensitivity ones.
The Mini 3 has dual-native ISO (DJI did not indicate those ISOs in its press materials) and on-chip HDR to capture images with wide dynamic ranges. HDR video can be captured at up to 4K/30.
The drone is capable of "large-angle tilt" for a variety of compositions, and there is a 2x digital zoom available in 4K/30, 4x zoom in 1080p, and 2x zoom in 12-megapixel photo mode.
Size and Portability
Designed to operate within global limitations on the operation of recreational drones, the sub-249-gram weight allows the drone to be flown without registration, testing, or license in parts of the world where drones below 250 grams are free of these restrictions.
The exact dimensions of the DJI Mini 3 were not provided in the press materials, though the company did say that the drone could be carried "in your bag or pocket."
Flight Time, Communication, and Features
DJI claims a maximum flight time of 38 minutes with the standard battery (in windless conditions, moving at a constant 21.6 kph) and can fly up to 51 minutes with the Intelligent Flight Battery Plus, an additional accessory that is not available in all regions.
The Mini 3 is rated to hover steadily and capture steady images at wind speeds up to 10.7 meters per second (nearly 30 miles per hour).
The DJI Mini 3 uses the company's O2 digital transmission system, which can provide a live 720p/30fps feed from up to 10km. A QuickTransfer system has a max download speed of 25 MB/s.
Like other current DJI drone models, the Mini 3 can capture auto-programmed QuickShots to create many typical helicopter-style cinema shots. Mini 3 can execute Dronie, Helix, Rocket, Circle, and Boomerang.
The DJI Mini 3 also has multiple Return To Home (RTH) modes, including Smart RTH, Low Battery RTH, and Failsafe RTH, which sends the drone home during a signal drop from the controller. For navigation, the Mini 3 uses the GMSS satellite systems and has a downward sensing system for accurate hovering and stability.
Pricing and Availability.
There are five configurations of the DJI Mini, each with a different selection of accessories, that are available starting today.
Probably the most important is the drone alone, which costs $409 and the drone that comes with the RC-N1 remote that retails for $499. The third configuration includes es the top-end DJI RC remote for $639 while the next includes the RC-N1, a shoulder bag, a charging hub, and two extra Intelligent Flight Batteries for $659. Finally, the DJI Mini 3 Fly More Combo has the same accessories as the prior combo but with the DJI RC controller, and it is $798.