Veikk VK1060 Pen Tablet Review: Surprisingly Great for $50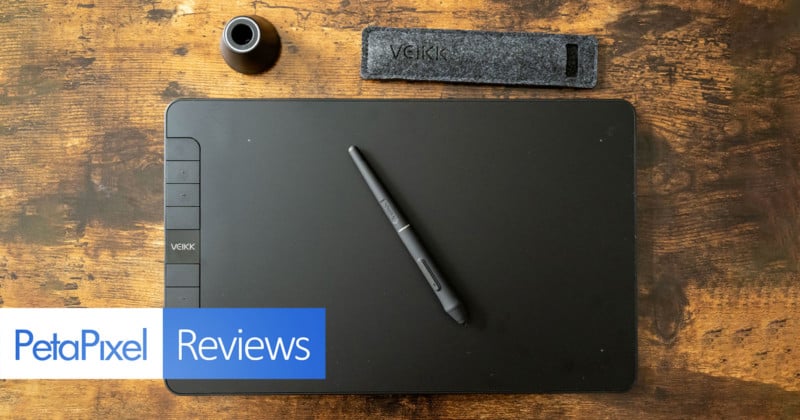 When it comes to precision and professional image editing, nearly every working retoucher will tell you that a pen tablet is an absolute must-have tool, yet the entry cost of these tools can be a deterrent. Thankfully there are several entry-level tablets like the Veikk VK1060 that offer some professional-level features without breaking the bank.
While tablets from Wacom have been an industry standard for what feels like forever, the recent flood of new tablet brands has made deciding on which one is the right choice for you more difficult. The good news is many of these tablets are incredibly affordable, meaning it is possible to test out some entry-level tablets for your editing at a cost cheaper than an average DoorDash delivery.
But why use a tablet in the first place? For most, it is because using one ties back to the pen and paper, which feels more natural for most graphic artists. On top of this, the sensitivity and pressure settings on the pen, paired with the freedom of movement using a stylus instead of a mouse or trackpad, allow for much more precise changes. This can be critical when you're working on fine details like dodging, burning, clone stamping, healing, and drawing or painting on a photo. While some say there is a significant learning curve to moving to a tablet, most editors who do successfully transition rarely go back to a trackpad or mouse and keyboard.
This is why the new tablets from Veikk are so interesting. The company offers a variety of tablets from small to large — including graphics display types — at a fraction of the cost of many of the competitors. The VK1060 is shockingly cheap at $50, and while these kinds of low-cost items are great to learn on, we were curious to see if this one could actually stand up and compete with those that are considered the best for professional photo editing that cost a lot more.
Design and Build Quality
Out of the box, one of the first things you see is a "smudge glove" so your hands won't stick to the tablet surface when using it, which is handy for people who want to extend the life of their products as long as possible. The tablet itself connects via a USB-C cable and is roughly the same size as a Wacom Intuos Pro (small), weighs a little less, and has a rather large surface area available to work on.
The Veikk VK1060 features a clean matte surface that feels kind of similar to a sheet of high-quality paper. It also comes loaded with eight customizable express keys that you can set for general usage and your most-used tools/key commands to keep keyboard use to a minimum while working. The reverse side of the tablet features four rubber feet to help keep it secure on most desks/tabletops to avoid any slips and shakes while editing.
Also in the box are a bevy of other accessories including the USB cable, adapters to connect to Android smartphones and tablets, a nib-removal-tool, the pen with a soft pouch to carry it in, the pen stand (loaded with extra nibs), a cleaning cloth, and a a quick start guide and a postcard with the driver download instructions.
The Tablet
The VK1060 pen tablet is noticeably lighter than some other similar-sized tablets I've used over the last few years, yet it is still impressively rigid and durable feeling with very little give when I tried to twist or bend it. By default, the USB-C connection is on the left-hand side of the tablet in the middle point between the eight programmable express keys, yet the tablet can be set up to be used right or left-handed, and can even be set up to operate vertically to mimic a smartphone or tablet, which is especially handy when using it connected to an Android device with the supplied adapters.
The face of the tablet features four LED lights that denote the available surface area the tablet has to offer. Through the use of the company's software, you can adjust the scale of this working area to sit in pretty much any square or rectangular shaped area, allowing you to leverage the entire surface — which would be great for artists, illustrators, and designers who use long and broad strokes in their work — or you can reduce the size to a very small portion. This latter configuration is ideal for retouchers who use a lot of repetitive motions, thus keeping the amount of movement to a minimum effectively reducing fatigue and generally making photo retouching easier.
While this may change over time, during the review period, the plastics of the VK1060 seem to be a little more resistant to scuffs and smudges than some of the other tablets I have tested, and that might be due to the Veikk's choice to make the drawing area the same material as the rest of the surface.
Technically speaking, the VK1060 tablet offers a 10 by six inch working area with 8,192 levels of pen pressure with a 250 report rate (PPS) that supports pen tilt.
The Pen
The pen itself comes shipped inside of a little soft pouch and I found it to be pretty responsive. It actually feels good in the hand as well. It's very well balanced, smooth, and features the pressure-sensitive nib along with two customizable buttons that can be set to a variety of options based on your preference.
The base stand for the pen will feel familiar to Wacom users as it is very similarly designed, including the twist-off top that hides the spare nibs should the one you're using wear out and need replacing.
A small feature I noticed missing from the Veikk pens was the lack of an eraser button on the top of the pen. While not a deal-breaker at all, I could see some users more in the illustration space feeling like the lack of this pressure-sensitive button is a missed mark. Many of those users like the ease of treating the digital pen like an actual pencil, and the added labor of using the keyboard to swap to the eraser tool before getting back to work might become tedious.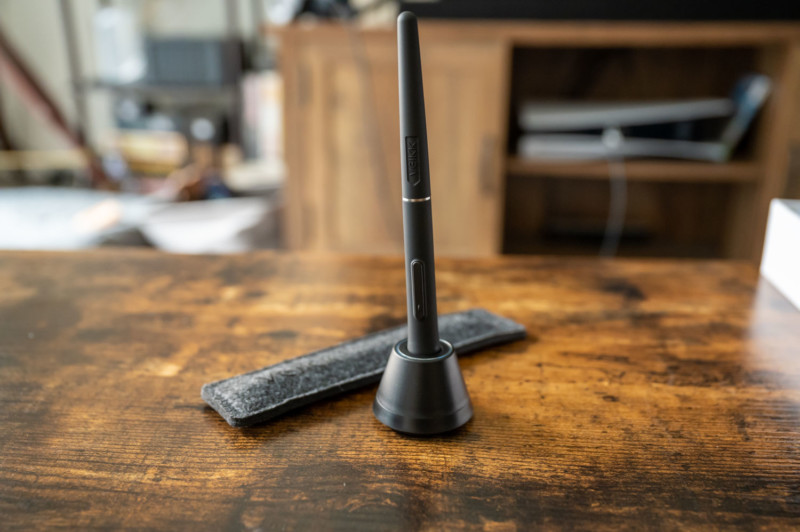 Usability and Performance
Like most pen tablets, the settings for the Veikk VK1060 can be completely customized to accommodate specific needs, from graphic design to just general Operating System usage. The driver install is rather straightforward and easy, however, the software does not prompt you to reboot before getting to work, and with my M1 Mac, I had to do this before the tablet would behave properly. I tested this on an Intel-based Mac and found the same problem.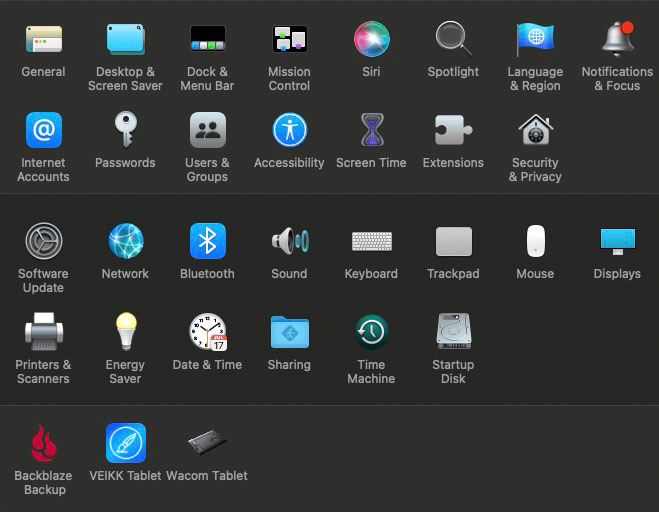 Once installed, the settings can be found inside the System Preferences (on Mac) under the VEIKK Tablet button where you can then customize the pen pressure sensitivity, the pen buttons, the express buttons, and the mapping of the working area of the screen versus the tablet.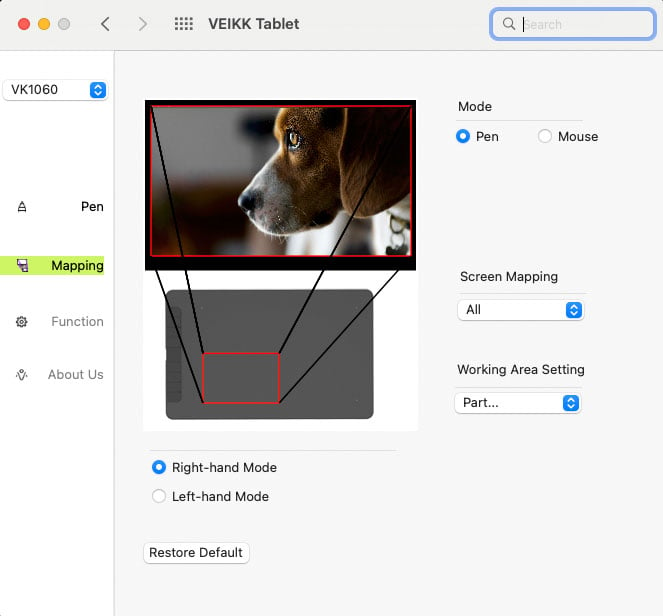 I didn't notice this on my Intel machine, but my M1-based Mac Mini would occasionally not show any of the interface settings for the tablet; they would just be blank. Everything was still usable, but the headers and labels for each section would be sort of hidden and invisible.
Veikk says this issue is likely due to a conflict between its software and Wacom drivers being loaded on the same machine, which I actually believe since those drivers also mess with the Xencelabs pen tablet. Just as was the case then, Veikk says that if the Wacom driver is removed, the glitches should also go away. It's great that there is a fix, but it's probably not going to be a major issue for most users anyway. Those who buy the Veikk probably won't have the Wacom driver installed as well since it's a much more expensive tablet.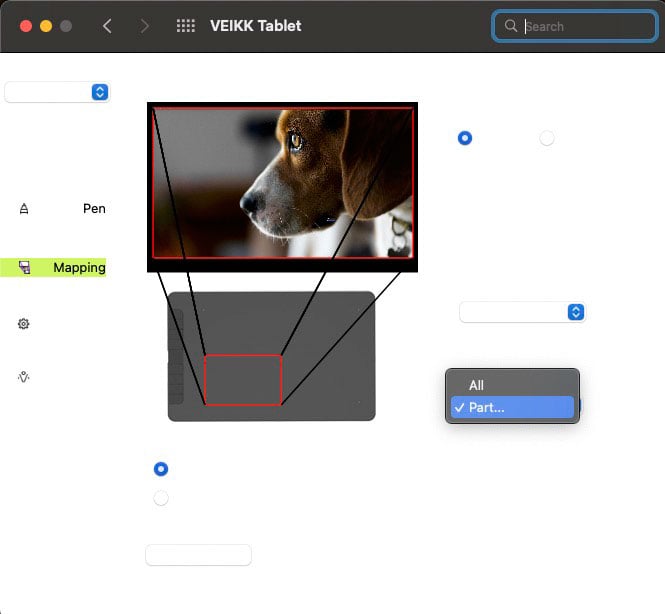 An issue I found on both the Intel and M1-based Mac was that if I attempt to use the firmware update tool available in the application, it would end up returning an error and crashing out of the preferences pane. This didn't seem to cause any actual usability problems, but it was a rather frustrating glitch to have to deal with. Hopefully, Veikk can address the problem with a software update.
Pen Pressure and Using the Tablet
Using the pen to draw and retouch felt pretty familiar and anyone who has ever used a Wacom or other tablet will feel right at home with this stylus. For a tablet that is available for a fraction of the price, that's high praise.
For retouching, I never really noticed any issues or differences when working on small details. However, when working with slow and soft strokes, there would sometimes be unexpected jittering. It is possible that there is a little bit of lag from the pen to input causing this, but as you can see from the two samples of just random brush strokes below (one on a Wacom and the other using the VK1060), there are a few noticeable blotches in the bottom brushstroke of the VK1060 tablet where it was drawn extra slow.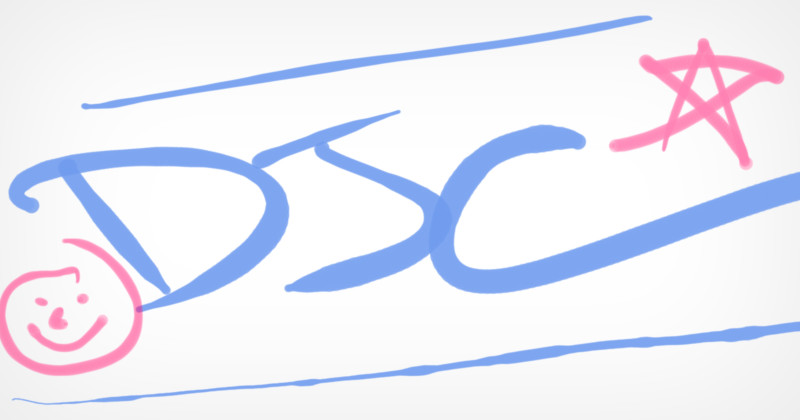 For the majority of my testing, I focused on using the pen and tablet within Lightroom and Photoshop, which included mostly small movements and in that scenario, I really didn't notice any issues at all. In fact, unless I actually had to do some large-scale drawing or brush strokes, there was next to no difference between the tablet behavior when using the Wacom or the VK1060. Below is an image that was retouched using the Veikk tablet including some basic frequency separation as well as dodging and burning.
One last thing that is worth noting is that the VK1060 tablet is a USB-C wired only tablet. There are no Bluetooth or wireless connectivity options available for this particular system, so even though wireless functionality does drive up the cost, if that is something on your must-have list, it may be worth looking elsewhere.
A Surprisingly Good Low-Budget Option
You can't blame me for having reservations about a tablet as cheap as the Veikk VK1060, and before I started the review I did not think there was any way it could possibly be as good as a Wacom Intuos. Color me surprised, then, when I found that the VK1060 was actually surprisingly easy to use and provided pleasing results, at least as far as a photo retoucher would be concerned. While yes, there can sometimes be a bit of input lag that caused some jitters in the larger and slower brush strokes, for what I and most other retouchers would actually use the tablet for, the Veikk system holds up incredibly well.
Overall the VK1060 Pen Tablet is comfortable to work with, performs actually better than I expected with Photoshop and Lightroom, is small and easily transportable when on the move, and is cheap enough at $50 that if it happens to get lost on a plane or hotel conference room, I definitely won't feel stressed about having to replace it.
Veikk's success here adds to the pile of great options by an expanding number of competitors to Wacom, which makes me wonder if Wacom is still worth it.
Are There Alternatives?
There are a lot of alternatives in the tablet market, and most are from names you probably recognize. These tablets are not the only affordable third-party alternatives in the game, but they are among some of the best with prices ranging from $40 to $350: the XP-Pen Deco Pro Small that costs $130, the Wacom Intuos that runs $149, and the Xencelabs pen tablet that retails for $360.
The $40 Wacom One is the closest in price to the Veikk VK1060, but you lose out on some features — like the on-tablet buttons — found on Veikk's option. Another budget option to consider is the $90 Huoin Inspiroy H1161.
Should You Buy It?
Yes. While there were some noticeable jitters when doing more drawing and painting style work, as far as retouching for photography is concerned, the tablet actually performed above expectations and offers more professional features than much of the competition at a significantly lower price.