Viltrox is Making Limited Edition White or Red Fuji X-Mount Prime Lenses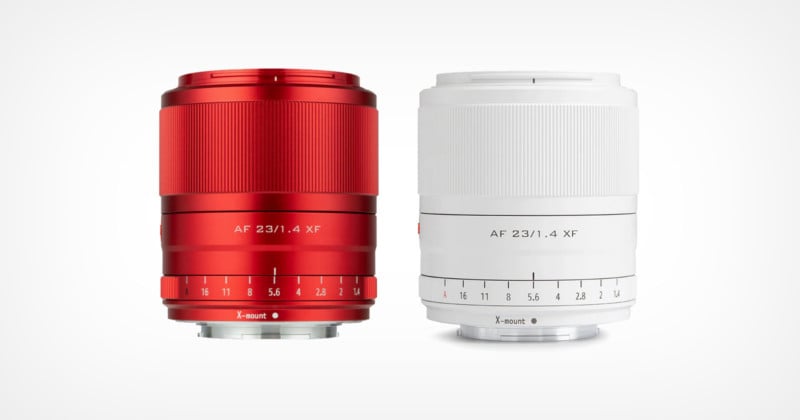 Viltrox is releasing a limited edition set of matte white or shiny red Fujifilm X-mount f/1.4 prime lenses with focal lengths of 23mm, 33mm, and 56mm. The company plans to only produce 500 total units of each color.
The lenses are painted in a matte white or shiny red. The white is accompanied by dark grey markings for all numbers on the aperture ring, focusing ring, and the lens itself, but also features a small amount of red on a couple of accents. The red option features white numbers and a small number of black accents.
While the lenses are optically identical to the company's regular Fuji autofocus lenses, the white color scheme is what really makes these lenses stand out. Considering that FujiFilm X-mount cameras are usually black and silver, the bright white lenses might clash with the camera, though the cream and white color of some Sony and Canon pro-level zoom lenses don't seem to suffer from this problem. The red option may be an even starker contrast, though Viltrox may see these as more collector's items than lenses to use in the field.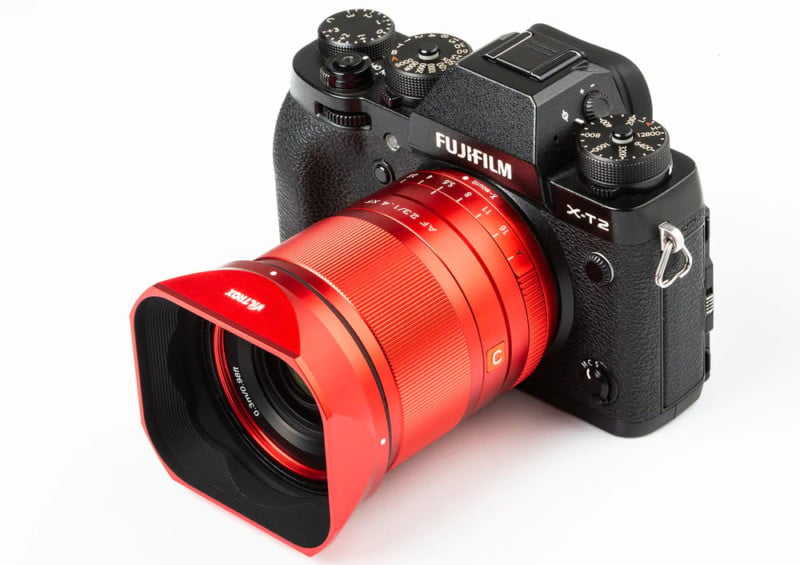 Color schemes notwithstanding, the primes are pretty fast, with each enjoying an aperture speed rating of f/1.4. The lenses are constructed of 11 elements in 10 groups and the nine-bladed iris offers what is promised to be a smooth, circular bokeh.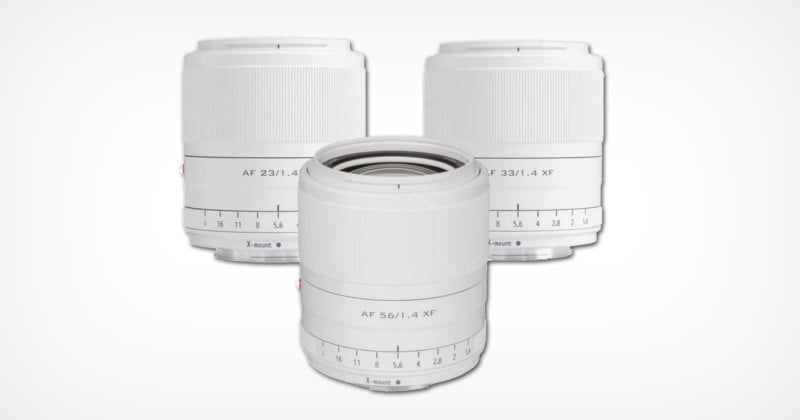 The 23mm lens's focusing range is from 0.3 meters to infinity with a viewing angle of 28-degrees. The longer 33mm has a focus range starting at 0.4 meters and has a viewing angle of 45.7-degrees. The focusing range of the 56mm is 0.6 m to infinity and the same 28-degree viewing angle as the 23mm. All three lenses are designed with a common filter size of 52mm
Each lens in either white or red comes with a square lens hood, lens cap, mount cover, and a silky-looking bag to protect the lens while in storage. The lenses are available either piecemeal or in a three-lens set. The 23mm retails for $379, the 33mm for $329, and the 56mm costs $379. The three lens set options will saves $10 at its $1,079 price.
Viltrox says it plans on selling only 500 units of the white or red colorways, but wasn't clear if that meant 500 lenses total across the three focal lengths or 500 of each lens. Either way, it's not a large volume of units and those interested in picking them up should do so sooner rather than later. The lenses are available directly from Viltrox in white or red.