Apple's Self Service Repair Program is Now Live in the United States
Apple has made good on its promise to make self-service repair of its products available and genuine parts and tools can now be purchased by customers in the United States through its Self Service Repair Store.
Parts, tools, and manuals for iPhones are now available and the company promises that support for additional products is on the way.
As reported last year, Apple promised that it would allow its customers to repair iPhones and Macs in response to rising support for the right to repair movement. Right to repair has become a hot button issue as companies like Apple have previously made it very difficult for individuals to fix their devices outside of going to Apple directly. The movement has been championed by companies like iFixit and repair advocates Louis Rossman and Linus Sebastian of Linus Tech Tips.
The movement has picked up steam in the last year to the point that over 27 states have introduced right to repair legislation, and the Federal Trade Commission has created a federal right to repair policy.
Initially, Apple was one of the loudest voices to resist the movement and claimed that allowing self-repair could result in a degraded user experience while also impacting the overall security of an Apple Device. After the FTC's adoption of Right to Repair as policy, the company relented and has begun a phased rollout of self-repair options through its Self Repair Store.
The Self Service Repair Store is available to users in the United States starting today and offers over 200 parts, tools, and manuals for customers who are confident enough to complete repairs on the iPhone 12, iPhone 13, and the third-generation iPhone SE. The available parts include the display, battery, and camera.
Apple promises that later this year, the store will be expanded to include Mac desktops that are equipped with an M1 Apple Silicon processor.
All parts are genuine OEM-grade parts directly from Apple and will be accepted by the iPhone's firmware, which confirms serial numbers in order for replaced parts to make features like face detection available. Apple also states that the parts are the same price as those made available to authorized retailers and users may receive credit when returning parts for recycling on certain repairs, though the company did not provide details on this claim.
Moreover, should users shy away from buying tools that they may only use once for a repair, Apple is offering a tool rental repair kit for $49 which will provide all the necessary tools for the user to complete the repair within one week.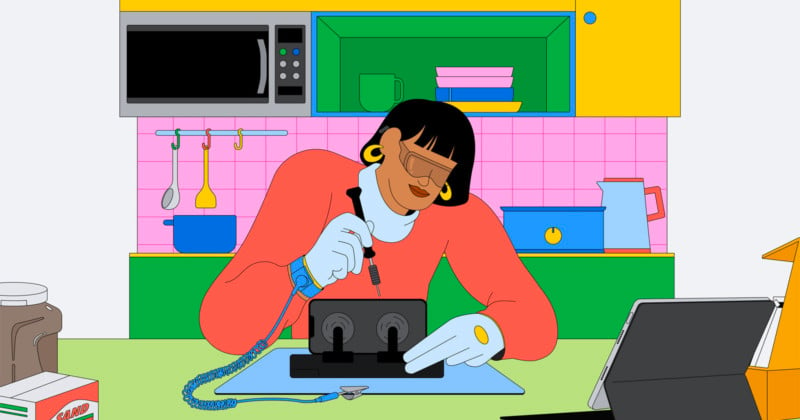 Apple makes clear that the Self-Repair Store should only be used by those with experience in the complexities of repairing a smartphone, and the availability of these tools will probably provide the most benefit to third-party repair shops. On that note, the company says it has nearly doubled the number of third-party authorized service locations which includes more than 3,000 Independent Repair Providers. As a result, Apple claims that an estimated eight out of 10 Apple customers are located within 20 minutes of an authorized service provider.
Those outside the United States who won't have access to the Self Repair Store initially can rely on a global network of more than 5,000 Apple Authorized Service Providers that supports more than 100,000 active technicians.
The Self Repair Store is open now for users willing to take the plunge. The company has also published a white paper on the practice titled Expanding Access to Safe, Reliable, and Secure Service and Repair.
---
Image credits: Apple