Canon's MREAL X1 4K Headset Fuses Reality and CG in Real-Time
Canon has updated its augmented reality headset in the new MREAL X1. It has a wider viewing angle along with the ability to fuse real-life scenes with computer-generated elements in real-time.
Launching in June, the MREAL X1 is the latest in Canon's mixed reality headset system that it claims can fuse real-world and computer-generated images without discomfort and dramatically improves the sense of immersion. The MREAL X1 improves on the $38,400 MREAL S1 headset the company launched last year mainly through an expanded viewing area: the MREAL X1 has a 2.5 times wider frame of view than the MREAL S1 with about a 58-degree horizontal and 60-degree vertical angle of view.
With that expanded field of view, Canon argues that the MREAL X1 allows wearers to see more of an area at one time and therefore allows the virtual elements to fuse with the real world in a way that is more natural to human vision.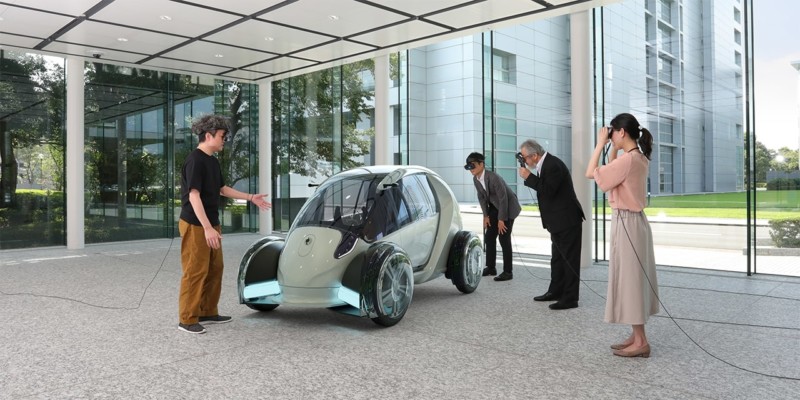 "By expanding the visible range at one time, verification efficiency is improved, and you can use it with confidence even when working face-to-face or while checking your feet," Canon says, machine translated from Japanese.
The display panel and lens use Canon optical technology that it has developed over the course of many years to be both compact and lightweight without sacrificing image quality. On that note, Canon says that the display unit itself weighs 158 grams (about 0.35 pounds) while the entire headset comes in at 359 grams (about 0.79 pounds). The display unit has a resolution of 3840 x 2160 pixels (equivalent to 4K UHD) and refreshes at 120Hz.
"The height adjustment mechanism and eye width adjustment mechanism of the display unit makes it easy to adjust the position according to the shape of the individual's head," Canon explains. "In addition, the flip method allows you to quickly switch visually from the state where the head-mounted display is attached, and it is possible to check the surroundings and take notes while wearing the main body."
Canon says that it designed two different ways to use the headset, either attached to the wearer or available as a two-handed mask of sorts.
The company hasn't revealed pricing for the MREAL X1, but given how much the previous S1 model costs, expect it to be tens of thousands of dollars. The MREAL X1 will be available in June.