ArduCam Brings a 64MP High-Resolution Camera to Raspberry Pi
ArduCam has developed a new 64-megapixel, high-resolution camera that works with the Raspberry Pi, giving DIY camera builders a lot more creative flexibility.
According to the ArduCam, the new 64-megapixel camera for the Raspberry Pi Systems will have continuous autofocus with "DSLR-like" focus control and up to 10x digital zoom capability for super close-up views. The new feature is designed to allow users to zoom in and move up/down/left/right to choose anything in the frame, set or adjust the focus, and then take a photo.
The new camera uses the same software (libcamera) and is the same size as the Raspicam V2.1 which means it can easily fit into any existing setups and enclosures already in use with V1 or V2 models. The camera itself is capable of capturing stills at 9152×6944 pixels and video in a variety of sizes and formats. On a Raspberry Pi it can offer 1080p30, 720p60, and 640x480p60/90, and when used as a camera module it can capture 1280×720 at 120fps, 1920×1080 at 60fps, as well as several other outputs up to 9152×6944 at 2.7 frames per second.
The ArduCam can also be set up as a multiplex system of four 64-megapixel cameras operated by a single Pi which allows users to take full-resolution images and switch between cameras to create depth mapping where all four cameras work in accurate synchronization. This can also be used to capture a scene with all four cameras together creating a combined view.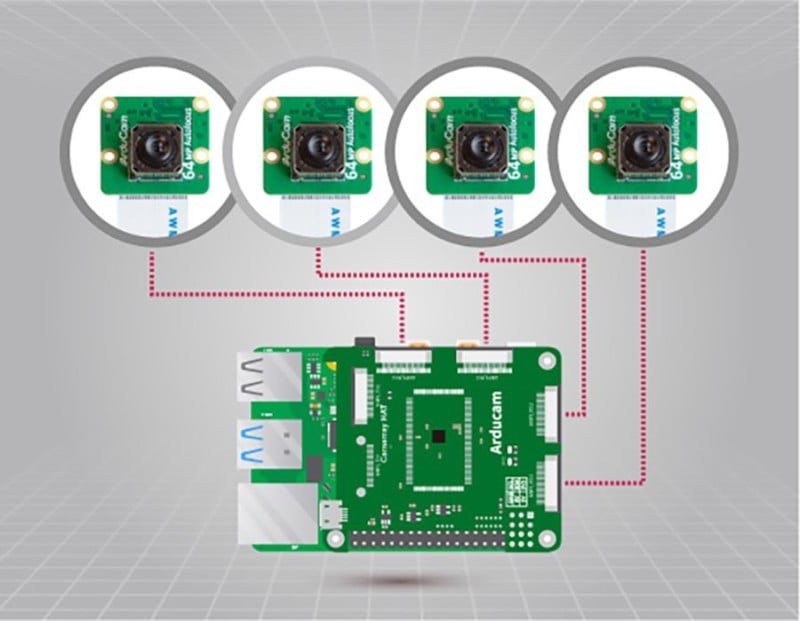 According to the technical specifications, the new camera uses a Quad Bayer Coding (QBC) color filter with an 84-degree field of view on a 5.1mm focal length and an aperture of f/1.8. The system has a minimum focus distance of eight centimeters and supports full resolution on Pi 4B/CM4 and "Superpixel Resolution" (16-megapixels) on Pi 2/3/CM3/Zero W/ Zero 2W.
Below are some sample images taken with the 64-megapixel ArduCam:
The ArduCam 64MP system is available for purchase through the ArduCam website for $36 (which at the time of publication was discounted from its $60 full price) on its own, or in bundles up to $194 (again discounted from the $298 full price) for a quad-camera kit.