BlowerBaby is the World's First Electronic Camera Sensor Blower
The Nitecore BlowerBaby is the world's first electronic, rechargeable air duster designed specifically for cameras and delicate tech.
Photographers are in a constant battle when it comes to keeping dust off mirrorless sensors and the mainstay solutions are all manual blowers or specialized stickers.
NiteCore's curiously named BlowerBaby is a lightweight electronic air-duster that is designed to make this process easier and replace those ubiquitous manual industry standards. The BlowerBaby is made with what Nitecore describes as a rugged aerospace-grade aluminum alloy and an HA-III military grade hard-anodized finish that is designed to fit in the palm of most users' hands and store discretely in a camera bag.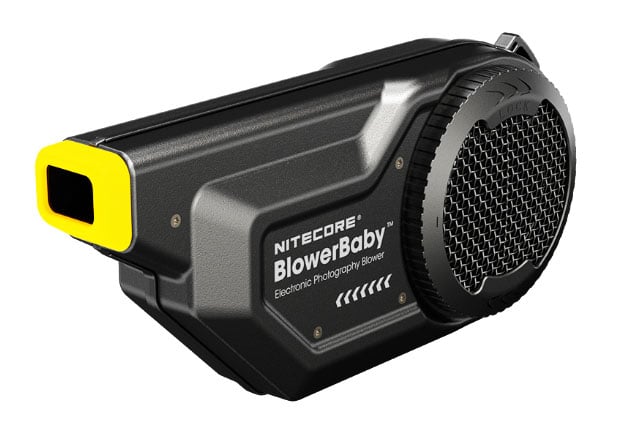 Nitecore says the BlowerBaby can produce 70 kilometers per hour (43.5 miles per hour) wind to blow the dust off of valuable gear and sensors.
The duster is meant to work in tandem with the Nitecore Camera Cleaning Pen which comes with several different interchangeable brushes. These brushes can pop off of the brush and connect to the BlowerBaby to further help remove the most stubborn dust from equipment.
According to the company, the 70 kilometers per hour (26,000rpm) airspeed is more than two times the force of a traditional air-blower. The BlowerBaby features a unidirectional air intake to prevent any secondary damage to object surfaces and the company says it offers a wide range of uses beyond just cleaning photographic and video equipment. The device itself has an internal 1,500mAh Li-Ion rechargeable battery that offers approximately 90 cleaning uses per charge (about 50 minutes of continuous use) and a built-in USB-C port for charging.
Next to the USB-C charge port is a single-button interface that activates dual-cleaning modes: press and hold for fast cleaning, release to turn off, or double-click on and off mode. The handheld blower also has a power charge indicator light to display the remaining battery power: Green shows over 50% charge remaining, blue is between 50% to 10% charged, and red indicates less than 10% charge remaining. This LED indication system, which has a rather generous "green" period, is identical to the one the company includes on its USB-C chargeable Sony camera battery it announced earlier this month.
The BlowerBaby duster also features the option between replaceable standard or "sensor cleaning" air filters that can be mounted on the air intake, but using the "sensor cleaning" filter drops the maximum blow speed to 50km/h (31.1mph)
The BlowerBaby from Nitecore is available for purchase for $79.95 on its own, or $93.95 as a kit with the Camera Cleaning Pen and Sensor Filter.