Nitecore Unveils the BlowerBaby 2: A Better Camera Sensor Blower
Nitecore, the company known for making unique rechargeable batteries and camera accessories, has released the second generation of its rechargeable air duster and camera sensor cleaner. It's called the BlowerBaby 2.

The updated electronic air duster designed specifically for cameras and delicate electronics is labeled as a "must-have" for photographers that need to keep their gear as clean as possible. The new "BB2" has many improvements over its
predecessor
starting with a 33.6-watt high-power motor that can eliminate any dust with speeds of up to 49.7 miles per hour (MPH) at its highest setting. The device can be used up to 800 times (yes, eight hundred) on a single charge.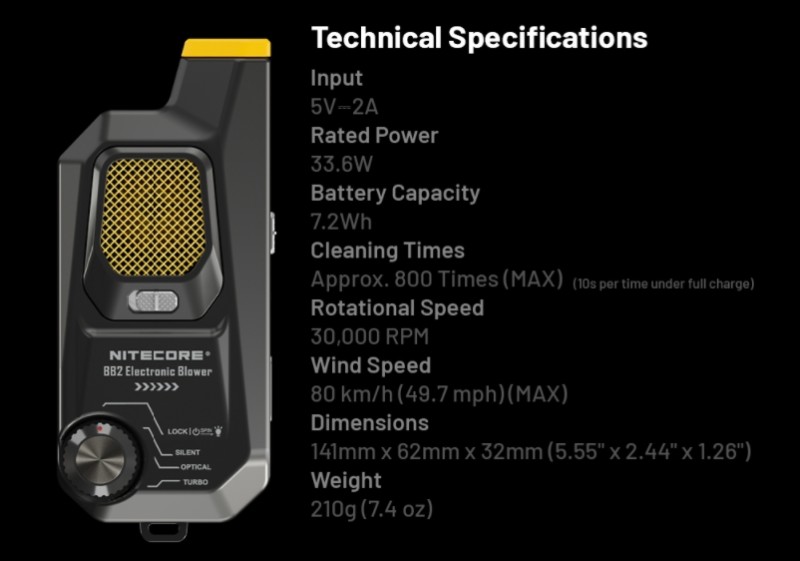 The ultra-compact device, somewhat resembling a walkie-talkie, is meant to fit easily and discreetly into any existing gear kit allowing creatives the freedom to ensure their lenses and camera sensors are free of dirt and dust spots no matter the location.
The new additions made to this version have been carefully crafted based on existing user feedback to meet all the functions creatives need. While still similar to the original version, the BB2 now has three wind speed settings including a "silent" mode at 18.5mph, an "optical" speed at 34mph, and then the max speed of 49.7mph for extreme cleaning and dusting.
In addition to the adjustable duster speeds, the updated device contains a magnetic quick-release brush for cleaning camera bodies, an optional lens cleaning brush, and a built-in LED light to help illuminate the cleaning area.
According to the company, the BB2 also has an improved battery that has a capacity of approximately 30% more than its predecessor and only takes about an hour to fully charge from completely drained. The magnetic cleaning brush is also removable and replaceable so users can always ensure their devices are getting the best treatment.
Finally, the BlowerBaby 2 also comes fitted with a transparent dust cover for the air nozzle to prevent any debris from getting in the device while in storage and transit, and a "lock mode" to prevent accident activation while tucked away in a gear back or back pocket.
Here's a short 4.5-minute video introducing the BlowerBaby2:
The BlowerBaby 2 is available now for $89.95 for just the device or $92.95 with the optional lens cleaning pen. More information can be found on the official product page.