Nitecore's Sony Camera Battery Charges via an Integrated USB-C Port
Nitecore, a Chinese third-party battery manufacturer and maker of "smart" battery solutions for digital cameras, has announced a replacement rechargeable battery for Sony cameras that has a built-in USB-C port for charging, eliminating the need for a separate wall charger.
There is no shortage of third-party batteries available for photographers and videographers on the market, and most do not live up to the performance of the first-party, name-brand versions. That said, every once and a while a brand will release something unique or special that adds a bonus on top of the expected savings that come with third-party purchases. One such example is from Nitecore, spotted by Gizmodo.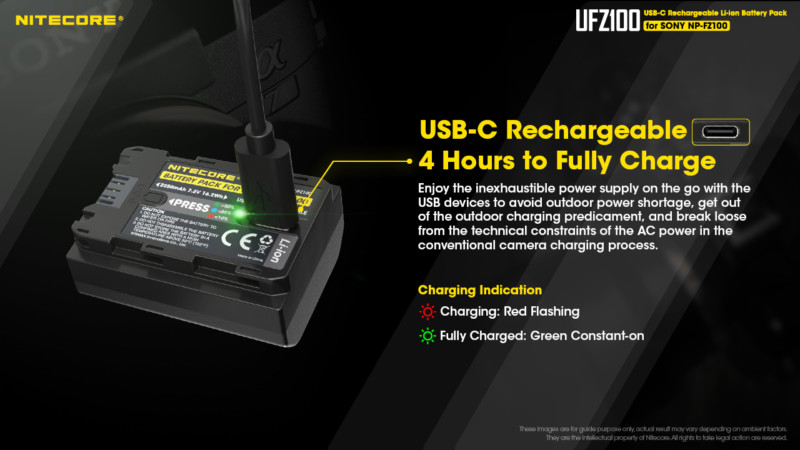 The new Nitecore UFZ100 eliminates the bulky wall charger that usually ships with camera batteries and replaces it with a USB-C charging port located directly on the battery which allows users to charge it with a standard USB-C cable.
Since the wall charger is no longer part of the equation, Nitcore integrated an LED charge indicator on the battery itself that will provide users a general status of its charge: Red light indicates the charge is below 10%, Blue indicates below 50% charge, and Green shows that the battery is charged above 50%. While nice, the green indication at only 50% capacity isn't as helpful as it could be if it instead showed a full or near full charge.
The company says that the 7.2v rechargeable li-ion UFZ100 battery offers a 2250mAh charge (which is only about 30mAh less than the official battery from Sony, and Nitecore says a full charge is good for about 500 photos), has overcharge, overcurrent, and short circuit protection, and is compatible with a range of Sony cameras including the Alpha 7 III, Alpha 7R III, Alpha 7R Ⅳ, Alpha 7S III, Alpha 9, Alpha 9 II, Alpha 6600, Alpha 7C, Alpha 1, FX3, and Alpha 7 Ⅳ.
One downside of the design might be charging times: Nitecore says that the USB-C port will fully charge the battery in four hours. The company doesn't specify if the battery supports charging when mounted on a Sony wall charger either.
At the time of publication, neither pricing nor the timing of availability for the Nitecore UFZ100 battery was not disclosed.
---
Update on 4/21/22: The Nitecore UFZ100 will be available in early May from the NITECORE Store with a price tag of $71.59.