Any Instagram Photo Can Now Be an Ad with Product Tagging for All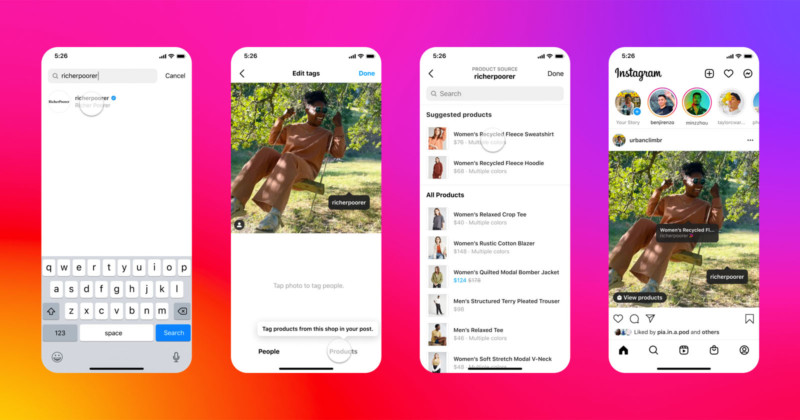 The ability to tag products in Feed posts on Instagram is rolling out to all users today, enabling any photo to act as an advertisement.
Instagram announced that it planned to give everyone the ability to tag products in photos on the platform last month. The feature was originally only for content creators but now any user will be able to tag products from businesses that have been set up in Instagram Shopping in photos in the Feed.
"From supporting brands you love to helping your friends and family discover new products they may like, sharing products on Instagram just got easier," the company says.
Any user can tag a product by adding it to a post before it is published. Full instructions on how to tag a brand are provided on the company's blog. Once completed, whenever someone sees a product tag on a published Feed post, they will be able to see detailed information on the product and purchase it directly in the app or through the brand's product detail page.
As mentioned when Instagram first revealed its plans to expand this feature to all users, theoretically any photo can now be an advertisement, a prospect that is likely very exciting to brands. Gratefully, it doesn't seem as though Instagram is allowing anyone to add tags to anyone else's post. It's not clear what benefits the average user would have to provide free advertising to brands in this manner, but clearly, Instagram believes it's a feature that many will use.
On the brand side, business owners will receive a notification whenever someone tags a product of theirs in a photo and they can manage and view all tagged content on their profile. Business owners and brands are also able to manage who can tag their products in their preference settings.
The company is starting with tags in Feed posts, but says it is working on ways to bring this feature to other aspects of the app as well. Whether users want it or not, Instagram is working on ways that make just about all aspects of the platform monetized in some way: even if it's not specifically an ad, the content users see might also be a hidden ad.
Instagram doesn't want to be a photo-sharing app anymore, at least not in a way that doesn't support the main goals of expanded shopping and video. All of its development efforts have been aimed at these two categories over the last few months. In December, Instagram's head Adam Mosseri said that it is prioritizing Reels as well as shopping in 2022.