Moment Launches MagSafe Camera Cage for iPhone Filmmakers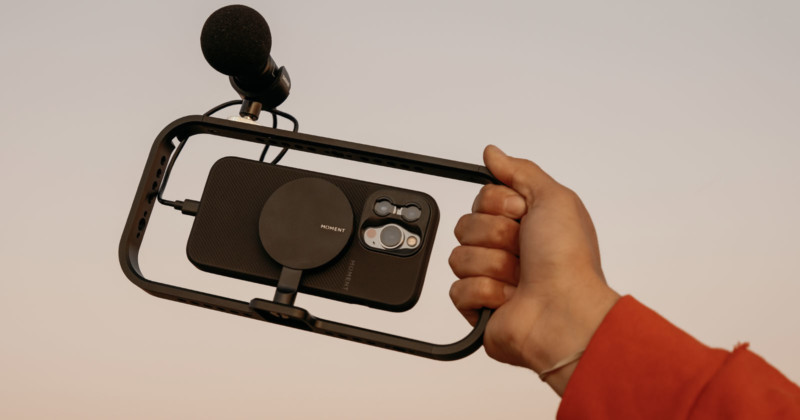 Moment is taking the advantages of MagSafe well beyond what Apple offers with the launch of an accessory cage for mobile filmmaking that uses a more powerful proprietary magnet array to keep an iPhone secure.
The Moment Mobile Filmmaker Cage
The Moment Mobile Filmmaker Cage has multiple cold shoe 1/4"-20, and 3/8"-16 attachment points that allow filmmakers to attach microphones, lights, handles, or other accessories that improve the shooting experience and expand the functionality of the iPhone.
The cage is made from what Moment describes as precision-machined aluminum and has built-in cable management slots to keep the attached items and iPhone all cleanly organized. Moment also says the cage has a specifically designed low profile so that it is easy to pack and doesn't take up too much space, which would be in contrast to the benefits of shooting with an iPhone.
In the center of the rectangular cage is the MagSafe attachment point which uses Moment's (M)Force magnet array that the company says is 30% stronger than typical MagSafe connections and allows for a "super-strong connection." For those who are still worried the iPhone might fall off during shooting, Moment says that the MagSafe mount is swappable to a traditional phone clamp.
When in use, the iPhone is held in the center of the cage by a single point, which Moment says keeps all the buttons accessible. The design of the cage also allows it to stand upright when set on a flat surface.
The Moment Mobile Filmmaker Cage is available for $99 directly from the company's website.
Other New MagSafe Accessories
In addition to the Filmmaker Cage, Moment announced several other new MagSafe accessories: the Strap Anywhere Mount, an Adjustable Wall Mount, and a car vent mount. The Strap Anywhere Mount is designed to attach the iPhone to fitness equipment, the Wall Mount allows the iPhone to be attached to surfaces like a kitchen or shower wall, and the vent clip brings the stronger Moment MagSafe connection to cars.
Moment has also launched a stick-on adapter that brings MagSafe connectivity to any smartphone. The sticker adds an (M)Force magnet to the back of any smartphone and doesn't interfere with wireless charging. It doesn't support actual MagSafe charging of course but does allow any smartphone to become compatible with Moment's MagSafe accessories.
All these new accessories can be found on Moment's website.