Russian Tennis Star Writes 'No War Please' on Live TV Camera Lens
Russian tennis star Andrey Rublev wrote "No War Please" on a live television camera just moments after he won his match and advanced to the final at the Dubai Championships.
Russian Athlete Speaks Out Against Invasion of Ukraine
Ranked seventh, Rublev defeated Poland's Hubert Hurkacz in their semifinal match before writing his message on the camera lens, a common tradition according to ESPN. Writing on a camera's lens appears to have started in the late 1990s in France as a fun and different way to add flair to the broadcast. The writing is of course not directly on the front element of the lens, but on its clear protector.
Rublev, who had received negative comments on his social media accounts due to Russia's invasion of Ukraine this week, used the tradition to speak out against his home country's actions.
Russian tennis player Andrey Rublev writes "No war please" on the camera following his advancement to the final in Dubai. pic.twitter.com/GQe8d01rTd

— TSN (@TSN_Sports) February 25, 2022
"In these moments, you realize that my match is not important. It's not about my match, how it affects me," Rublev said after the match.
"What's happening is much more terrible. You realize how important (it) is to have peace in the world and to respect each other no matter what, to be united. It's about that. We should take care of our earth and of each other. This is the most important thing."
According to TMZ, fellow tennis player Daniil Medvedev — also from Russia — stood with Rublev.
"By being a tennis player, I want to promote peace all over the world," Medvedev says. "It's just not easy to hear all this news. I'm all for peace."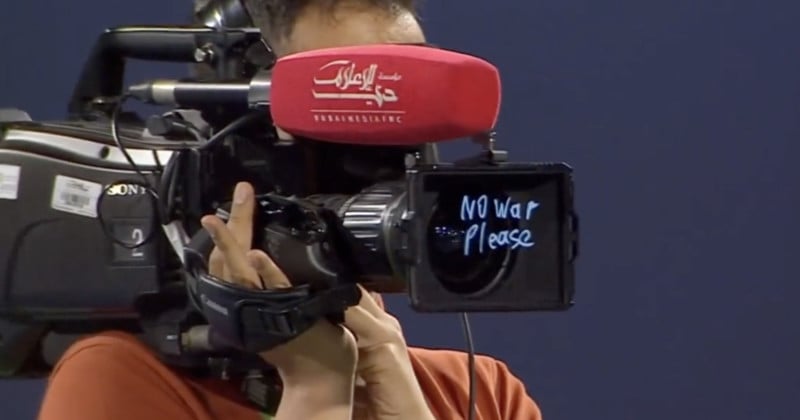 Protests Against the Invasion
Russia's attack on Ukraine started on Thursday, February 24 when it launched a large-scale attack on its southwest neighbor. It marks the largest escalation of the Russo-Ukrainian War that has seen conflicts dating back as far as 2014. Russia has spent 2021 in a prolonged buildup of its military forces along the Ukrainian border.
In response, multiple protests have broken out in Russia in dozens of cities with thousands of protestors active. Russia has detained opposition activists and arrested 1,800 protestors.
Rublev and Medvedev were joined by NHL star Alex Ovechkin, who also spoke out against the attack on Friday according to TMZ.
"It's a hard situation. I have family back in Russia and it is scary moments." Ovechkin says. "But, we can't do anything. We just hope it going to be end soon and everything is going to be all right.
"Please, no more war. It doesn't matter who is in the war — Russia, Ukraine, different countries — I think we live in a world, like, we have to live in peace and a great world."