The Diver and the Mermaid: Photo Series Shot 20 Feet Under the Sea
Photographer Brett Stanley collaborated with a commercial diver and a "professional mermaid" to create a fantasy scene shot 20 feet below the surface of the Pacific Ocean.
A Photographer, Filmmaker, Diver, and a Mermaid
Stanley tells PetaPixel that he has always been fascinated by the deep sea through a mixture of fear and awe.
"I mostly found this incredible romantic notion of spending time below the surface," he says. "So much more than space exploration."
He was able to turn that fascination into a career in underwater photography.
"When I grew up and somehow became an underwater photographer, I wanted to try to bring those deep sea visions and dreams I had to life — preferably without the aid of Photoshop," he says. "So when I met commercial diver Joshua Myers, a real-life Aquanaut, who wanted to do an underwater photoshoot with an authentic World War 2 diving suit I jumped at the chance!"
Stanley says that Myers has been a Scuba diver since he was 16 years old and went on to become an Association of Diving Contractors (ADC) certified underwater commercial contractor with a specialty in underwater welding.
"He has experience diving in marine construction, environmental response, and deep-sea salvage which led him to start his own commercial dive company, Myers Marine Division LLC. Josh discovered that his job was ultimately to protect the ocean and support anyone who shared that belief."
To complete his vision, Stanley called upon his friend and "professional mermaid" Hannah Fraser.
"Hannah Fraser created the vocation of a 'Professional Mermaid,' making spectacular mermaid tails, performing and speaking for film, TV, events, and environmental actions. She is featured worldwide for her breathtaking underwater performance art with large ocean animals as an advocate for female empowerment and conservation," Stanley explains. "Hannah is a professional mermaid and has worked on some amazing and daredevil underwater projects so she was perfect for this."
The team also enlisted the aid of underwater filmmaker and diver Justin Lutsky, who captured the behind-the-scenes video below.
The Plan and Execution
Stanley says the vision for the shoot would be an encounter of a vintage diver and a mermaid under the ocean. The team decided to shoot the production off the coast of Catalina Island (near Los Angeles) at a depth of about 20 feet.
"This meant we had to have an amazing crew to help us and two months of planning to make sure we could pull this off successfully and safely," Stanley says.
In total, the crew on the day of the shoot consisted of Stanley, Fraser, Myers, and Lutsky along with additional filmmaker Peter Rimkus and safety divers Joseph Rosado, Brandon Wermes, and Jon Curtis. Finally, the team's boat captain Dan Berman rounded out the team.
Stanley says the team had many obstacles to overcome that day, from a strong ocean surge and frigid water, to significant safety considerations. The team was undeterred, however, and the shoot was a success.
"The shoot went amazingly, especially considering Hannah was the only one not in a wetsuit in the freezing 60-degree water!" Stanley says.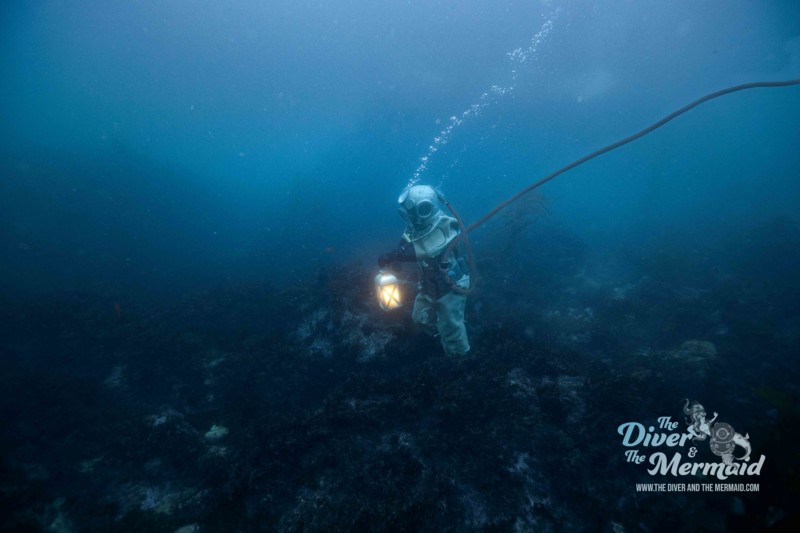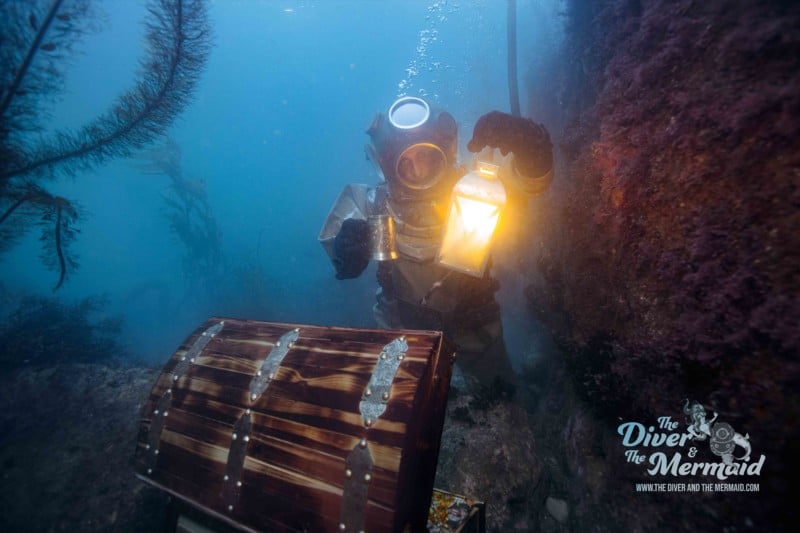 The photos were captured with a Canon 5D Mark IV, 16-35mm lens, and Aquatica Housing. The only artificial light used in the scene was the old lantern Myers held, which added ambiance to the images.
"We all so happy with how this project came out, the images capture the romanticism of those deep sea adventures just how I imagined them," Stanley says.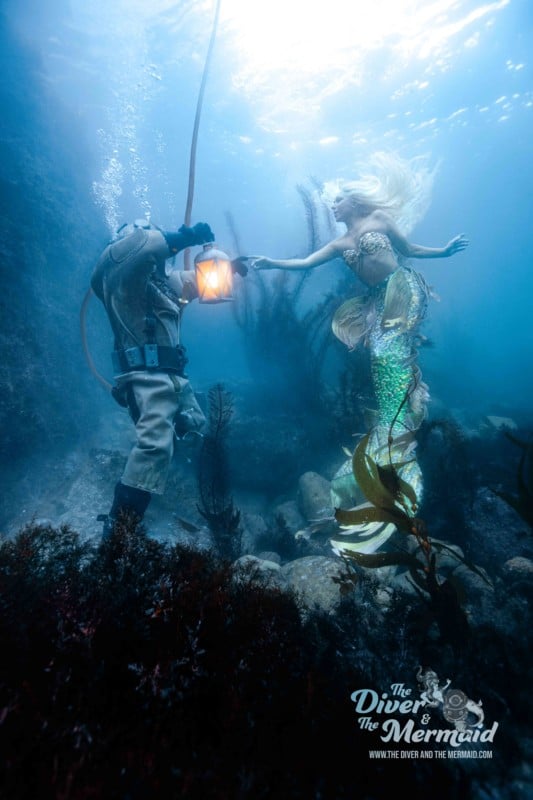 The full series and additional details of the production, as well as links to all of the crew's individual websites and social media accounts, can be found on The Diver and the Mermaid.
---
Image credits: Photos provided courtesy of Brett Stanley.