Diver Captures Beautiful Nighttime Underwater Photos and Slo-Mo Video
Photographer Gary Tyson recently took a Sony Alpha 7S III into the ocean of the Phillippines and captured some stunning nighttime photos and slow-motion footage of the local sea life.
Tyson, a British professional photographer now living in Manila, has been trying to improve his underwater photography skills since he has been unable to travel for work since last year due to the coronavirus pandemic. He says he would normally be running run travel photography workshops around Asia (Mongolia, Japan, Cambodia, India, etc) as well as shooting commercial photography and video for sports and commercial brands around the world.
"I learned my skills as a British Army Photographer. I spent 18 years in the British Army before I moved to Asia to run my own freelance photography and video business," he tells PetaPixel.
This particular shoot was done mainly as an experiment that he could enjoy while distancing himself from others and staying safe underwater. Tyson says that initially he tried this same concept with the Sony Alpha 7R IV but wasn't able to get the low-light results he was looking for.
"I have shot some video on the a7R IV also, and as nice as it is, when it comes to low light there is just absolutely no comparison to any other camera on the market with the a7S III. I can set my 'low' ISO at 12,800 which is insane and easily shoot at over 100,000 ISO with no issues," he says.
"That said, when it comes to stills photography, the A7RIV is sublime. I am extremely happy with the A7RIV for the photography side of things. This is now my dilemma, as I shoot both, one is perfect for stills, the other perfect for all video," Tyson continues.
Below are a few examples of what Tyson is able to capture during the day when the a7R IV is the superior choice:
But at night, the a7S III is the better option and allows him to take photos like these as well as the video above: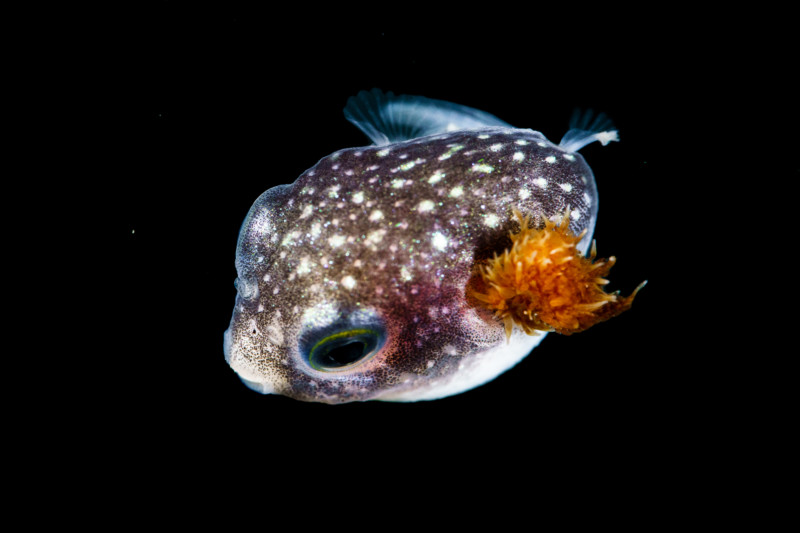 In his video above, some of Tyson's footage does not look slowed down despite the fact that nearly all of it was shot at either 60 frames per second or 120 frames per second. However, near the end of the video, he shows what the footage looks like before it was slowed, which really highlights the challenges of shooting small, fast-moving subjects like these.
Tyson's underwater setup for the video and nighttime photos in addition to the camera is the Sony 90mm Macro, a Seafrogs housing with a macro port, and two Keldan lights.
"The only other lenses I use for underwater are Sony 16-35F4 and Sony 28mm with fisheye converter for fisheye type images," he says.
As an example, the turtle photo above, as well as the free-diver split shot, were taken on the 16-35mm while the diver hovering above the wreck and diver with camera swimming alongside a wall were captured on the Sony 28mm f/2 and Sony Fisheye converter in a Seafrogs 6-inch port.
"The last free diver in camo suit is taken on Sony 12-24mm f/4, but I'm not using that anymore as a little too wide for this purpose I think — I lose edge definition too much when close up," he explains.
One note that particularly impressed Tyson was that Sony's animal eye-AF works well underwater, even on small, unusual-looking creatures in the dark. Below are two 100% crops of images above that Tyson included to show that the focus is sharp on the eyes: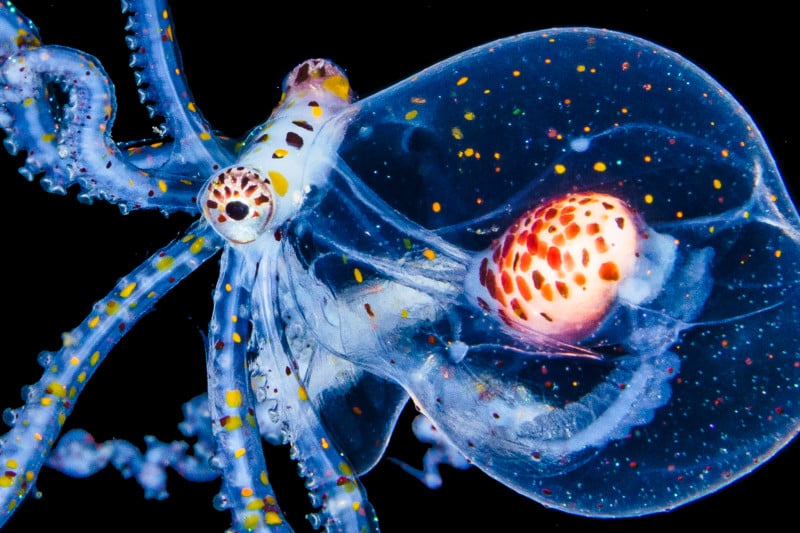 For more from Gary Tyson, you can follow him on Instagram (an underwater-specific account can be found here) as well as subscribe to his YouTube Channel.
---
Image credits: Photos by Gary Tyson and used with permission.