Samsung's New Galaxy S22 Smartphones Have Improved Camera Tech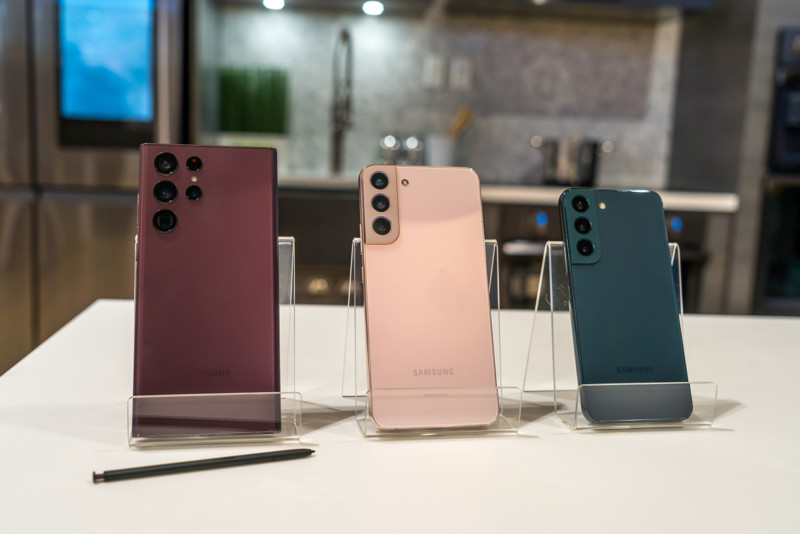 As has been an annual affair for Samsung this time of year, it released its latest set of flagship smartphones, headlined by the Galaxy S22 Ultra, along with the Galaxy S22+ and Galaxy S22.
Samsung didn't go for an overhaul, but it did push the S22 Ultra, in particular, to a new level by integrating the S Pen. The cameras still figure prominently into what these devices are about, but we'll see how much they truly moved the needle forward once we test them out for review here at PetaPixel.
Familiarity in the Galaxy S22 Ultra
If there is going to be a big leap forward in performance, it will come more from the software than the hardware. The Galaxy S22 Ultra has a 6.8-inch Dynamic AMOLED 2X display (3,200 x 1,440 pixels) with a 120Hz refresh rate to smooth things out with navigation. The screen maintains a flatter slate, though does have the same slight curve along the edges that the previous Galaxy S21 Ultra did.
It runs on the Snapdragon 8 Gen 1 processor, the new silicon introduced in the fall of 2021 as the next generation of high-end chipsets for Android devices. This does also figure into camera performance, but more on that in a bit.
There are a number of variants in memory and storage, coming in 8GB or 12GB of RAM, and 128GB, 256GB, 512GB, and 1TB of storage. Still, the same 5,000mAh battery, though hard to tell initially if the new chipset offers more efficient performance for a longer-lasting charge. We'll find out soon enough.
The overall build is highly similar to the previous iteration, save for the lack of a thicker camera bump. Instead, the lenses have slightly elevated rings, so Samsung is inching closer to a flatter back panel without losing room for advanced camera modules underneath.
The S Pen Cometh
Not only is the S Pen compatible (as it was last year with the S21 Ultra), Samsung also made a holster for it inside the phone. It feels like the Galaxy Note is back, though this marks the first time a non-Note Samsung phone comes with a pen built-in.
It is a faster pen this time around. Response time cuts down from 5.6 milliseconds to 2.8 milliseconds, making writing on the screen feel a little closer to pen and paper. Air Actions also work, meaning the pen clicks and gestures Samsung previously introduced in the Note series are available with the S22 Ultra.
The Difference Between the Galaxy S22+ and S22
Both of these phones follow very similar paths as far as familiarity goes. Slight differences in screens, though, with the S22+ sporting a 6.6-inch Dynamic AMOLED 2X, while the S22 gets a bit smaller with a 6.1-inch Dynamic AMOLED 2X. Camera bumps in the rear are more pronounced, and the S Pen is not compatible with either device.
The camera layout is exactly the same on both devices, so doesn't look like buyers can expect different results using one or the other. The 50-megapixel wide camera looks like a new sensor, whereas the rest of the array strongly resembles the S21 lineup. One exception is the 10-megapixel telephoto lens replaces the 64-megapixel one from before, though it's not a downgrade. That 64-megapixel sensor was using a crop factor, whereas the one in the S22 devices sticks to a 3x optical zoom. More to come on those two devices as well.
Cameras Stick to the Formula
On paper, it would be hard to tell the difference between the cameras in all three S22 models. Samsung put what appear to be the same image sensors from their predecessors, but the company claims that performance and output get a boost in a number of areas.
To start, there are some nuances. For what the company calls "Nightography," the 108-megapixel mode can be selected and if prompted to use Night mode, it will capture that low-light shot at the full resolution. Alternatively, it will capture a 12-megapixel image through non-binning when shooting in the standard auto mode.
It also says that it utilizes enhanced artificial intelligence (AI) to capture four times more data to more accurately sharpen the details in images and reduce noise. There's a very similar claim for portrait shots, which should also improve using the same types of tools. Night mode can also be chosen as an option for the 40-megapixel front-facing camera.
Samsung is also looking to tip its hat to more seasoned shooters, not least of which is the ability to shoot in Pro mode with all the available lenses. It will have a downloadable app called Expert RAW that works together with Pro on the phone, so photographers can edit photos on the phone right after. RAW isn't new to Galaxy phones, but whatever Expert RAW changes remains to be seen once I get started on testing that out. It appears that it will be a Galaxy Store app rather than on Google Play, unless Samsung confirms otherwise.
There will also be better output when shooting video on the phone. One is the framerate automatically switching based on lighting conditions. Enhanced HDR is supposed to improve colors, highlights, and shadows. Auto-framing and Super Steady appear to use the 12-megapixel ultra-wide camera to track people in a frame, or keep things steady when moving.
Available Soon
Samsung will launch all three phones in February 2022, and apart from the storage and memory options, they will also come in various colors. The Galaxy S22 Ultra will come in black, white, green, and burgundy. The other two phones largely follow suit with the same colors available, but Samsung says it will offer additional colors on top of these.