Compact Ultra-Wide 4K Monitor Looks Perfect for Photoshop Toolbars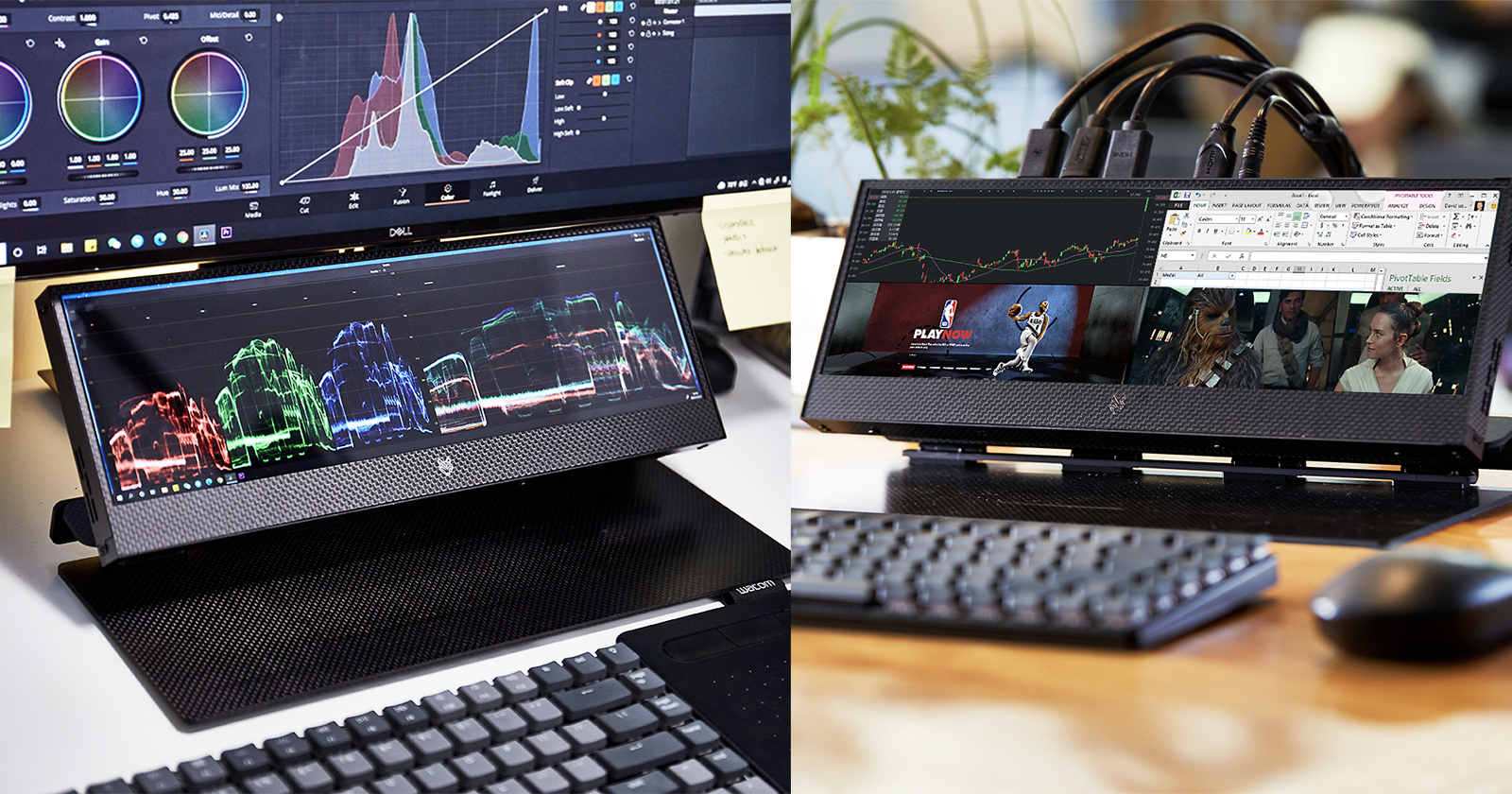 The Lukos 4K monitor is a compact ultra-wide display that looks ideal for acting as a place to hold Photoshop, Lightroom, or other editing toolbars so that editors are free to use their main display to focus on content.

Placing the Lukos 4K monitor below a primary monitor would provide a layout that is similar to how Asus recommends creative professionals use the second lower display of
the ROG Zephyrus Duo laptop series
. There, it can work as a place to store toolbars, folders, and other similar items which would make it easier to focus on content for editing.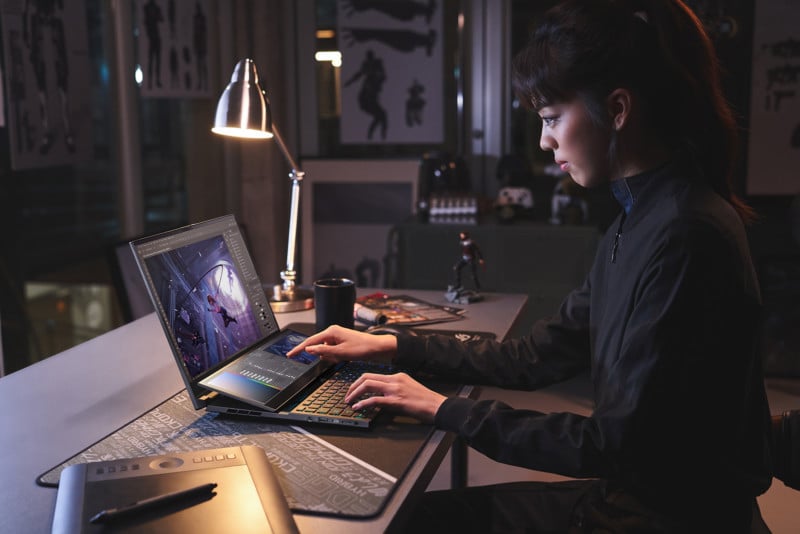 32:9 Ultra-Wide 4K Display
The Lukos 4K monitor is a compact, ultra-wide display that is advertised as both capable of compact portable use as well as ideal as an add-on to existing workstations for improved workflows.
The IPS panel promises solid color accuracy and contrast (the company promises 100% of sRBG only), good response time (2ms), and better screen uniformity than "typical displays." As an IPS panel, its brightness isn't particularly great, however — just 300 nits peak. The 14-inch wide, 32:9 aspect ratio monitor has a 60Hz refresh rate and is powered by a high-bandwidth processor that can display four 4K split-screen signals simultaneously through any of its many inputs: three HDMI, two DisplayPort 1.4, one DisplayPort 1.2, and one USB Type-C.
Confusingly, Lukos claims the display offers a resolution of 3,840 x 2,160-pixels, but that would be double the height of a 32:9 aspect ratio. The company cites an "unauthorized beta version" as a comparison with a height of 1,100 pixels, which is would be in line with that promised aspect ratio but doesn't explain the discrepancy, especially considering the above marketing graphic shows the latter pixel dimensions.
The frame and stand are made of carbon fiber likely for the practical combination of rigidity and light weight, as well as for a design aesthetic.
Speaking of which, the display is available in one of two configurations. The first can be backed for $419 and does not include a stand while the Lukos Plus which does include the stand is available to back for $469. The company anticipates shipping the display by May of 2022.
The Second Crowdfunding Run
Lukos already successfully found backing for its ultra-wide display on Kickstarter in a campaign that closed on February 3 and raised $192,308. It appears to be looking for more now on a new IndieGoGo campaign.
The company doesn't have a website other than its two crowdfunding pages — which some might see as a bit of a concern — and there have been some uncertainties with how the product will work in the United States. Multiple backers pulled their pledges on Kickstarter due to the vague and inconsistent answers they received to questions regarding powering the device.
The monitor requires 220V power and no 110V adapter is included. Lukos also has not been consistent in how this would be addressed, at one point saying that a third-party adapter would need to be purchased but later promising that it is compatible with any power between 110V and 240V. The developers have written multiple updates in less than perfect English, so much of this conversation may be due to issues with translation.
There are a lot of questions about the display from its inconsistent specifications to how it is powered, but if it works as advertised, it would be a nice addition to any editor's workstation as a way to keep a primary display free of toolbar clutter.
---
Disclaimer: Make sure you do your own research into any crowdfunding project you're considering backing. While we aim to only share legitimate and trustworthy campaigns, there's always a real chance that you can lose your money when backing any crowdfunded project.