I Replaced My Dual Screen Editing Setup with a 34-Inch 3440×1440 LG Monitor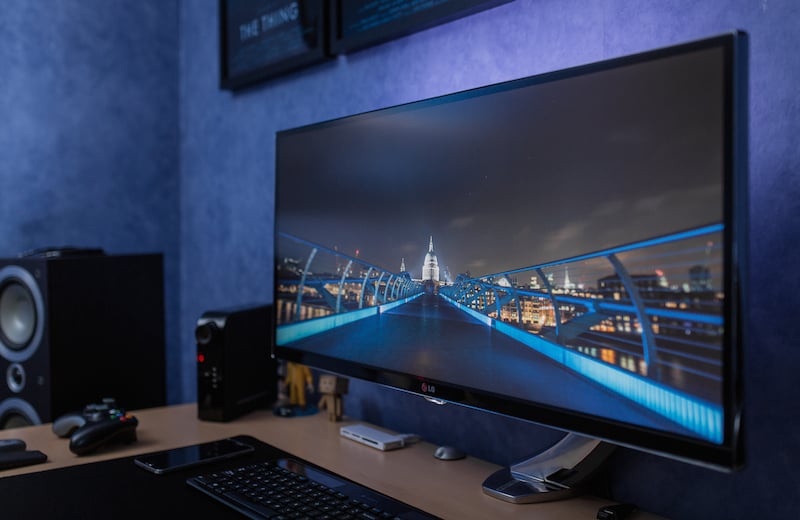 As a photographer, I've long been an advocate of a dual screen set-up for a more efficient workflow. After all, what is better than having the ability to spread out all your applications palettes across multiple screens? For a couple of years now, I've had a Dell U2412M 24" (1920×1200) and Dell U2713HM 27" (2560×1440). That is no longer the case…
Monitors with a 21:9 aspect ratio (2560×1080) are nothing new; they've been out in masses for over a year and can be had for very little money. They seem to appeal a lot to gamers who want the ultra-wide field of view to take advantage of in games as well as movie lovers who want a cinematic experience without the letterboxing you get on standard 16:10 and 16:9 aspect ratio monitors. For photo editing, however, the 2560×1080 resolution wasn't too usable because of the low vertical resolution, and so a dual monitor setup still made more sense.
So why are things different now? Well it's thanks to LG releasing their new ultra wide monitor, the 34UM95, which supports a resolution of 3440×1440. I was keen to see what this was like ever since I learned of its existence.
The LG panel was the first to come out, and with no sign of Dell's version or any other brand on the horizon, I decided to bite the bullet and imported one from Germany.
The biggest selling factors for the 34UM95 for me were the resolution and hardware LUT to store colour calibration data into the monitor directly so I had accurate colours from all input sources.
What I've found is that 3440×1440 is truly excellent for all manner of uses. I have now sold my dual screens, which reclaimed desk space, one free power socket and less heat generated around the workstation.
The other benefit of this resolution on 34" is that the PPI is the same as a 27" 2560×1440 monitor at 0.23 mm. This is a very nice combination to have for both legibility of text and on-screen real-estate.
I photograph panoramic landscapes quite often, and editing them has never been better. Being able to see and edit the whole photo without having to zoom around is very useful. Additionally, having Lightroom and Photoshop side-by-side allows for sharing edits between both applications without losing out on some colour shift often found with dual screen configuration, even when both screens are the same model.
Speaking from the calibration side of things, LG provides True Color Finder with the 34UM95 which talks to the monitor, takes full control over the OSD functions during calibration and saves them to the monitor. I found the software worked very well, and a calibration run took around 7 minutes with the i1 Display Pro. The software comes with drivers and supports the most popular colorimeters.
At the time of this writing Dell still has no news on its version, which is rumoured to use the same LG panel, although AOC has released information on their new 3440×1440 34" monster (the U3477Pqu), which is similarly specced minus a few features like Thunderbolt 2 connections and the hardware calibration additions.
This LG monitor is not cheap. At £830 it was a risky leap to take on import. AOC's model will no doubt be cheaper and I should imagine the ultra-affordable Chinese third party scene will kick off soon with this aspect ratio just as it did with the 27" 1440P monitors.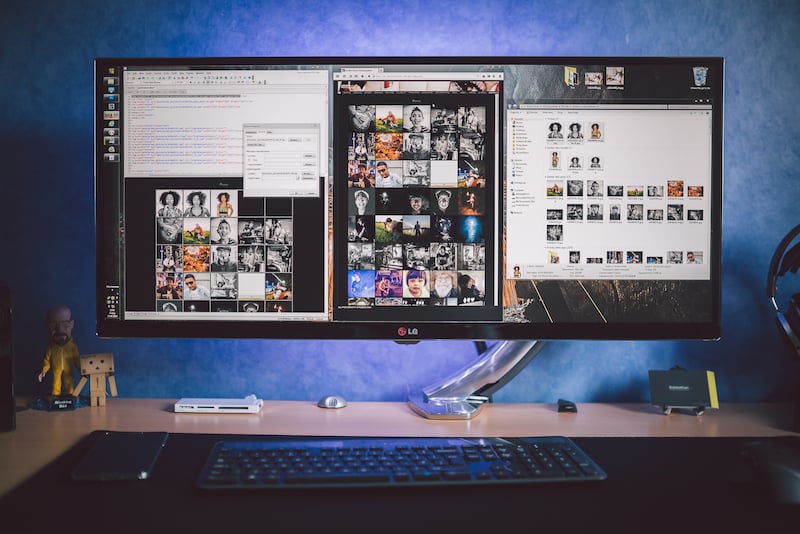 So who would I recommend a monitor like this to? If you're like me and love to edit on as much screen real-estate as possible, then this may be just the ticket. Multiple Photoshop and Lightroom windows open at the same time without much sacrifice on the screen workspace, less power consumption, less heat generation and a sleeker looking workstation are just a few of the benefits to be had.
There is one major downside, of course, and that is the cost. Not everyone wants to spend over £800 on a monitor and some will argue that a 4K monitor offers a higher resolution at a cheaper price point. On the one hand, they'd be right… but those monitors don't offer the size and in turn the PPI to make use of that resolution. For 4K to match a 34" 1440P ultra-wide monitor it would need to be larger than 34", and that simply doesn't exist… yet.
---
About the author: Robbie Khan is a photographer, tea drinker, explorer. He specializes in wedding and portraiture, and has photographed from the -32 degree temperatures of the Arctic Circle to the beautiful architecture of Belgium and the heat of Pakistan and beyond. You can find his work on his website, Twitter, Facebook, 500px and Flickr.