Adapter Lets You Turn Cheap SSDs into CFexpress Cards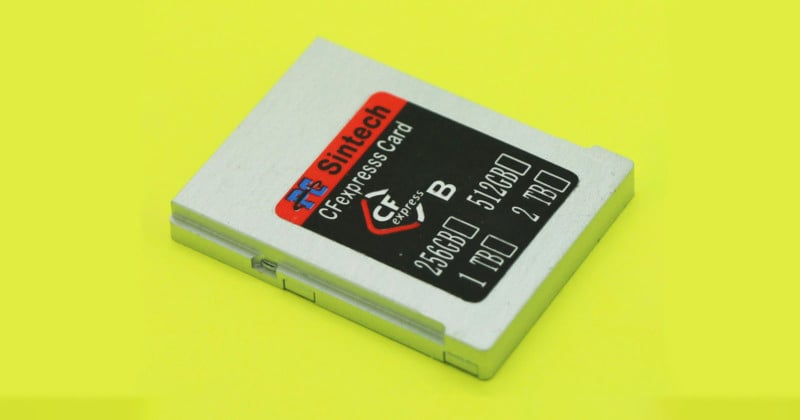 A cheap adapter from Sintech allows industrious photographers to take inexpensive SSDs and build their own CFexpress memory cards at home, allowing them to possibly save hundreds of dollars over "official" cards.
A DIY CFexpress Type-B Card
Spotted by Tom's Hardware, the Sintech home kit allows photographers to combine cheap M.2 2230 NVMe SSDs into a CFexpress Type-B housing that, on the surface, looks to be a solid option to save a little bit of money.
CFexpress cards are not cheap, and Type-B cards can range in price from $170 for a 128GB capacity card to upwards of $780 for a 1TB card. So, when compared to the price of a cheap M.2 2230 NVMe SSD that can run as affordably as $43 combined with the $44 Sintech adapter, photographers are looking at considerable savings.
Tom's Hardware points to several M.2 2230 NVMe SSD options ranging from the Samsung PM991 256GB M.2 2230 SSD that costs just $43 to the Kioxia 512GB M.22230 SSD that runs $111. Both feature a PCIe 3.0 x4 interface but can work just fine with the PCIe 3.0 x2 interface found in CFexpress Type-B cards.
Sintech's DIY instructions are simple enough. Once a compatible SSD has been acquired, it's just a matter of inserting it into the Sintech case and closing the cover.
What are the Risks?
PetaPixel spoke to a storage and memory expert about Sintech's solution, and they said it was very possible that it would be a good choice for someone willing to put in the DIY elbow grease. That said, it isn't guaranteed to be perfect and if something goes wrong, a photographer might find themselves paying more money to fix the issue than they would have paid to just buy a CFexpress card to begin with.
For starters, reputable manufacturers of CFexpress cards like ProGrade Digital and SanDisk perform extensive compatibility testing to assure the cards each sells work broadly across all cameras. That kind of testing isn't done for those cheap M.2 2230 NVMe SSDs, so the Sintech DIY route might result in a memory card that will not work in all cameras.
One other concern relates directly to the "cheap" SSDs. Performance for these lower-end SSDs varies widely, and many often offer great burst write performance but usually have a big drop-off after the cache is full. This is particularly the case with the cheap SSDs that Tom's Hardware mentions. A great example of this in practice is the Ritz Gear Golden Eagle SDexpress card, which has a dramatic loss in performance after reaching a certain capacity.
But knowing those risks, the basic idea behind the Sintech solution is sound, and it's absolutely a viable option for photographers who want to save some money.
Sintech offers the Metal CFexpress Type-B M.2 NVME 2230 SSD Card case for $44 directly on its website.