Photographer's Camera Tumbles Down Ski Run at Winter Olympics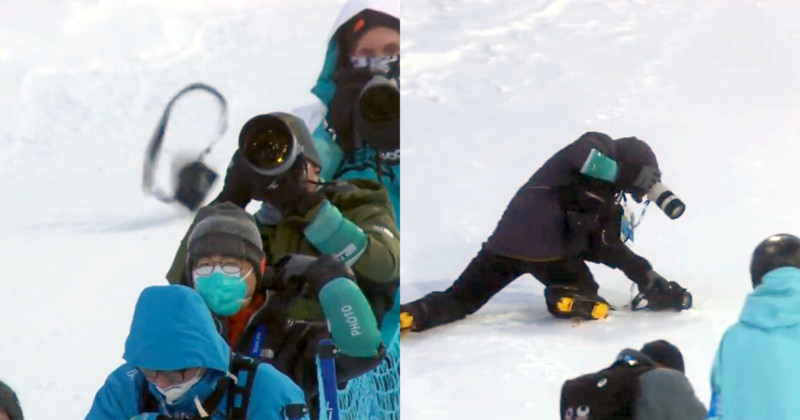 The 2022 Winter Olympics have kicked off in Beijing, China, and it seems one photographer's camera decided it wasn't close enough to the action. It was caught on camera tumbling down the snowy mountain where skiing events are taking place.

While the opening ceremony of the 2022 Games is on Friday, February 4th, athletes have already begun competing in
a number of events
, including alpine skiing and freestyle skiing competitions that began today.
During one of the ski events, an unfortunate photographer apparently lost their grip on their camera and discovered what gravity does on a steep slope.
The NBC Olympics Twitter account Tweeted this short 41-second video of what happened next:
noooooooooooooooooooooooooo pic.twitter.com/MjaFbauD1r

— NBC Olympics (@NBCOlympics) February 3, 2022
After violently rolling down the hill for about half a minute, covering quite a bit of distance, the camera was finally saved by a Good Samaritan photographer who had noticed what was happening while most other photojournalists had their cameras pointed in the other direction.
"Noooooooooooooooooooooooooo," NBC writes.
An Expensive Sony Camera Kit
The camera can be identified as a Sony mirrorless camera from its strap and shape, and it is presumably either an $6,500 Sony Alpha 1 or a $4,500 Sony Alpha 9 II.
Sony lenses of that shape and size aren't cheap either: the popular Sony FE 24-70mm f/2.8 GM costs $2,000 and the Sony FE 16-35mm f/2.8 GM carries a price tag of $2,200.
In other words, it's a state-of-the-art camera kit worth up to $8,700 that is seen barrel-rolling down the ski run.
Shortly before being stopped by the photographer down the hill, the camera appears to lose a piece after one particularly violent impact with the snow.
The Sony Alpha 1 and Alpha 9 II both feature durable designs with dust and moisture sealing around the exterior, and the media slots on the Alpha 1 have a double sliding cover that locks to keep water out.
Sony Has a Camera Arsenal and Hospital at the Games
While it seems likely that the photos on the memory card in this tumbling camera survived the experience, it's unclear how the camera and lens fared — if they survived relatively unscathed to go on shooting another day, this incident would definitely be a great example of a modern durable camera design doing its job.
If the camera kit did not make it, luckily there is a Sony Photo Service Center at the Beijing Games (the company's second appearance after the Tokyo Games last year) filled with 250 Sony mirrorless cameras and 600 Sony lenses ready for photographers to borrow. There are also technicians on hand at the service center to perform "minor" repairs.
The legendary Hungarian-American war photographer and photojournalist Robert Capa once said that "If your pictures aren't good enough, you aren't close enough," but someone should tell this camera that this probably isn't what Capa meant.
---
Update on 2/5/22: A source who wishes to remain anonymous tells PetaPixel that the Sony mirrorless camera involved in this incident was still fully functional after it was recovered and returned to the photographer. The only damage was reportedly the lens hood — these are the pieces seem flying off the camera — and a cracked rear screen. The camera could still be operated through the viewfinder and is fully functional in shooting photos and videos.
---
Update on 2/8/22: Photographer Nick Didlick managed to track down the camera at the Sony service center. The camera was indeed a Sony Alpha 1 and 24-70mm lens, and it was repaired of relatively "minor" damage (namely a separated rear LCD screen) and returned to the photographer the following day.
---
Image credits: Still frames and GIF from video by NBC Olympics.