The Sony Camera That Tumbled Down an Olympic Ski Slope Survived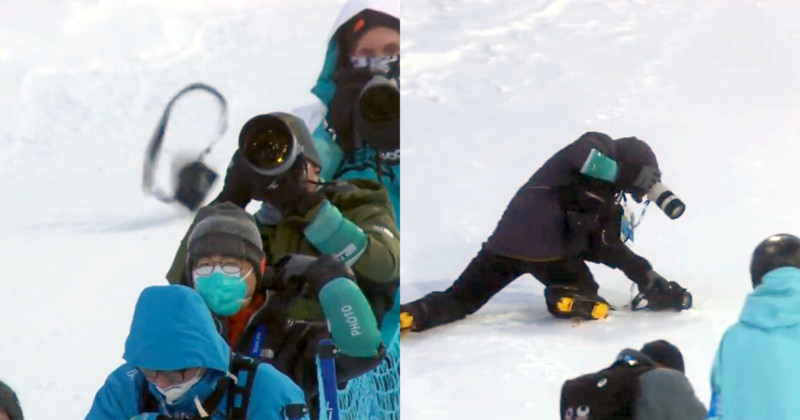 A Sony camera went viral last week after it was caught by NBC tumbling all the way down a ski slope at the 2022 Beijing Winter Olympics. It turns out that camera survived the accident to shoot another day.

The Long Tumble Down a Snowy Mountain
On February 3rd, after the first events at the Olympics were underway, NBC shared a short 41-second video on Twitter that had photographers cringing. It showed a pricey Sony mirrorless camera and zoom lens rolling down a snow-covered hill near a crowd of photographers.
noooooooooooooooooooooooooo pic.twitter.com/MjaFbauD1r

— NBC Olympics (@NBCOlympics) February 3, 2022
PetaPixel surmised that the camera was likely a Sony Alpha 1 full-frame mirrorless camera worth $6,500 and that the lens could be a Sony FE 24-70mm f/2.8 GM worth $2,000. Together with the memory card within, the kit could cost over $9,000.
In the video, pieces of the camera kit could be seen flying off in different directions as the equipment headed down toward the photographer who managed to stop it in its tracks.
The Sony Camera Survived the Ordeal
After Vancouver, Canada-based photographer Nick Didlick saw the viral video, he decided to look into what camera it was and how it fared.
"I do know the incident took place on the Beijing cluster at the Big Air venue on the day before the opening ceremonies for the 2022 Winter Olympics, but I had to refer to NBC Twitter coverage of the event," Didlick writes. "How far did the camera tumble? In the footage, it appears to have traveled over 200 feet tumbling in ice and then snow bouncing hard more than thirty times.
"You can see a part come flying off as the camera tumbles which I assume was part of the lens hood. The camera is eventually stopped funnily enough by another Sony Photographer."
Didlick was unable to track down any of the photographers involved or present, so he turned to the Sony Service Depot at the Main Press Center at the Olympics.
Sony staff revealed to Didlick that the camera was indeed a Sony Alpha 1 and a 24-70mm GM lens.
"We suspected what camera it was from NBC's social media coverage, but we don't routinely ask photographers what happened to the gear unless they offer an incident report," a Sony service staff member tells Didlick. "We immediately loaned the photographer a replacement Alpha 1 and 24-70mm GM lens so he could continue to his next assignment while we assessed the damage."
The staff also confirmed what PetaPixel had heard from an anonymous source shortly after the viral video emerged — that the camera was still relatively unscathed apart from damage to the lens hood and rear LCD screen.
"The camera and lens were not severely damaged," the staff member continues. "The lens was in fine shape other than a broken lens hood and the rear LCD of the camera needed to be replaced."
"Sony has learned a lot about the damage to cameras in the hands of photographers covering worldwide significant events," the staff member says. "So here in Beijing, many of the parts needed to service cameras like this one are stocked here. The repair was quickly done and took under an hour to complete, and the photographer and his camera were reunited the next day."
Winter Olympics Are Dangerous for Photographers and Their Cameras
Didlick has been a photojournalist for over 40 years and was a pioneering digital shooter and a Sony mirrorless camera early adopter. Through his decades in the business, he has seen his share of mishaps, especially at Winter Games.
"Winter Olympics are probably the hardest of all sporting events to cover as a photographer," Didlick writes. "Below freezing temperatures, icy outdoor courses, special safety gear. This combined with long hours and little sleep makes it hard on equipment and photographers alike.
"I have seen slips and crashes break the arms and legs of photographers, lenses separated from camera bodies, smashed lenses, and cameras destroyed."
Steep snowy slopes used for skiing and snowboarding are particularly risky for photographers and gear.
"I have seen [cameras rolling] a few times in my career in ski courses around the world not only cameras but lenses and even photographers careening down a racecourse," Didlick writes. "It is not only hazardous for those below but highly embarrassing for the photographer involved, as this is a major point during photo safety briefings leading up to the events.
"Things like crampons and safety helmets are required depending on the venue to prevent falling photographers, and camera straps are clipped with a carabiner to a photographer or fence to prevent a rolling camera."
Camera manufacturers often tout their products as being durable enough to withstand the bumps and scrapes that come from shooting in difficult environments. It turns out the flagship Sony Alpha 1 is indeed rugged enough to tumble down a mountain without turning into electronic waste.
"I am glad this story had a happy ending for both the photographer and camera, as no one was hurt was easily repaired," Didlick writes, "and I assume they are still out making great images together here at the Beijing 2022 Winter Olympic Games someplace."
---
Image credits: Header still frames from video by NBC Olympics.