Twitter Launches NFT Profile Pictures for Twitter Blue Subscribers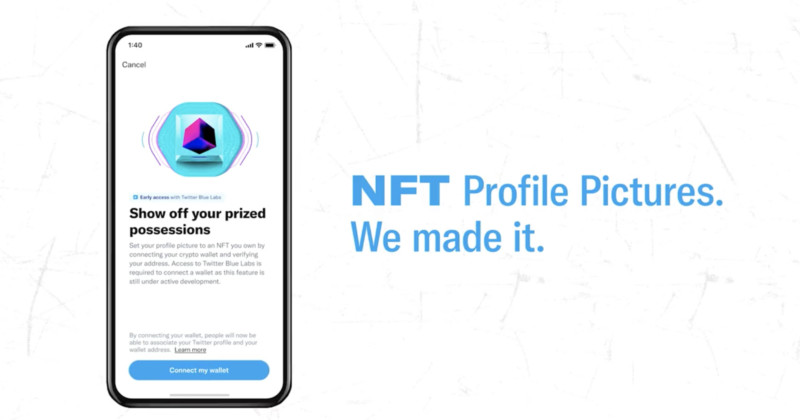 Widespread adoption of NFTs only continues to grow as Twitter has announced that Twitter Blue subscribers can now link their crypto wallets to the social media platform and display NFTs as specially marked profile pictures.
Twitter may have found a way to make its Twitter Blue subscription (which costs $3 per month) appeal to a subset of users through a feature that would allow them to display their owned, authenticated NFTs as their profile pictures.
gm!

You asked (a lot), so we made it. Now rolling out in Labs: NFT Profile Pictures on iOS pic.twitter.com/HFyspS4cQW

— Twitter Blue (@TwitterBlue) January 20, 2022
NFT Profile Photos for Twitter Blue Subscribers
Officially part of its "Twitter Blue Labs," the feature is technically in testing but will be available to Twitter Blue subscribers. It is possible the feature will roll out to general users at some point, however.
"Setting up an NFT profile picture means people can associate your Twitter account with your connected wallet's public crypto wallet address," Twitter explains. "This means your Twitter account will be associated with your current and historical crypto wallet transactions and holdings, including all other NFTs in that wallet, because this information is all available on the public blockchain."
Twitter says it will never request funds from connected crypto wallets and that it will also never request a user's private key or seed phrase, and warns that these should never be shared anywhere.
"Although we won't maintain an ongoing connection with your crypto wallet, we store your public address to ensure that it continues to hold the NFT you set as your profile picture," Twitter says.
When an NFT is set as a profile picture, it will display as a hex shape that distinguishes it from traditional profile pictures. Right now, Twitter Blue subscribers can only set an NFT as their profile picture from the Twitter for iOS app, but the hexa-shaped profile picture is seen across all platforms.
Ready to show off your NFT? Follow these simple steps to connect your crypto wallet and let's see your NFT PFPs! pic.twitter.com/epSL7VXG5o

— Twitter Blue (@TwitterBlue) January 20, 2022
Twitter's Roundabout Way of Joining the NFT Craze
As NFTs continue to become mainstream, companies have been trying to find ways to link their products with the crypto art exchange. Rather than become a crypto marketplace, Twitter has taken a rather simple approach and instead will monetize NFTs through its subscription service. The company can still make money on NFTs without actually having to invest in them directly.
This announcement comes just a few hours after a report emerged that claims Meta brands Facebook and Instagram are working on a way to buy, sell, and display NFTs on each platform. The social media giant would be just the latest in a line of differnt industries who are trying to find a way to monetize them. Video game companies are starting to seriously experiment in the space and television manufacturer Samsung seems all-in on NFTs through its built-in marketplace coming to its 2022 televisions.