Instagram Plans to Allow Users to Buy, Sell, and Showcase NFTs: Report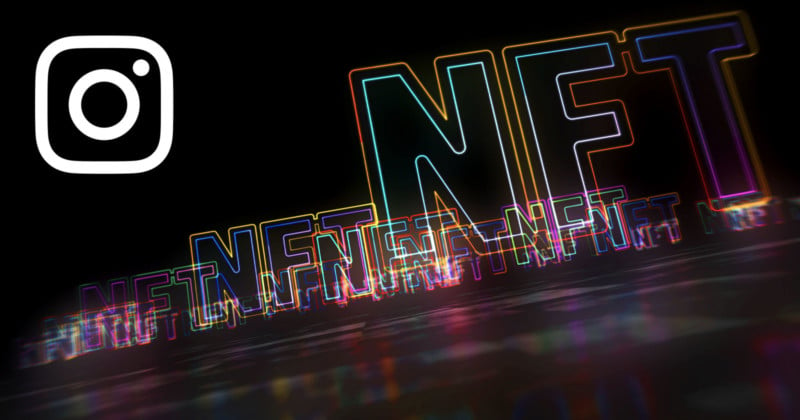 Meta is reportedly exploring how it can allow users to create, showcase, and sell NFTs on Instagram as well as Facebook. NFTs have been growing in popular culture over the last year and Meta's support would be a large indication they're here to stay.
Buy, Sell, and Trade NFTs on Facebook and Instagram
The report comes from Financial Times, and the plans are apparently still in the early stages and could still change. Still, the report alleges that there are teams at both Facebook and Instagram that are currently designing and "readying" features that will allow users to display NFTs as their profile pictures and also a prototype system that would let users mint new NFTs on either platform. There is also apparently internal discussion of supporting a marketplace for users to buy and sell NFTs.
As The Verge notes, if Meta were to build these platforms, it would be the largest show of mainstream support for NFTs yet, and would add to a growing list of major companies across industries who are dipping their toes into the idea of crypto.
This report should not come as a surprise. Last October, Mark Zuckerberg spoke about digital goods in his future vision of the metaverse and specifically referenced NFTs. In December, Instagram's head Adam Mosseri specifically said that he believed it was "an interesting space" that Instagram could actively take a part in to "hopefully help creators."
📢 @instagram'ın CEO'su Adam Mosseri(@mosseri), #NFT trendini aktif olarak araştırdıklarını ifade etti.

👨‍👩‍👦‍👦 NFT'leri daha geniş kitlelere nasıl erişilebilir kılabilecekleri üzerinde düşündüklerini ve yer alabilecekleri ilgi çekici bir alan olduğunu aktardı.#instagram #NFTs pic.twitter.com/ISFttj9cRz

— NFT Library (@LibraryNft) December 18, 2021
The nature in which Mosseri responds to the question of NFTs clearly indicates it was a topic the company was looking into, and while he said there is nothing to announce "yet," it did look as though that meant there was something behind the scenes at work.
Social Media Support Would Provide NFTs More Legitimacy
Meta's support of NFTs may help provide some level of security and legitimacy to a system that is often derided for lacking either. Ownership, when it comes to NFTs, is very often misunderstood or miscategorized, but if Facebook and Instagram assign some kind of tag that confirms true "ownership" of an NFT, it may make them appear to be more valuable.
Whatever the case, NFTs are likely here to stay. Video game companies are starting to seriously experiment in the space and television manufacturer Samsung seems all-in on NFTs through its built-in marketplace coming to its 2022 televisions.
---
Image credits: Header photo licensed via Depositphotos.