Great Reads in Photography: December 19, 2021
Every Sunday, we bring together a collection of easy-reading articles from analytical to how-to to photo features in no particular order that did not make our regular daily coverage. Enjoy!
---
Vivian Maier, Renowned 20th Century Photographer, was Unknown Until her Death in 2009 – NPR
Embed from Getty Images
Eduardo Kobra's 'Vivian Maier' mural is displayed in the Wicker Park neighborhood in Chicago, Illinois on May 4, 2019
Don Gonyea speaks with author Ann Marks about her biography documenting
Vivian Maier's
life as a street photographer who didn't gain notoriety until after she died in 2009.
---
Vivian Maier – Is It the Photography That is Great or Her Story?
"Vivian Maier is an exceptionally popular photographer but is this popularity because she is a good photographer or because of the story surrounding her?" questions UK photographer Alex Kilbee.
---
'Extremely Rare' Photograph of the Rossettis Taken by Lewis Carroll up for Auction – The Guardian
Lewis Carroll (real name Charles Lutwidge Dodgson, 1832-1898) is known as the author of Alice's Adventures in Wonderland, but he was also a passionate photographer. He even entertained the idea of making a living out of it in his very early years.
---
Andy Warhol Foundation Asks Supreme Court to Review Prince Pop Art Dispute – The Hollywood Reporter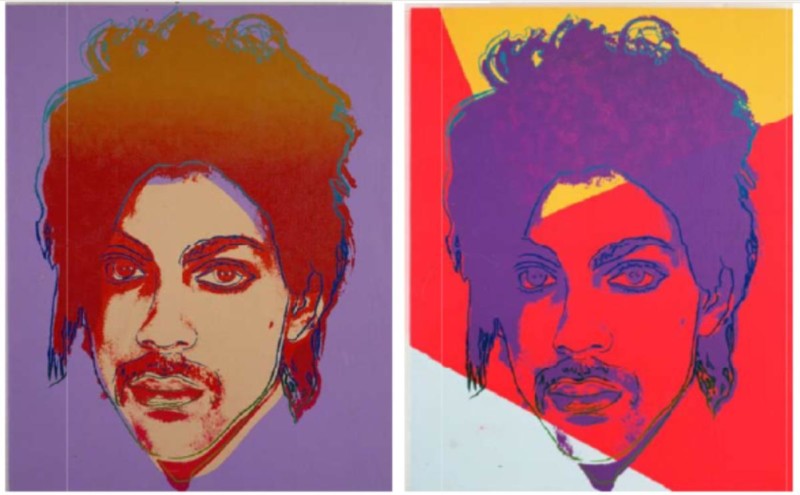 Warhol's estate says there is a "cloud of legal uncertainty over an entire genre of visual art" after an appeals court found his image of Prince to be too visually similar to Lynn Goldsmith's photograph for the difference in their artistic meanings to be legally relevant.
Read also:
Photographer Wins Copyright Battle Over Warhol's Use of Her Photo
Why Warhol's Use of That Prince Photo WAS Stealing and Not Fair Use
Andy Warhol Estate Sues Photog Over Prince Photo Copyright Fight
---
Applications Open for the 2022 New York Portfolio Review – The New York Times
You will need a subscription to access the story.
From The New York Times:
Applications are now open for the FREE New York Portfolio Review, produced by The New York Times photo department, Photoville, and Craig Newmark Graduate School of Journalism at the City University of New York.

This year we are bringing together 80 talented photographers with 80 top photo editors, publishers, curators, and gallery owners for the 9th annual New York Portfolio Review on March 26th and 27th, 2022. This year's review will be virtual and will occur over Zoom because of ongoing Covid-19 safety concerns.

All types of photography will be considered. The deadline is Thursday, January 6, 11:59 p.m. Eastern Time.
---
20 of the Most Famous Photographs in History – Digital Photo Mentor
Check out the link above for 16 more iconic images.
---
Nominee William Keo: "Everywhere I Go, I Learn a Little More. There is No Absolute Truth." – Magnum
French Photographer William Keo joined Magnum as a nominee in 2021. Here, he shares his photography and route to joining the agency.
---
This Gargoyle at the Palencia Cathedral is in the Shape of a Photographer – Atlas Obscura
The Palencia Cathedral in Spain was built from 1172 to 1504 and stands over a low-vaulted Visigothic crypt (the Crypt of San Antolín).
"The cathedral's exterior is lined with a number of striking gargoyles. Among the skeletons and mythical beasts, there is one that seems to be out of place: A curious character in a buttoned cassock juts out from one of the cornices, wearing a camera around his neck," writes Atlas Obscura.
How did a relatively modern photographer become a gargoyle on an ancient cathedral? Check out the link above for the answer.
---
American Photographer James Van Der Zee's Remarkable Archive Will Now Live at the Met, in a Unique Partnership With the Studio Museum – Artnet News
Artnet News writes:
An extraordinary archive of tens of thousands of printed photographs [ 20,000] and negatives [30,000] created by the pathfinding African American photographer James Van Der Zee (1886–1983) now has a new permanent home.

The trove, which has been cared for by his widow, Donna Van Der Zee, will now live at New York's Metropolitan Museum of Art in a unique partnership with the Studio Museum in Harlem, which has worked with Donna Van Der Zee to oversee the archive for the past 40 years…

"The James Van Der Zee Archive is a stunning repository of photographic practice in Harlem from the first decade of the 20th century to the early 1980s," Met curator Jeff L. Rosenheim said in a statement. "Collectively, the photographs offer a hopeful and beautiful portrait of Black life in America."

Van Der Zee, who kept a studio in Harlem for around 50 years, bought his first camera at age 14 and started out taking pictures of extended family members at their home in Lenox, Massachusetts.
---
Revisiting "Minamata," W. Eugene Smith's Final Photo Series – Blind
Blind writes:
The new film Minamata starring Johnny Depp, explores the final chapter of Smith's career. Here, his ex-wife Aileen Smith recounts their extraordinary work…

On a hot August morning in 1970, a young Japanese woman named Aileen Smith appeared at Smith's door. The Stanford University student took a summer job before her junior year working as a translator/coordinator for Japanese advertising agency Dentsu, who had hired Smith to do a commercial to promote Fuji color film to the Japanese market…

About two months after they met, Eugene and Aileen Smith learned of the public health crisis in Minamata…

It is here, with their decision to travel to Japan to photograph the crisis for Life magazine, that the new film Minamata begins. Directed by Andrew Levitas and starring Johnny Depp and Minami, the 2020 film is based on Smith and Mioko Smith's 1975 book of the same name, written after they were married. The film chronicles what would become Smith's final photographic work — a harrowing portrait of environmental disaster driven by corporate greed and the ongoing fight for justice.
---
Agency Photographer of the Year – 2021 Shortlist – The Guardian
Embed from Getty Images
The Guardian's
team of picture editors highlights the work of some of the photographers whose pictures have stood out in 2021. An overall favorite will be announced towards the end of the year from the shortlist below:
Felipe Dana, Associated Press.
Zohra Bensemra
Emilio Morenatti, Associated Press
Yasuyoshi Chiba, Agence France-Presse
Ariana Cubillos
(late) Danish Siddiqui, Reuters
Lilian Suwanrumpha, Agence France-Presse
Brandon Bell, Getty Images
Fatima Shbair
Hollie Adams, Getty Images
Hannah McKay, Reuters
Christopher Furlong, Getty Images
Wakil Kohsar, Agence France-Presse
See 2020's shortlist and the overall winner – Hector Retamal
---
The Ten Best Photography Books of 2021 — Smithsonian
The Day May Break by Nick Brandt
Wonderland by Annie Leibovitz
Women Street Photographers edited by Gulnara Samoilova
Check out the link above for seven more titles and full details.
---
How to Use a Monochrome Color Palette to Elevate Your Photography – 500px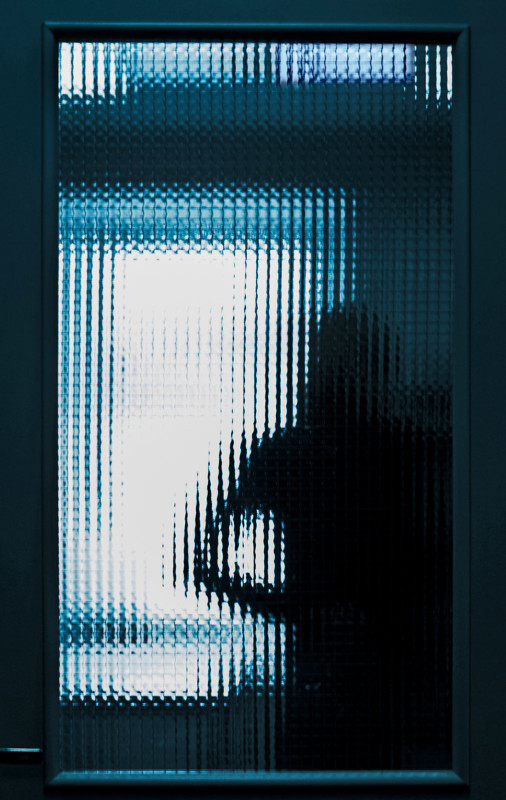 500px writes:
If you're a film buff, you know that some movies revolve around a single color. The Matrix, for example, includes scenes with a signature green hue meant to represent the virtual world. Wes Anderson famously used variations of pink in The Grand Budapest Hotel.

While "monochromatic" and "black and white" are often used interchangeably in photography, they mean different things. All black and white photographs are monochrome, but not all monochrome photos are black and white. Some examples of images that are monochrome but not black and white would be cyanotypes, with their characteristic Prussian blue or warm sepia photos.

Check out the link above for five tips to effectively exploit monochrome.
---
9 Photo Stories to Challenge Your View Of The World – BuzzFeed News
---
"These Photos of the Pearl Harbor Attack Are Still Shocking 80 Years Later" — BuzzFeed News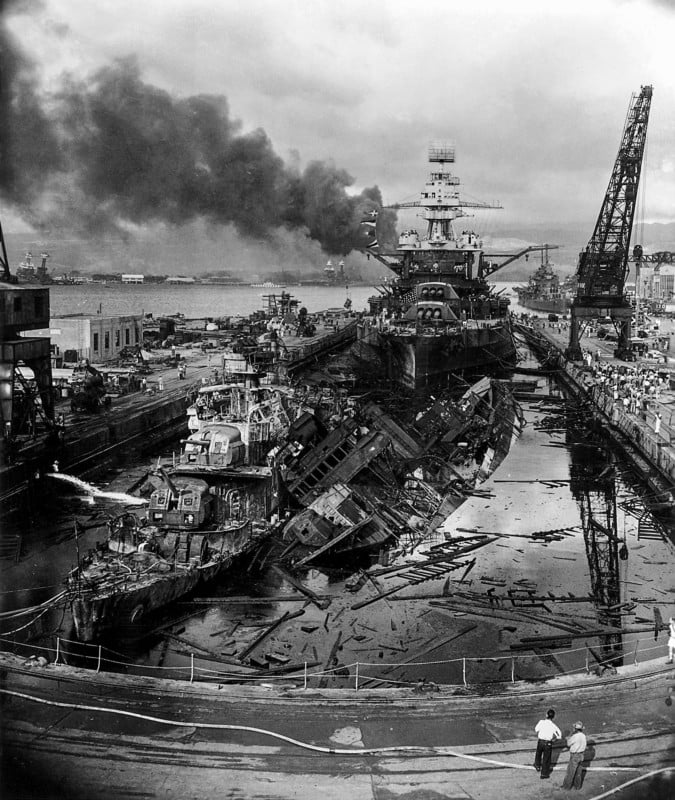 Check out eight more stories at the link above.
---
Photo of the Week
Serbia's Novak Djokovic seems to pass through a kaleidoscope as he arrives to play against Hungary's Marton Fucsovics during their men's singles tennis match on the second day of the ATP Paris Masters in Paris.
Embed from Getty Images
---
Quiz of the Week
1.) Who was the first African American photographer to receive a Guggenheim Fellowship in 1952?
2.) Who holds the oldest photography exhibition which has been held almost every year since 1854? Hint: It is a royal event!
3.) Fluorine coatings are commonly used on the front and rear lens elements
a.) To make the lens scratch-resistant
b.) To avoid the adhesion of dust and liquids and make cleaning easier
c.) To avoid flare
d.) To improve the transmission of light into and out of the lens
Answers:
1.) Roy DeCarava, photographer, distinguished Professor of Art, Hunter College, City University of New York.
2.) The Royal Photographic Society, which just held its 163rd International Photography Exhibition.
3.) (b.) To avoid the adhesion of dust and liquids and make cleaning easier.
---
Why I Like This Photo – Rick Sammon
I like this photo, taken one morning in October 2021 after a major rainstorm, because it shows the power and beauty of the spillway at the New Croton Dam in Westchester, New York. Plus, I was lucky to capture a rainbow created by the mist.
The key to why this photograph works, for me, is the way in which the water flows through the scene – not only how a slow shutter speed (1.5 seconds) softened the movement of the water, but also how the water is flowing in three different directions: 1) toward the viewer, 2) down and to the left over the spillway, and 3) slightly to the right over the rocks at the bottom of the frame. The result: a still photograph with a lot of movement.
The contrast of the scene, from the bright white water in the spillway to the beautiful dark blue water in the Croton Reservoir, also adds interest and impact to the scene.
To capture this view, I used my Canon EOS R3 with Canon RF15-35mm lens set at 15mm . . . for a super-wide view. Because I wanted a slow shutter speed and because it was a bright, sunny day, I used my Breakthrough Photography 10-stop Neutral Density filter. And, because I wanted the scene to look as it looked to my eyes (everything in focus), I set an aperture of f/22 for maximum depth of field. For a steady shot, I set my camera on my Really Right Stuff tripod.
As an aside, on my walk toward this vantage point, I joked to a passing photographer, who had a large camera backpack over his shoulder and who was toting a professional tripod, "I hope you did not take all the good photos and left a few for me." He responded, "The sun is too high, and light is not right. I am sorry, but you're too late, and you missed the best light."
I took this photograph about five minutes after that encounter.
Finally, I have photographed the New Croton Dam (which is about five minutes from my home) countless times over 30 years. Each time I go to the Dam, I make a promise to myself that I am not to come home without a different type of picture — using a different composition or different exposure, or shooting at a different time of day, or processing the photograph in a new way.
So, here's a quick tip: Go back to the same spot over and over and over again and promise yourself that you will make a different type of photograph. Giving yourself this challenge will make you a better photographer, I promise.
Canon Explorer of Light Rick Sammon has photographed in more than 100 countries. He is the author of 41 photo books. His most recent releases: Photo Therapy Motivation and Wisdom – Discovering the Power of Pictures, and Photo Quest – Discovering Your Photographic and Artistic Voice are available at amazon.com.
---
Quote of the Week — Gilles Peress
"I don't trust words. I trust pictures."— Gilles Peress
Photo from Whatever You Say, Say Nothing by Gilles Peress, published by Steidl
Gilles Peress was born in 1946 in Neuilly-sur-Seine, France. He moved to New York in 1974 and began a series of interrelated projects that pushed the formal and conceptual possibilities of photography to interrogate the structure of history and the nature of intolerance. The resulting cycle of interlocking narratives in books and on walls encompasses eight monographs. It has been widely exhibited (at the Museum of Modern Art and MoMA PS1, New York, and Centre Pompidou in Paris) and collected.
---
To see an archive of past issues of Great Reads in Photography, click here.
---
We welcome comments as well as suggestions. As we cannot possibly cover each and every source, if you see something interesting in your reading or local newspaper anywhere in the world, kindly forward the link to us here. ALL messages will be personally acknowledged.
---
About the author: Phil Mistry is a photographer and teacher based in Atlanta, GA. He started one of the first digital camera classes in New York City at The International Center of Photography in the 90s. He was the director and teacher for Sony/Popular Photography magazine's Digital Days Workshops. You can reach him here.
---
Image credits: All photographs as credited and used with permission from the photographers or agencies. Portions of header photo via Depositphotos, middle horizontal (top) Lia © Mary Berridge and middle horizontal (bottom) New Croton Dam © Rick Sammon.