Kenko Unveils 400mm f/8 N II S Mirror Lens in 8 Mount Options
Kenko has announced an updated 400mm f/8 N II S mirror lens that changes the optical design and integrates a T-mount system that the company says improves performance. It will be available in eight camera mount configurations.
The original version of the lens was announced in July of 2020 and received the Canon RF and Nikon Z mounts this past April. While both old and new versions of Tokina's 400mm mirror lens share the same fixed focal length and f/8 aperture, the optical arrangement appears to be different on this Kenko branded update. The current 400mm f/8 uses six elements in five groups, but the new one rearranges it into six elements in two groups. Kenko also says that it has changed the mounting system to a T-Mount, which it promises improves performance.
The T-Mount is a system that allows for different components of various manufacturers to be interchanged and assembled and isn't a camera mount like it might sound, but rather a mechanical specification. T-mount lenses generally don't contain any type of electrical connection either. The mount is considered one of the standard ways to mount a camera to a microscope, for example.
Read more: Tokina SZX 400mm f/8 Reflex Review: A Challenging But Fun $250 Lens
Kenko is leveraging the T-mount to offer Canon EF, Canon M, Sony E, Nikon F, Nikon Z, Fujifilm X, Pentax K, and Micro Four Thirds camera mount options which are installed at the time of shipping. When outfitted for mirrorless, the lens looks quite different from the current version when outfitted for mirrorless.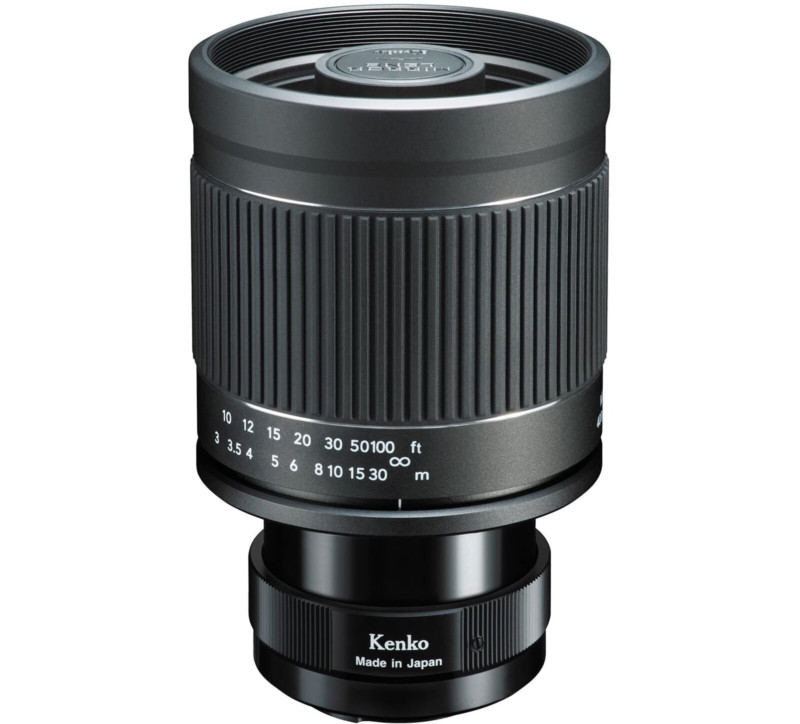 Kenko says that the internal reflection of the T mount is suppressed and the performance of the lens is further improved. Photographers will be able to buy the lens in any of the aforementioned mounts, but it can be easily converted to others as the mounting system is removable and interchangeable. There is not an electrical connection to the camera with this lens, and in some cases the camera will have to be told to allow shutter release without a lens in order to use it.
The Kenko 400mm f/8 N II S has a six-degree angle of view and is 112mm long for mirrorless and 82mm long for SLR cameras. It also is slightly heavier for mirrorless cameras, weighing in at 545 grams compared to the 500 grams for SLRs. The front element is 67mm and the lens has a minimum focusing distance of 1.15 meters with a maximum magnification of 1:1.25.
As a mirror lens, the bokeh in photos looks very different from traditional optics as shown in the sample images below, provided by Kenko.
The lens is currently available directly from Kenko for about $262 and is currently only slated for sale in Japan. Kenko expects to start shipping the lens on December 24.
---
Update 12/22: Kenko Japan has clarified that the lens is not a Tokina brand, but Kenko and is only available in Japan.