This USB-Powered Belt Prevents Lenses from Fogging in the Cold
Haida has recently introduced an inexpensive USB-powered Anti-Fog Velcro belt that wraps around the exterior of a lens and keeps it warm, therefore preventing it from fogging as the temperature dips.
Cold weather isn't really a problem for the Nothern Hemisphere which is probably why it may have gone unnoticed when the company launched it in June. But now that winter is well on its way, the Haida Anti-Fog Belt has considerably more appeal and caught the eyes of DPReview. Powered via USB, this $20 belt wraps around the exterior or lenses and keeps them warm and, therefore, prevents them from fogging when the internal elements get cold.
Camera lenses have the same problem that all glass does when it comes in contact with changing temperatures. The "fog" on a lens is actually water droplets condensing on the elements. This wouldn't be a huge problem if the condensation took place on the outside of the lens, but much of the time it takes place on the inside where it can't be easily wiped off with a cloth. Lenses will fog when the temperature of the front glass of the lens dips a few degrees below the dew point.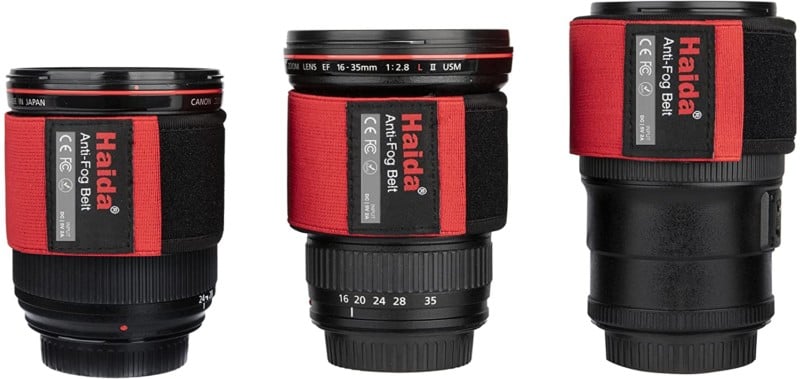 Photographers can fight this by keeping the lens warm, and one way to go about it is to wrap a set of single-use hand warmers around the lens to keep it from getting too cold. These hand warmers are inconsistent and wasteful, though, so they are generally seen as less effective than a dedicated, powered solution.
This is where the Haida Anti-Fog belt comes in. After wrapping the belt around a lens, it can keep a lens consistently in a particular warming range after the attached USB-A cable has been plugged into a power source, like a battery pack. The wrap has three power settings: High (55 to 65-degrees Celcius), Medium (45 to 55-degrees Celcius), and Low (35 to 45-degrees Celcius). The company doesn't say how much power the belt draws at any of the three settings, however.
Fstoppers reviewed the Haida Anti-Fog belt earlier this year and found it to work exactly as advertised. For those who like to shoot at night or in cold climates, the $20 belt seems like a solid investment.