Square Photo Studio Lets Businesses Quickly Take 'Pro' Photos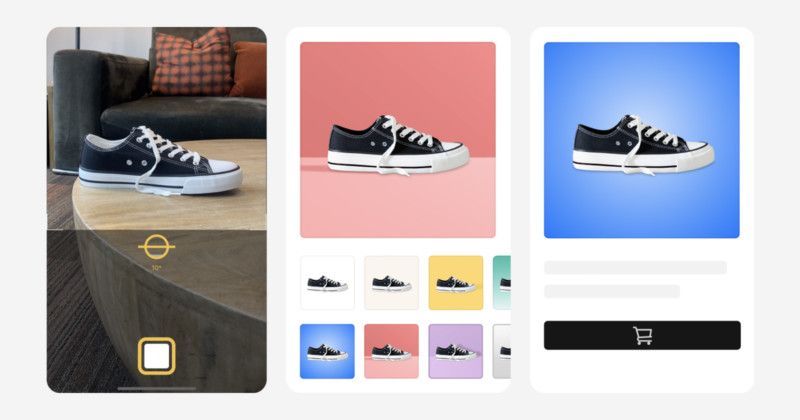 The digital payments company Square has launched the Square Photo Studio app which allows sellers to easily take "professional" product photos from a mobile device and sync them to their online store or Square item catalog for free.
Square is a financial service used by many businesses, particularly smaller ones, to process sales and help with invoicing, eCommerce, and more. Square reports that it has recognized the growing importance of good quality product photos for business owners and launched an app that aims to make product photography easy and affordable, adding another string to its all-in-one business package.
Users can add stylized images and change backgrounds through their time and without the need to book a professional photo studio. The app guides the users through simple prompts to take the best photo, automatically removes the background, and then allows a choice of different scenes that include different backgrounds, shadows, and colors.
The camera in-app has a built-in stabilizer that automatically keeps angles straight and images sharp, Square claims. The app uses AI to add realistic-looking shadows after removing the background.
Once the image is ready, the files can be saved as JPEG if the image has a background or as a transparent PNG. The user can then connect the edited image with items in their Square catalog or create a new item listing.
The app isn't limited to just Square sellers, however, and anyone with a product can use the app to create product listings that can be shared and embedded via the Square Online Checkout link.
"It's no secret that products with professional-looking photos perform better than those without," says David Rusenko, head of eCommerce at Square. "Unfortunately, the cost, skillset, and labor involved with taking those photos were often prohibitive. Now, with Square Photo Studio, sellers can give their items the look of a professional photo studio shoot from the comfort of their home, the office, or on the go."
Shopify — also a popular e-commerce platform and payment service — has introduced similar apps in the past, although not all are free. Some examples include the Easy Photo Background Remover, Pixcleaner Background Remover, and Product Pix. The latter also further optimizes images to decrease page load time when buyers are browsing online shops.
The Square Photo Studio app is available in the Apple App Store.