OWC's Thunderbolt 4 Expansion Hub Fits Perfectly Under a Mac Mini
Other World Computing (OWC) has launched what it is calling the world's first Thunderbolt 4 certified storage and hub expansion solution, the miniStack STX. It fits perfectly under a Mac Mini and adds a ton of additional ports and storage capacity.
The miniStack STX is a storage and hub expansion device that adds three Thunderbolt 4 ports (which are USB-C compatible) as well as a universal HDD/SSD bay and an NVMe M.2 SSD slot which provides a large amount of expansion storage capacity that can be combined into a RAID 1 configuration if desired. The base OWC miniStack STX doesn't ship with internal storage, so the possible storage expansion options are up to the buyer.
The miniStack STX has a heat-dissipating aircraft-grade aluminum design with an internal heat sink and high-efficiency fan which OWC says provides cool, nearly silent operation. In addition to the three Thunderbolt 4 ports, it also has an additional display-focused port. The device can support a mix of up to five Thunderbolt devices, three USB devices, and two displays. This claim with Thunderbolt or Thunderbolt 2 peripheral devices requires a certified Thunderbolt 3 to Thunderbolt 2 (mDP) adapter, and devices such as external drives will operate at Thunderbolt Thunderbolt 2 speeds in this use case.
Part of the selling point behind the OWC miniStack STX is that the 2018 Intel Mac Mini as well as the new M1 version don't allow the internal factory drive to be upgraded. With it, OWC says that the storage capacity of the Mac Mini can be expanded to 200x that which can be installed at the time of purchase. The company says this makes it a much more cost-effective solution than needing to buy a new computer down the line.
The miniStack STX supports up to 770 MB/s storage performance, which the company says is great for bandwidth-intensive video editing, photography, audio, virtual machines, and everyday data backup and access tasks.
The miniStack STX is only available in black, which doesn't quite look perfect with either of the finish options available for the Mac Mini, but it does still fit neatly under the computer.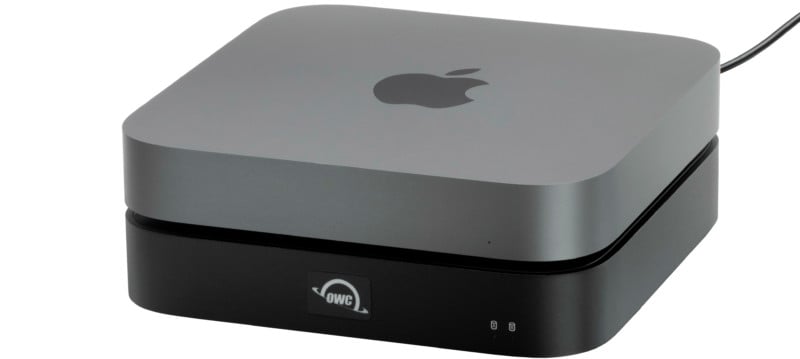 The OWC miniStack STX is available for pre-order now and starts at $299, and can be outfitted with a combination of standalone hard drives, NVMe SSDs, or both for as little as $369 for as much as $1,249.