Sony Unveils the Venice 2, a Full-Frame 8.6K Cinema Camera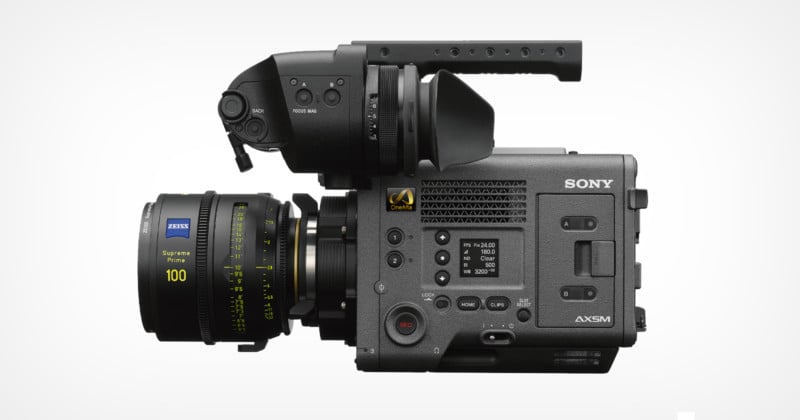 Sony has announced the Venice 2, the successor to the company's first full-frame cinema camera. It features 8.6K capture, 16-stops of dynamic range, and the ability to interchange sensors between models for added versatility.
The Venice 2 builds on what is found in the original Venice — such as the color science, Dual Base ISO, and 8-stops of built-in neutral density (ND) filters — and focuses on a few areas of targeted improvement. It has a more compact design, internal recording, and the option for two different sensors: the new 8.6K sensor or the original 6K Venice Sensor.
Specifically with the new 8.6K sensor (8640 x 5760), Sony says that the Venice 2 offers 16-stops of total latitude in dynamic range, which is one more stop over the 6K sensor. The company says that combined with the color science of the original Venice, the new sensor can capture images and skin tones with excellent color separation and shadow detail.
The 8.6K Venice 2 can shoot in four separate modes: 8.6K (3:2) at 30 frames per second in full-frame, 8.2K (17:9) at up to 60 frames per second in full-frame, 5.8K (6.5 anamorphic) at up to 48 frames per second in Super35, and 5.8K (17:9) at up to 90 frames per second in Super35.
The Venice 2 adds what Sony is billing as a "unique feature," which is the ability to swap the sensor block and use either Venice sensor. The camera body automatically recognizes the change and will start up without any firmware exchanges or re-installs, which Sony says adds more flexibility on-site. The original 6K sensor may be desired by some cinematographers as it allows for higher frame rates.
The Venice 2 also uses a new high-speed 6.6 Gbps AXS card AXS-A1TS66 for 8K 60p recording. Existing AXS Memory Card Readers including AXS-AR3 via Thunderbolt 3 interface are compatible with the new media.
The Venice 2 also supports 4K output with a LUT applied, has improved 3D LUT processing to improve picture quality, EI changes directly applied to S-Log3 outputs, LUT/ASC-CDL control via Ethernet/Wi-Fi, Zoom to Fit (Full-Frame recording with 17:9/16:9 monitoring) operation, ethernet connector position changed to Camera Assistant side, Lemo 2pin 12V output connector, and comes with an internal microphone installed.
Below is a sample film shot by Oscar-winning cinematographer Claudio Miranda called "The Camera Test" which takes inspiration from his 2017 film "The Dig" and tests both the Venice and Venice 2 with an anamorphic lens:
"How does the highlight roll off? How does the lowlight go into the black? Does it go red? Does it get too saturated? That's my personal bias of what this test was about," Miranda explains as what he is looking for.
The results are, in Miranda's words, "freaking stunning."
"It's clean. The noise, if you do hit it, is organic. It doesn't feel overly electronic. And I just like the way it feels. I shot a fire shot at 3200 ASA that's intentionally overexposed, and I just thought it had this natural, organic feel. The low light footage is really amazingly clean," he says.
The Venice 2 camera with the 8.6K sensor is scheduled to start shipping in February of 2022 while the new body with the older 6K sensor will be available in March of 2022.