'Broken Line' is a Photo Series Featuring the Cold Beauty of Greenland
The monotonous propeller noise of Air Greenland's Dash-8-200 had been roaring in my ears for more than an hour as we began our approach to Ilulissat.
The First Day in Greenland, July 2003
The 40km-long Ilulissat Icefjord spread out below us. We glided over countless icebergs that had run aground at the end of the ice fjord, wedged into each other. A white mush of ice floes, broken ice and icebergs marked the way to the 7 km-wide break-off edge of the huge glacier. Every day, huge thundering masses of ice break into the sea, causing the sea level to rise slowly but incessantly.
Shortly thereafter, colourful wooden houses, parked containers, and sled dogs on chains appeared in between. Large oil tanks marked the entrance to the harbour of Ilulissat, where hundreds of small boats are tied up, some in several rows against the jetties. Shortly after, we landed abruptly, braking and engine roaring, on Ilulissat's short landing strip.
A veil of clouds bathed the airport in diffused light. As I stepped off the plane, my lungs filled for the first time with air cooled by glaciers and icebergs. I breathed in deeply.
A little later I was sitting with my luggage in a cab on the way to the harbour, where my boat and equipment were waiting for me in a warehouse. I have the two large wooden boxes with my equipment brought near a jetty.
A red cargo ship of the Royal Arctic Line was being unloaded next to me. This ship supplies the town of just under 5000 inhabitants with everything that is needed here except fish and meat.
Fishermen were preparing their boats for departure. Hunters dragged a hunted seal across swaying jetties. Boats are repaired, cleaned, refuelled. Everywhere, luggage was waiting to be shipped. The harbour is the heart of Ilulissat.
Amid this colourful hustle and bustle, I started building my 5.3-yard-long Zodiac. I was lucky that several young Inuit helped me with the set-up. We carried my boat over a swaying wooden dock and pushed some boats aside to put it in the water. My outboard motor was quickly hooked up. Nuka started the motor with two pulls on the cable and wanted to try out the boat. We drove slowly out of the harbour. Fog obscured the view, and we carefully pushed our way through a dense carpet of drift ice.
On all sides of the boat, sharp ice floes scraped against the thin skin of my inflatable boat. Nuka showed me how to navigate safely through the dangerous ice mush. Now I understood why you can't rent a boat in Greenland. It takes a lot of experience to drive a boat safely through the Arctic Ocean and I learned that every year numerous fishermen lose their lives. I suddenly realized that a trip in such a small boat is a life-threatening risk.
We returned to the harbour. I stowed the rest of my gear, said goodbye to Nuka and the others, and set off alone for the first time through fog and ice towards Rodebay, where I had rented a wooden cabin. Ice floes scraped ceaselessly along the thin outer skin of my boat. I imagined travelling alone in this boat along the coast, and I felt very uneasy.
For the first time I doubted my project. Travelling alone in a dinghy, thousands of kilometres along an almost uninhabited coast to take pictures? What a crazy idea.
After a long tour in fog and drizzle I reached the sheltered bay of Rodebay. At the jetty, I found Inigo was expecting me. I had survived the first tour between numerous icebergs and drift ice. I was already sure that it was unlikely I would carry out my planned tour to the very north of West Greenland.
My cabin was only a few steps away from the jetty, so the boat was quickly unloaded, and Ingo showed me how the kerosene stove worked. I had to fetch water with canisters from the well house 200 meters away. There was a grocery store, a school, a church, and the small restaurant of Ingo and Uta in the village of thirty inhabitants. In front of almost every hut there were sled dogs chained and waiting for the winter, when they could let off steam again. Only the young sled dogs were allowed to run around freely. They dragged away everything that lay around to somewhere they could play with it like a toy.
After the unsettling tour with the boat through the fog, I now felt safe again and finally crawled into my sleeping bag at 2 a.m., while outside the midnight sun still lit up the landscape. Sled dogs barked and howled me to sleep.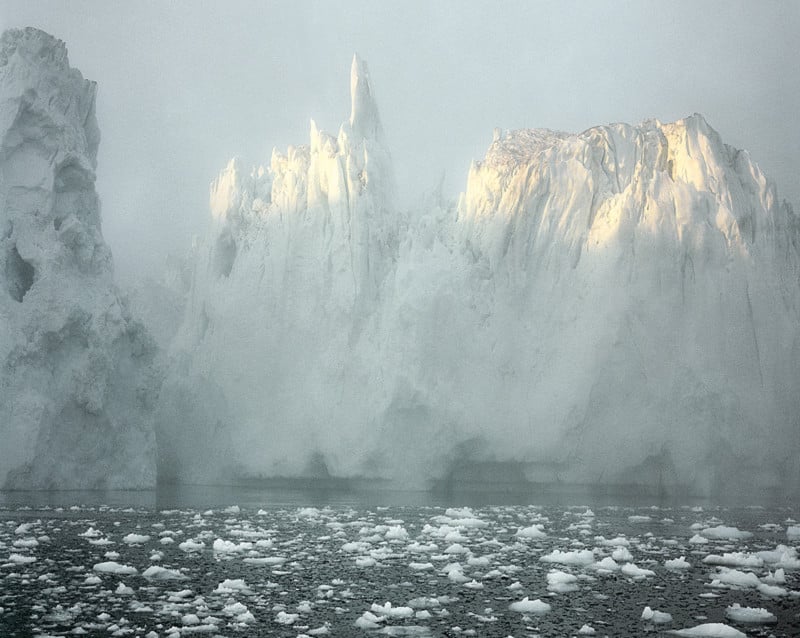 The First Month: Greenland
Under the new suspicion that I would not finish my Greenland project, suddenly all the pressure was gone. I started to make daily trips with my boat. People were a bit surprised, and a bit worried, about the German and his boat. But I got valuable tips from many people on how best to avoid the many dangers of the Arctic Ocean. Soon I found out that the light is most beautiful from 10 p.m. until 5 a.m., and from then on I looked for my pictures at this time.
Light and landscape inspired me. Slowly I became more confident in handling my boat and the conditions in the Arctic Ocean. My tours became more courageous from day to day. I began to expand the radius of my exploration and now spent sometimes 16 to 18 hours on the water. The fog had something magical about it and soon I was going out when it was densest.
The floating icebergs far out at sea impressed me so much that I took my first pictures, with the 8 x 10-inch camera, from the boat (Ilulissat Icefjord 05. to 08.).
I was trapped by the ice several times and pushed dangerously close to calving icebergs by the ice mush. I photographed glaciers calving directly into the sea. I took incredible pictures during my first month in Greenland.
On the flight back to Germany I was already thinking whether I should dare to travel even further north. I was already "Arctic bitten" which is what they say when you are drawn there again and again after your first visit to the Arctic. Fourteen journeys to Greenland would follow in the coming years.
The Second Journey: From Ilulissat to Uummannaq
It was to be two years before I was determined and prepared to continue the tour north. My boat and equipment were safely stowed in a container at the port of Ilulissat. At the beginning of July 2005, I set off well-prepared and equipped in good weather towards Uummannaq; 360 km of almost uninhabited coast lay ahead of me. Since there was no safe bay for my boat anywhere along the route, I decided to do the whole tour in one piece. During the 36 hours at the motor tiller, humpback whales accompanied me, and I observed seals hunting together. The coast became increasingly mountainous. Steep cliffs rose to 1900 meters directly out of the sea. Even huge icebergs were lost like small white spots against the dark rocky background.
In Uummannaq Fjord I lived in various Inuit settlements and from there, explored the area in countless nocturnal trips. Here there were almost daily violent storms. Taking pictures from the boat with the large format camera turned out to be difficult. Due to the steep rock walls of the fjord, there was also the danger of 10- to 30-metre-high tidal waves in narrow places when glaciers calved. But glaciers were not the only threat. In 2017, 50 million cubic metres of debris broke into the fjord from an altitude of 1200 metres in one of the bays near Uummannaq, causing a 95-metre-high tidal wave.
Numerous houses in the village of Nuugaatsiaq were washed out to sea. Scientists found the debris avalanche was triggered by the growing warming of the rocks. The brittle rock is no longer held together by the permafrost, so the danger of rock falls has been increasing for years. Scientists have calculated that, in addition, the coasts of Greenland and the island itself will rise significantly because of the melting of the tons of ice, while the rising sea level will literally drown some coasts. Everything will change. On the advice of experienced hunters and fishermen I decided not to go by boat the last 150 km to Upernavik – my boat might break up in the frequent high waves on the rocky coast. So I drove back to Uummannaq and prepared my boat for shipping to Upernavik.
The Third Journey: From Upernavik to Melvillebay
In early July 2006, I was on my way to the Innuit settlement of Tassiussaq. The midnight sun was just above the horizon in the north, so I could only avoid its blinding rays to some extent by permanently changing course. Some icebergs were reflected in the smooth sea, and I could travel at high speed. I was just checking my course on the GPS, when everything suddenly became dark and silent. I felt something ice cold on my chin and at the same time something warm ran down my forehead. I opened my eyes and saw ice. I closed my eyes again when I felt pain in my chest and head.
Blood ran down my cheeks. Everything was spinning. I realized that I must have hit an iceberg at full speed and been thrown out of the boat. Everything must have happened in a split second. I had sustained a laceration with concussion and broken my left rib. My boat had drifted away in the meantime. Some of my equipment was floating in the sea.
The small iceberg I was on was drifting out to sea. I had not seen another boat for more than 20 hours. I was alone, far away from the nearest settlement. No one would help me here. I decided to leave the iceberg as quickly as possible to swim to my boat.
For my own safety, I always wore a dry suit and a life jacket when on the boat. On my wrist I had a safety line so that the engine would stop immediately if I fell out of the boat. Knowing that there was no turning back, I let myself slide off the iceberg into the water, which was about 2º Celsius, and started swimming after my boat.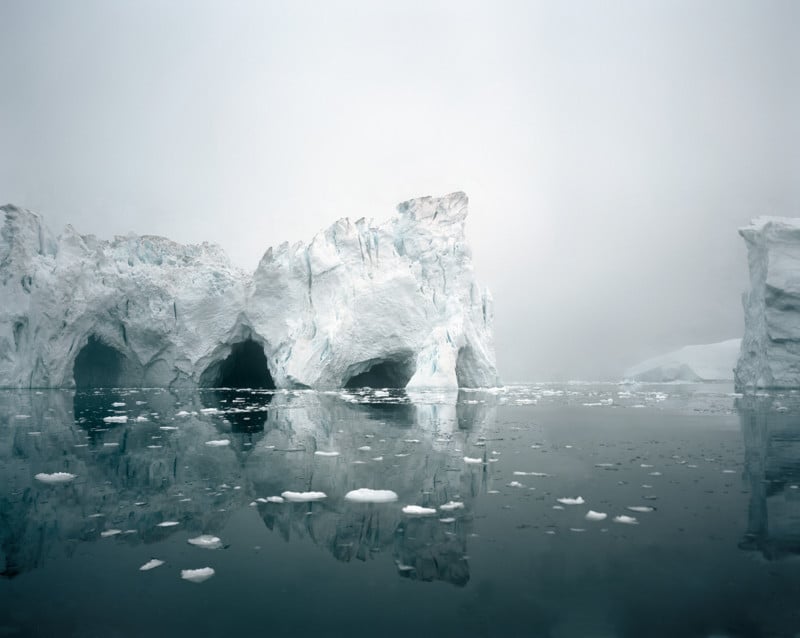 A light breeze drove the boat away from me and it took me at least 15 minutes to reach it. As I tried to climb into the boat, I realized that my muscles were too cold to work by now. I had almost no strength left and at first, I was hanging, perplexed, onto the boat with my painful broken rib. Finally, I swam to the back and was able to push myself up into the boat with one foot on the propeller. Fortunately, the boat had not been damaged in the accident and the engine started immediately. I was saved.
As I continued my journey north, my broken rib plagued me with every movement of the waves. But giving up was not an option. Despite everything, I managed to take many wonderful pictures with my large format camera.
I continued north until dense ice and bad weather in Melville Bay forced me to turn back. For more than 30 hours I fought my way back through snowstorms and meter-high waves to Upernavik. This was probably the worst tour of the entire trip, and I swore to myself that if I survived this, I would never do such a tour again. While packing my equipment in Upernavik I decided to ship my boat back to Ilulissat instead of Germany. The very next year I set off on a new expedition to Greenland's Icecap.
---
The article is courtesy of ELEMENTS Magazine. ELEMENTS is a monthly magazine dedicated to elegant landscape photography, insightful editorials and fluid, clean design. Inside you will find an exclusive and in-depth articles and imagery by the best landscape photographers in the world such as Bruce Barnbaum, Christopher Burkett, Chuck Kimmerle, Christian Fletcher, Charlie Waite, Rachael Talibart, Erin Babnik and Freeman Patterson, to name a few. Use the PETAPIXEL10 code for a 10% discount off the annual subscription.
---
About the author: Olaf Otto Becker was born in Lübeck-Travemünde, Germany in 1959. Becker is a regular contributor to the New York Times Magazine. His first publication Under the Nordic Light (2005) was nominated for the Rencontres D'Arles Book award. He has been nominated twice for the Prix Pictet award in both 2008 and 2012. His work has been exhibited internationally in Austria, Germany, the Netherlands, the United Kingdom and the United States.