Samyang Unveils Parfocal E-Mount Autofocus 24-70mm f/2.8 Lens
Samyang has released a 24-70mm f/2.8 lens for Sony E-Mount that not only features autofocus but is also parfocal, a rarity in stills lenses and especially at the sub-$1,000 price at which it is currently listed.
The lens was leaked by Sony Alpha Rumors on October 9 and has since appeared for sale in Thailand — and only Thailand at the time of publication. It is likely the lens will eventually become available in other countries and given it promises autofocus, is parfocal, and is listed for an equivalent of about $900, it is likely to be quite popular if the image quality is even close to what is expected out of third party optics.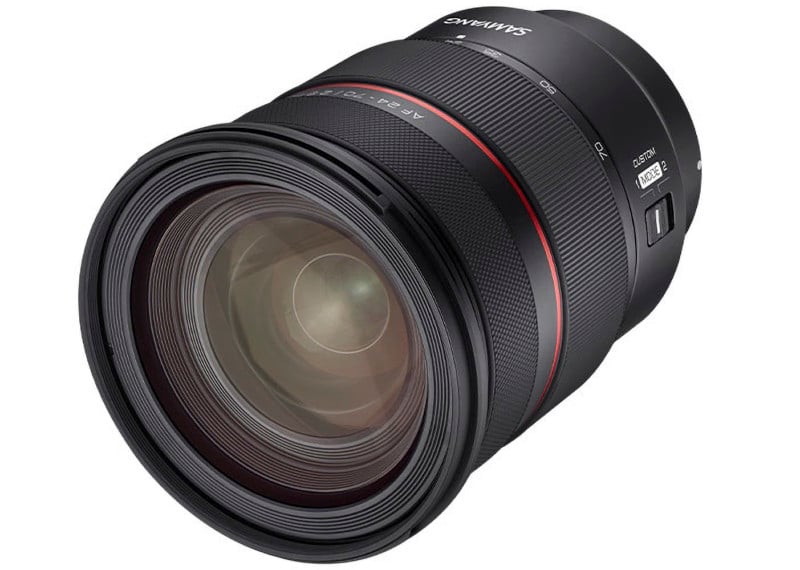 The Shopee listing for the lens notes that the Samyang AF 24-70mm f/2.8 FE features 17 elements in 14 groups and includes two aspherical elements and three extra-low dispersion elements along with one "HB" and three "HR" elements. The front element has a special "UMC" coating as well. It has a close focusing distance of 35 centimeters and promises round bokeh thanks to a nine-bladed aperture.
The autofocus is powered by what is described as a linear STM focusing system. It is also parfocal, which means that once focus is obtained on a subject the focal length can be changed and the focus point will not be lost. This is usually a feature exclusive to extremely expensive high-end cinema lenses and allows filmmakers to widen or tighten a shot without having to rack focus at the same time. Achieving parfocal in this lens may be one of the first instances it has even been done in a sub-$1,000 lens, let alone one designed for full-frame stills-focused E-mount cameras.
The lens description says that not only should it perform well with regards to its autofocus capabilities for stills shooters, but the parfocal nature also makes it ideal for video work, therefore making the lens an excellent hybrid shooter workhorse optic.
The Samyang AF 24-70mm f/2.8 FE also features some measure of weather resistance and is protected against dust and rain. The lens is compatible with all Sony E-Mount full-frame cameras and can resolve high-resolution images as well as 4K and beyond. The lens is also covered under a two-year warranty. As noted, it is likely the lens will be made available globally at some point soon.