Canon 1200mm f/5.6 Sells for $580,000, Most Ever for a Lens
A Canon EF 1200mm f/5.6 lens was the focus of a bidding war at the Wetzlar Camera Auctions (WCA) last week that saw it climb to a final value of 500,000 euros (about $580,000), the highest ever value for a camera lens.
In July, the WCA announced that it was set to offer for sale a lens that it billed as exceedingly rare: a Canon EF 1200mm f/5.6. The lens was originally manufactured in the 1990s in limited quantities and by special order only. Because the lens was so difficult to make and production was so limited, it took more than a year to build each lens. Much of that time was spent growing the massive fluorite crystals required for the gigantic elements.
According to Canon, the EF 1200mm f/5.6 is constructed of 13 elements in 10 groups and has a close focusing distance of 45.9 feet (14 meters). It has an inner ultrasonic motor and supports a 48mm drop-in filter.
Originally it was thought that less than 100 of the lenses were ever made, but more recent approximations put the actual number closer to 20. The original list price for the lens was $90,000 and the company could supposedly only make two of them a year.
These lenses rarely come up for sale given their extreme scarcity, but there are a few limited cases. In 2009 and in 2015, B&H listed the lens for sale for $120,000 and $180,000 respectively. In 2014, MPB Photographic had one available for about $165,000. Outside of these three circumstances, however, there have been few — if any — other opportunities to buy the lens since Canon discontinued production of the optic.
That scarcity and the long wait between opportunities to purchase the lens likely led to the bidding war that saw the lens available through the WCA climb to a whopping 500,000 euro — about $580,000. The bidding took place primarily between two parties who were connected by telephone. The WCA says that this is the highest price ever achieved at auction for a camera lens.
The Canon lens stole the show, but the WCA saw a few other items see notable auction values. A prototype of a Leica III from 1932 was sold for a hefty 375,000 euro (about 435,000). It was only expected to sell for at most 100,000 euros (about $116,000).
A Leica M4 from the former inventory of the German Federal Armed Forces (Bundeswehr) in NATO with olive green paint finish from 1968 sold for 450,000 euros (about 521,000).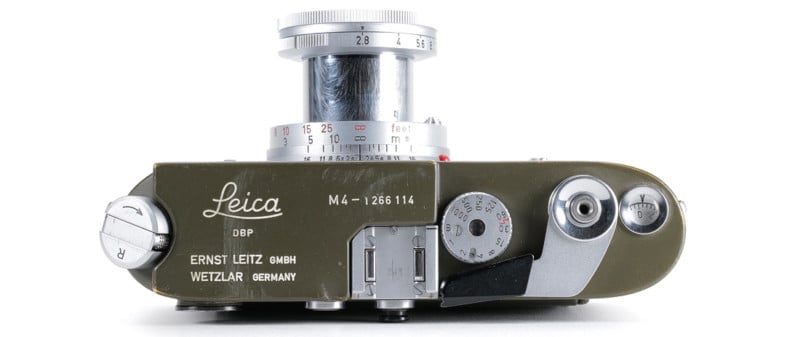 A prototype of the first Leitz Summilux 35mm (engraved "Summarit 1:1.4/35") from 1959 went for four times the estimated price at 187,500 euros (about $217,000).
The also Soviet GOI camera rifle from the World War II period found a new owner for 250,000 euros (about $290,000).
The next Wetzlar Camera Auction will take place on October 8, 2022.