This is Your Chance to Buy the Super-Rare Canon EF 1200mm f/5.6L Lens
Wetzlar Camera Auctions is set to offer an exceedingly rare Canon EF 1200mm f/5.6L lens for sale on October 9, 2021.
Because the lens is so difficult to make and production was so limited, each one that was produced was sold. Wetzlar Camera Auctions says that each lens took more than a year to build due to the time required to grow "its massive fluorite crystals." Apparently, very few of these particular crystals are known to exist today. Because of this, the production volume for the 1200mm f/5.6L was about two a year.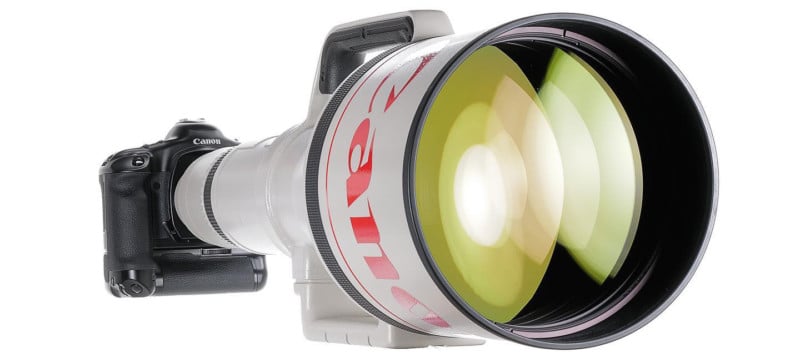 As noted by Canon Rumors, it's not clear how much the lens is valued at or expected to sell for, but other times this rare lens has been sold saw it fetch more than $150,000. Back in 2015, B&H Photo offered one of these lenses for $180,000 with a condition level that was defined as showing "little or no signs of wear."
This super-telephoto lens has the longest focal length of an interchangeable lens for AF SLR cameras at the time. Silent and fast AF is realized using a ring USM (Ultrasonic Motor) and rear focusing system.

Extremely sharp, professional-quality images are realized through the use of two large-diameter artificial crystal fluorite lens elements (3rd & 6th) that thoroughly eliminate the secondary spectrum. Although the optical design is the same as FD1200mm f/5.6L (prototype), this lens is optimized for the EF system with a nonlinear focus cam for moving the focusing lens group, a focus preset function for quick focusing at a predetermined point, and a power manual focusing with three focusing speeds.

A one-touch revolving mechanism for quick switching between vertical and horizontal formats is possible. Extenders EF 1.4X or EF 2X transforms the lens into a manual focusing super-super-telephoto 1700mm f/8 or 2400mm f/11 lens.
According to Canon, the EF 1200mm f/5.6 is constructed of 13 elements in 10 groups and has a close focusing distance of 45.9 feet (14 meters). It has an inner ultrasonic motor and supports a 48mm drop-in filter.
Wetzlar Camera Auctions will likely provide more information on the lens, including its starting auction price, closer to its offering on October 9.
---
Image credits: Photos by Wetzlar Camera Auctions