Panasonic Launches the L-Mount BS1H Full-Frame Box Camera
Panasonic has announced a new "box-style" Lumix mirrorless camera called the DC-BS1H. Similar in form-factor to the Micro Four Thirds BGH1, the BS1H packs a much larger 24-megapixel full-frame sensor.
Just like the BGH1 featured similar specifications to the GH5S, the BS1H is a rehoused, reimagined version of the S1H.
The boxy design prioritizes connectivity and mobility to use the camera in a wider variety of filmmaking situations and includes a USB 3.1 Type-C, a 3G-SDI (BNC), and an HDMI Type-A port. Moreover, Genlock IN (BNC) and Timecode IN/OUT (BNC) functions which enable multi-angle synchronized video recording are available to build a scalable system with manufacturer-agnostic external monitors, rigs, and gimbals. When connected to LAN, Power over Ethernet+ (PoE+) makes it is easy to install both physically and electrically. Control over maximum 12 sets of LUMIX BS1H cameras is available using Panasonic PC software LUMIX Tether for Multicam. The LUMIX BS1H is also equipped with a double SD Card slot for backup recording or relay recording.
It also features a tally lamp both on the front and rear of the camera, 3.5mm audio in and out jack, and is compatible with an XLR microphone.
The BS1H uses a 24.2-megapixel 35mm full-frame CMOS sensor that is capable of capturing up to 6K resolution. It uses an OLPF (optical low pass filter) to suppress moire and false color and features Dual Native ISO to minimize noise. Panasonic says that it features excellent low-light performance, more than 14 stops of dynamic range, V-Log, and more.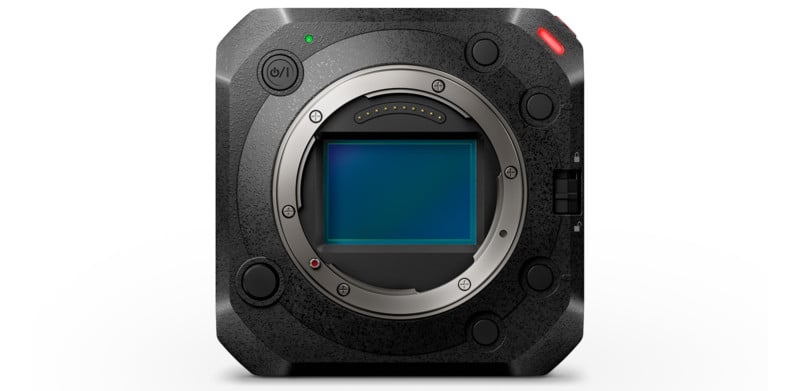 The LUMIX BS1H is capable of 6K at 24p, 5.4K at 30p (in a 3:2 aspect ratio), or 5.9K at 30p (in a 16:9 aspect ratio) video recording. It also provides 10-bit 60p 4K and C4K HEVC video recording when using the image area equivalent to Super 35mm. The 4:2:2 10-bit 4K at 30p is recordable in H.264 at its full area.
The camera uses the colorimetry of the VariCam series and is able to work alongside other Panasonic Lumix production cameras as well as the BGH1 or the S1H — the latter of which it shares many of the same specifications. Panasonic says that the BS1H's CMOS sensor has a wide color gamut known as V-Gamut, which is the camera's optimum color space and achieves a color space that is wider than BT.2020. V-Log has log curve characteristics reminiscent of negative film and V-Gamut delivers a color space even larger than film.
The company also says that the LUMIX BS1H also provides real-time subject detection with an advanced deep learning technology to set precise focus on the target subjects such as humans and animals even moving at fast speeds.
The BS1H offers variable frame rates of up to 60 frames per second in 4K and 180 frames per second in Full HD 1080p. The BS1H provides an IP streaming function that enables distant, high-quality image transmission to the social streaming platform online with PC connection over wired LAN. It can stream 4K at 60p (50p) video in H.265. Panasonic says that H.265 has half the bitrate while keeping the image quality the same as H.264, which means it can provide two times higher image quality at the same bitrate as H.264. Streaming in ultra-high definition 4K at low bitrate is possible even in the cases where the bandwidth is not broad enough.
The Lumix BS1H will be available in November for $3,500.