Photo Series of Natural Pink Salt Fields Looks Like Infrared Images
A photographer who is known for his infrared images has created a surreal body of work that shows the uniquely pink salt fields of France in a way that looks infrared, but instead only uses the natural colors of the area.
Paolo Pettigiani, based in Turin, Italy, is an exhibited and published photographer and co-founder and art director of No Panic, a creative agency.
His work primarily uses infrared (IR) photography, and one of his pieces may be very familiar to Adobe users: Pettigiani's image was chosen as the loading screen for Adobe Lightroom Classic 2021.
One of Pettigiani's recent series doesn't use his trademark infrared photography because the location that he scouted already creates the illusion of IR with bright hues of pinks and blues — a seemingly unnatural mix of colors to find in nature, but possible nevertheless.
As a creative from a young age and a Design and Visual Communication graduate at Politecnico in Turin, Pettigiani started to research how to visually combine photography and graphic design into unique imagery where colors play a particular focus and arrived at IR photography.
View this post on Instagram
It helps Pettigiani express the essence of his creative vision — "a fusion of science and creativity, playing with colors, shapes, and contrasts in order to create a visual mood to get the viewer lost into a new and unseen world that question reality as we see it."
Although his recent work titled, "Dunaliella salina" — which is also the name for a type of micro-algae found in sea salt fields and is responsible for the bright pink hue seen in the water — doesn't feature IR, all of the other elements are still there.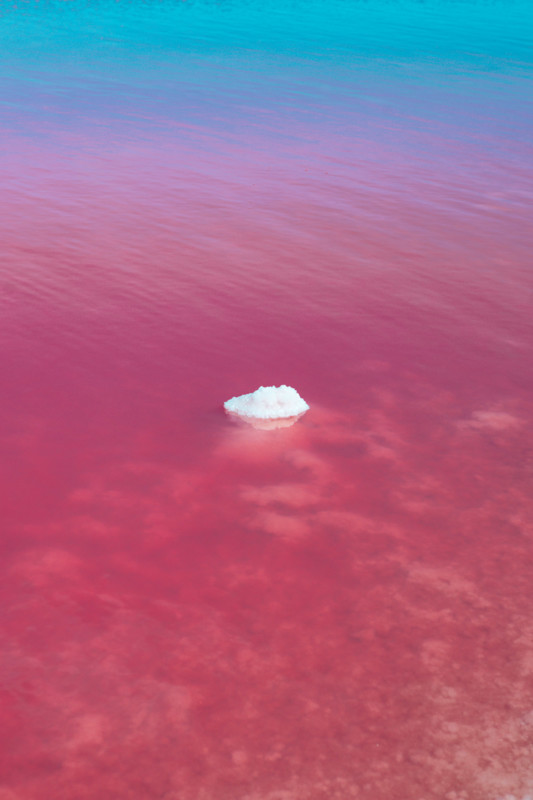 Pettigiani came across the unique salt fields in southern France which fired his creativity. The landscape gave him "the geometry and the minimalism of the lines created by water and sand, paired with the natural elements of seaweed," he says.
He is always on the lookout for geometry, minimal spaces, and colors — the three key elements that form his composition considerations, which are also present in this project.
The goal of this project was to invite emotions in the audience the say way his IR artworks do and to highlight the beauty of nature, which can be found in everyday actions and places.
To capture his striking collection, Pettigiani used Canon EOS R and DJI Mavic 2 Pro Drone. Both are converted to the full spectrum for IR photography when shooting other types of work, such as a similar project he shot in Salar de Uyuni in Bolivia, although with IR.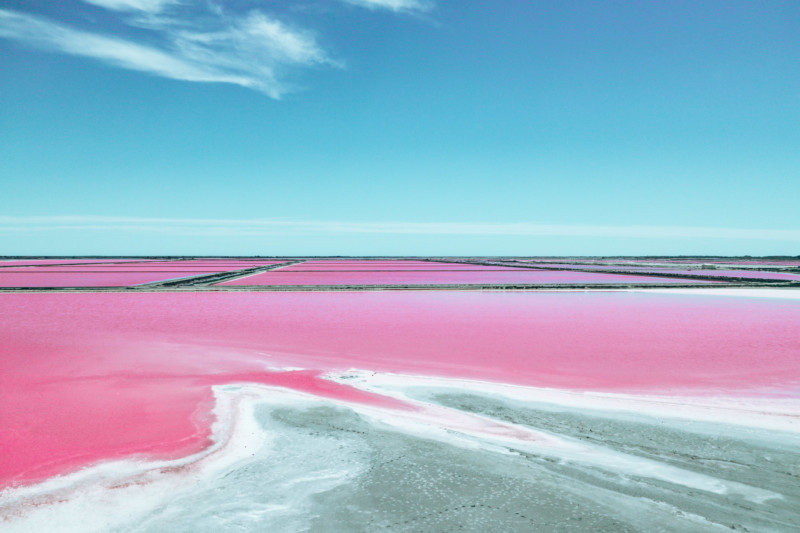 As for any future projects, Pettigiani tells PetaPixel that he has just come back from another road trip along Normandy and Brittany, France, and although didn't find any salt fields, he did create some interesting images he intends to publish soon.
More of Pettigiani's work can be found on his website and Instagram.
---
Image credits: All images by Paolo Pettigiani and used with permission.