The $4,000 Stellina Smart Telescope Makes Shooting the Stars a Snap
The Stellina is a smart telescope from Vaonis that works alongside a phone or tablet with the app and helps users to find and share the sights of the universe instantly.

It is a telescope that has no eyepiece and is completely automated through the use of a smartphone or tablet. In fact, you can link several phones or tablets to it so they can all view it at the same time.
According to the company, all users have to do with the Stellina smart telescope is choose what they want to look at via the app and watch the image build on their phone or tablet's screen, which is both exciting and rewarding especially for beginners and enthusiasts who lack the large and expensive gear normally involved in astrophotography like this.
This device, oddly resembling a turret from the video game Portal, features a 400mm focal length an 80mm aperture with a resolution of 6.4 million pixels (3096 x 2080), and would fit right in on a sci-fi movie set. Once set up, the block opens up from the center to reveal the refractor telescope hidden away in the middle of the casing.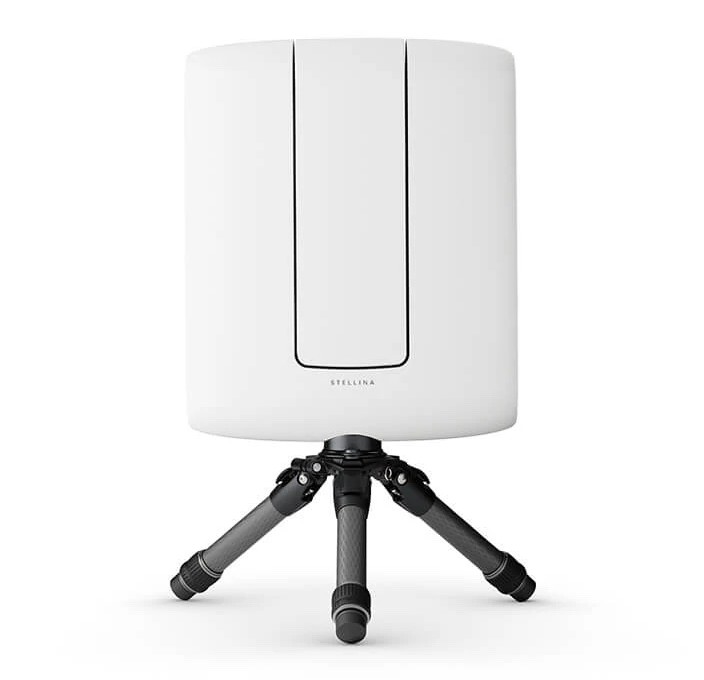 At the simple push of a button, the fully computerized telescope will open up and calibrate in tandem with the Stellinaapp (available on the Apple App Store or Google Play) allowing up to ten users to zero in on over 100 pre-programmed deep sky targets as well as getting an easy look at the moon's surface without any of the guess work.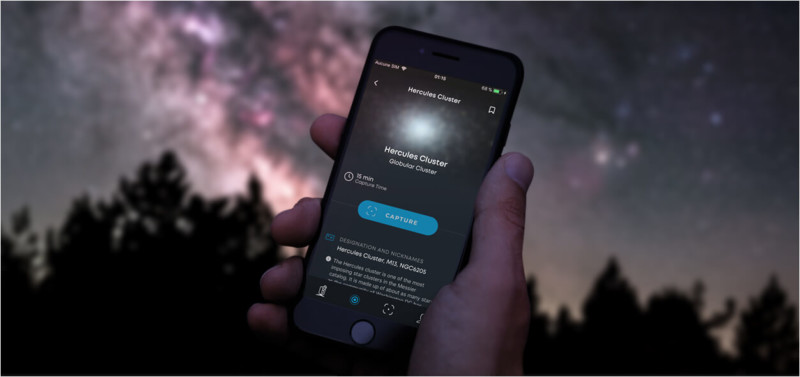 Anyone who has ever used a telescope in the past will know that while it is possible to see amazing things through them, there are a lot of micro-adjustments to be made, and typically, only one person using one eye can see through them at a time. The company says the Stellina turns astronomy into a truly social activity letting users easily share what is captured through the lens on their mobile devices in full HD.
Here are some sample photos shot using the Stellina:
The Stellina weighs about 25 pounds and can fit in a standard backpack (19 x 15 x 4.7 inches), making it pretty portable for those looking to bring it on overnight camping trips, or even travel internationally in carry-on luggage. The system can capture images in jpeg, tiff, and fits (16 bit raw), has an alt-azimuth tripod mount on the base, boasts up to 100x digital zoom, and packs a CLS light pollution filter to help ensure the images captured are as sharp and detailed as possible.
The telescope has a built-in battery life for up to 5 hours but can be extended to up to 10 hours of life by connecting a 20,000 mAh battery pack using a USB-C connection that can be stored in a small compartment that is IP53 certified for weather protection.
While the system may seem expensive compared to other "automated" telescopes on the market, it does make things much easier for amateur astrophotographers and stargazing enthusiasts to find some challenging and unique deep sky objects. Eliminating this guesswork may be worth the entry price for anyone thinking of going deeper into that side of the astrophotography world until they get up to speed on how to capture it all manually.
The Stellina telescope is now available for $3,999 from the Vaonis website.