A Look Back at the Olympus IS-1, an Early Bridge Camera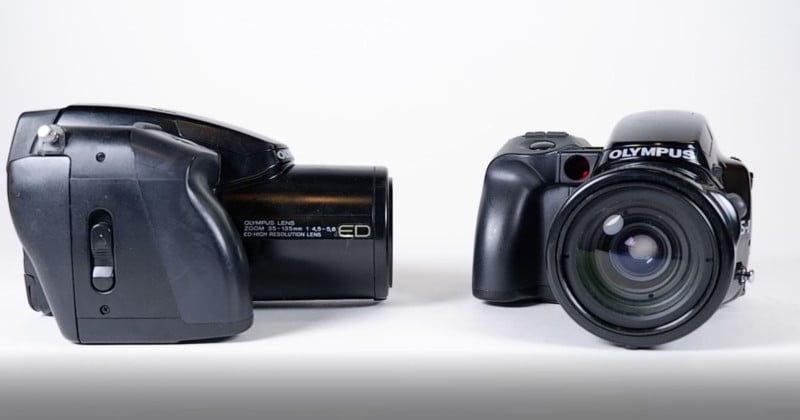 Do you know what ZLR stands for? How about ED, or ESP? And what in the world is Fuzzy Logic? In this article, we'll learn all about the Olympus IS-1, a pivotal model in a whole new category of camera released in the 1990s, and all the strange acronyms that come with it.

The Olympus IS-1, also known as the IS-1000 or L-1000, is what is considered today to be a "bridge" model. That is, not quite an SLR, because the lens is integrated, but not quite a point and shoot, due to its lens quality, slightly larger form factor, and manual features.
At the time, cameras like the IS-1 were called "New Concept", "all-in-one" and sometimes "bridge", but all definitions were still left in quotation marks as these names for it were still being fleshed out and decided on. IS stands for Integrated System.
Early Reviews
The earliest mention I could find for the IS-1 was an article written in the Chicago Tribune on September 28th, 1990 by Andy Grundberg titled: "Olympus IS-1 a Hybrid Camera With a Mind of Its Own."
It was not an entirely favorable review either.
"Now I don't think I'm a certified technophobe," says Grundberg, "but I had the darnedest time at Olympus' press preview when I went to use the camera.
"Spotting a nearby spread of cheeses, grapes and assorted foodstuffs, I decided to try the camera's macro setting. Actually, there are two, one at the tele range of its 35-to-135-millimeter zoom and one at the wide-angle position. I picked the tele macro setting, closed in on a grape, and tried to fire. No dice.
"Taking pity on me, a nearby Olympus representative explained that the camera was designed not to fire if the picture would be out of focus or ill exposed. Apparently I was out of focusing range-closer than 1.9 feet."
Grundberg ends his review with "Set to anything other than point-and-shoot mode, the IS-1 seems to have a mind of its own, which I suppose is what camera makers think camera users want. It blinks, it zooms, it sets its own exposures and tells you about them on a big LCD panel. But give it to an old-fashioned photographer without an instruction book and it will soon be confined to dust-catching duty on a shelf in the hall closet."
Of course, he was just handling a prototype, but not the greatest start for Olympus.
The earliest magazine review I could find on the Olympus IS-1 is brief and alongside the Nikon N6006 and Canon EOS Rebel, written by Herbert Keppler in Popular Photography in November 1990.
Keppler calls the long-awaited, much-rumored IS-1 "incredibly compact" and a move towards the territory of "new concept all-in-one cameras, such as the Chinon Genesis III and Ricoh Mirai."
Much of the review discusses the features. The minimum focusing distance of 23 and 5/8 inches, or 15 and three quarters on Macro, the max shutter speed of 1/2000, and the max flash sync speed of 1/100.
A couple of the more interesting features mentioned was the spot meter for backlit situations, which samples about 1.8% of the image, and the G40 flash unit, which can fire at the same time as the popup flash.
This review of the IS-1 was conducted on a pre-production model as well, and the price was estimated at $500, or about $1,000 in today's money.
Outdoor Photographer did their first impressions on the Olympus IS-1, titled "New SLR Category."
"The new IS-1 is an SLR by strict definition," says Seth Weber, "It doesn't look like one, however. Outwardly, it more closely resembles the Super Zoom 330 or 300 seeming to borrow from camcorder configurations."
Weber says it feels nice in the hands, though it may take some getting used to, and mentions the ED glass. Weber says Olympus calls it "extraordinary dispersion" but we'll hear another definition later.
"Correct exposure in a multitude of difficult lighting situations is handled by a Fuzzy Logic ESP Light Metering System which tries to do its best to second guess your thoughts (if you knew what to think). In short, it draws a distinction between centered subjects and peripheral image areas, and caters to the needs of the center"
Weber calls the IS-1 "A lot of system in a small package."
Petersen's Photographic also chimed in on the Olympus IS-1, naming it one of the top 10 hottest cameras for 1991 alongside the likes of the Canon EOS Rebel, and Nikon N6006, claiming the camera "can suit the needs of anyone from point-and-shooter to real photographer."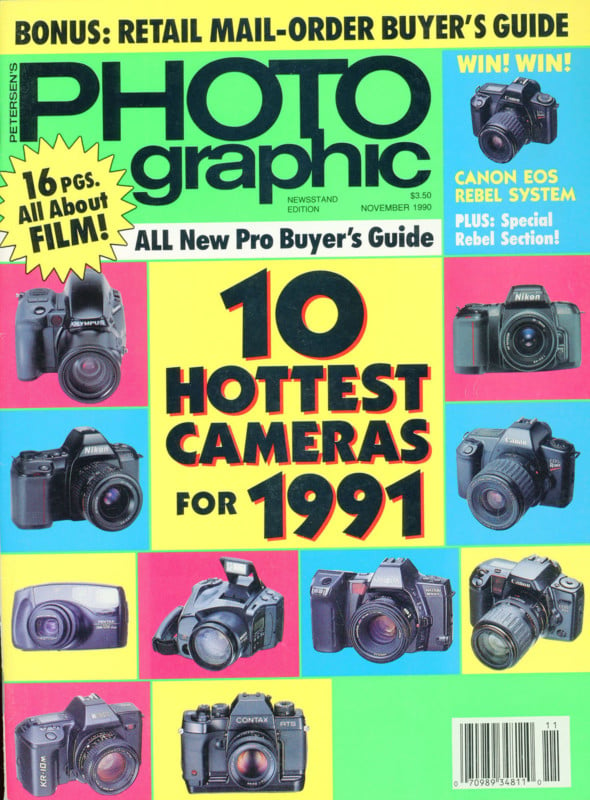 "All the elements in the IS-1's zoom lens are multicoated to reduce flare and improve contrast and it employs a special "extra-low dispersion" glass to reduce chromatic aberration and produce sharper images with better contrast."
They mention the Fuzzy Logic ESP and learn it stands for "Electro-Sensitive Pattern", and the IS-1 has a new TTL phase-detection autofocus system which requires a lot less internal movement.
The IS-1 is featured on the December 1990 cover of Petersen's Photographic and includes a full-length review by Mike Stensvold titled, "Something for Everyone."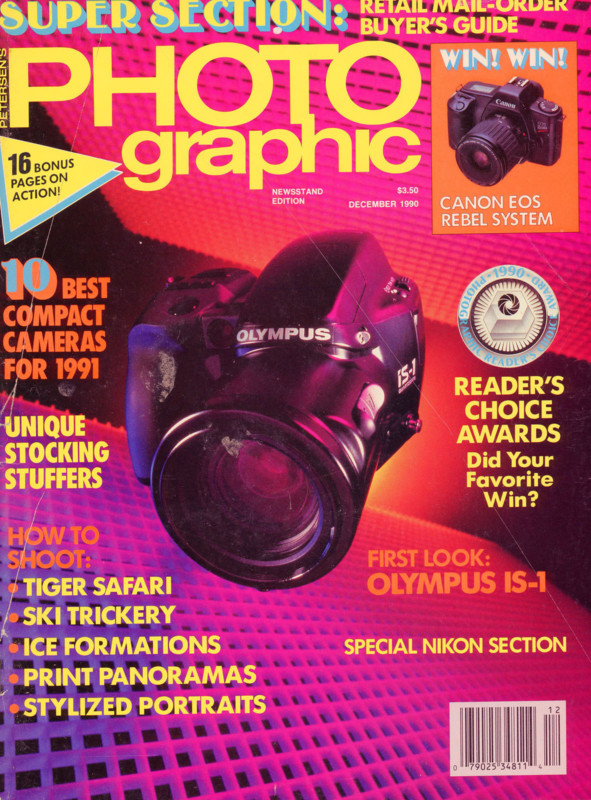 You knew right away that he was taking this new category of camera with a grain of salt.
"In this age when a 'revolutionary' new camera is announced virtually every month, one tends to be a bit skeptical about such claims," says Stensvold, but he does concede that there are unique features to be had here not found in most point and shoot cameras, like a metered manual exposure mode "which enables you to set a desired shutter speed and lens aperture, and thus control the degree of action freezing or blurring in shots of moving subjects as well as the depth of field in shots where that's important."
In regards to the unique shape, Stensvold says "it almost forces you to hold the camera in the steadiest way possible (unlike other so called 'bridge' cameras, whose shapes encourage one-handed shooting-(great for macho posturing but not for producing sharp images)." He goes on to say the camera's controls are well-placed for easy access while shooting.
Praised is the ED glass, which is the second element from the front, and the lens itself, which has a fairly wide max aperture for a point-and-shoot camera.
Also given props is the twin-tube intelligent flash system, with the capability of lighting subjects up to 32.8 feet away at ISO 400, as well as the ability to light subjects up close without overexposing, due to the IVP, or Intelligent Variable-Power system. A flash accessory is also available, the G40 flash unit which pivots and works with the pop-up flash system, rather than on top of it.
Three metering modes are offered with the Olympus IS-1. Standard ESP, which stands for Electro Sensitive Pattern. This mode is automatically employed in programmed AE mode. Center-Weighted average metering, which is utilized in aperture priority and metered manual modes. As well as spot metering, which can be selected in any mode.
The article also goes over all the auto and semi-auto modes both technical and creative. With so many different modes it may get confusing for some users so you can return to the basic point and shoot mode anytime by pressing mode and the plus-minus buttons at the same time. Kind of like a home button on your iPhone.
Part of the reason the camera is able to pack so much into such a compact design is the S-wrap film system. Stensvold says the "camera's unique s-wrap film system makes for a more compact, better-balanced camera, along with easy auto loading."
Another reason the form factor is smaller than expected is The M-pattern reflex viewfinder, rather than the standard four pattern SLR pentaprism.
In conclusion, Mike Stensvold claims that "The Olympus IS-1 comes closer than most to truly being a "camera for everybody". In point and shoot mode, it's as simple to use as any camera in its class. It offers versatility to the more creative snap shooter and it's got some advanced features found in few other such cameras, making it useful to more serious photographers, as well."
In this article, the list price is $800 or about $1,671 in 2021 money.
Also chiming in December of that year was Canada's Photo Life Magazine, summarizing their innovative new models found at that year's Photokina. The IS-1 was featured at the 1990 trade fair side-by-side with such giants as the Leica R-E, and the Contax RTS III.
"The ergonomic design of the Olympus IS-1 incorporates some impressive features" states Photo Life. "35-135mm power zoom, dual strobe intelligent flash, TTL autofocus, programmed auto exposure, fuzzy logic ESP light metering and fully automatic S-wrap loading system."
December 1990 was the IS-1's time to shine as it was also featured as one of Popular Photography's top cameras for 1991.
"The polycarbonate body can easily be held in one hand but is better steadied with two," says Popular Photography. They also inform the reader that the grip is quite comfortable and talk about something they call zoom focal length memory. Something that is "a unique feature that lets you select a favorite zoom setting and then to have the camera's power zoom automatically stop at this specific focal length."
Much like the review by Mike Stensvold, a lot of what is mentioned is technical in nature but does end with this consideration.
"Certainly the Olympus IS-1 is a fascinating and capable performer you should consider if its size, convenience, and a moderate choice of focal lengths are what you need and want."
Starting in 1991, American Photo Contributing Editor Russell Hart gives a small mention to the compact wonder in his article "Photofile" titled "New Concept Coup" stating that "The spacey Olympus IS-1 offers many of the advantages of system SLRs, including reflex viewing and a wide choice of focal lengths."
The IS-1 gets an honorable mention in February's issue of Outdoor Photographer alongside other lenses as part of an article called "Prestige Glass" which looks at the more affordable cost of lenses with among other things, ED glass. "Thankfully, with the advent of computerized design and high tech manufacturing processes, the task is no longer as laborious as it once was. Hence, we're now seeing certain superior telephotos and zooms at affordable prices."
Petersen's Photographic published a special bonus section in their February issue, called "How to Buy a Camera" adding the IS-1 as a potential for buyers. They actually called it an SLR "with built-in 35-135mm power zoom lens" which some so far have argued that SLR is a loose definition.
A new at-the-time Canadian magazine would feature a four-page review in their March/April 1991 issue. Photo Digest writer Peter Burian put the IS-1 through its paces with multiple locations like Vancouver Island and Dundurn Castle in Hamilton, Ontario. As well as multiple films including Agfachrome 100, Fujichrome 100, Ektachrome 50 HC and Fujichrome Velvia 50.
Peter begins by stating that point and shoots have outsold SLRs over the previous few years and companies have started adding more and more features.
"This was the evolution leading up to the larger "bridge" camera-so called because it was expected to bridge the gap between compact and SLR. Built around a zoom lens some of these offer extensive automated capabilities and are billed as "all-in-one" cameras. Recently someone coined the phrase "new concept", a moniker that particularly suits the most versatile addition to this category, the Olympus IS-1"
The zoom lens is praised, with its ED glass and the fact that every element is multi-coated.
"These enhancements prove themselves worthwhile, in terms of outstanding image quality. Some of my slides appear to equal the sharpness of those produced with my professional zoom, which cost more than this entire camera and all accessories," says Peter. "Even when shooting into the light, contrast was well maintained, thanks to the fine optical coatings used in the lens."
One of the things that seemed to really impress the reviewer was being able to change the zoom controls to manual focus control. Essentially changing the power zoom control to a power focus control, though he did note you'll want to sort out your focal length first.
I appreciated that they went into a bit more detail on what exactly Electro Selective Pattern and fuzzy logic meant for your final image.
"It will first consider brightness in the central area of the scene, and then across the entire frame separately," he says. "This information is then evaluated and compared to 14 individual possibilities (instead of merely two) stored in its memory. In a fraction of a second, subtle corrective action is automatically taken, for accurate metering in a wide range of lighting conditions."
We also learn in this review that the G40 flash unit has a range of 130 feet at ISO 100.
Overall Photo Digest gave a glowing review of the IS-1 with very few hang-ups and said that anyone frustrated with the limitations of a point-and-shoot who also cannot afford an SLR will be very happy with the hybrid that is the Olympus IS-1.
In a seemingly out-of-place article featuring camcorders in the May 1991 issue of Outdoor Photographer, was a piece called "The New Fuzzy Logic Cameras" and we learn a bit more about the technology and its origins.
"The Fuzzy logic theory was developed by Professor Lofti Zadeh of the University of California at Berkeley in the 1960s," says writer Frank Hughes. "He used it to describe the difference between the yes-or-no way digital computers think, and the continuously variable way we think.
"Fuzzy logic got its name from the capability it has to make logical decisions, even when the input data is conflicting, or "fuzzy" for standard logic systems."
We also learn from this article that the Olympus IS-1 is the first 35mm camera to use fuzzy logic in its exposure control circuit.
Early Advertising
Now lets change gears and look at how the camera was advertised.
The earliest ad I could find appeared in the November 1990 issue of Popular Photography. It was a three-page spread that asked their readers, "Remember the first time you received a fax, talked on a cellular phone or heard a CD?"
Now obviously, this question is meant to provoke the idea that the Olympus IS-1 is a state-of-the-art piece of camera tech and not only that but a new and improved version of the SLR. Here is an example of Olympus using the term ZLR to define themselves as something not quite an SLR.
The ad also implies you'll hold the future in your hands and claims to be the first camera with a built-in lens to include ED glass. Other claims in the ad include a design made to balance in the hand, a lens that can zoom from 35-135mm in one second, and a dual strobe flash.
The telephoto, wide-angle, and macro adapters were also featured with the g40 flash.
Petersen's Photographic also ran an ad in November including the Olympus IS-1 by Supreme Camera and Video based out of Brooklyn New York.
"Every aspect of the IS-1 is an example of advanced systems integration," claims the ad.
Capsen Group Inc. also ran several ads in Photo Digest and Photo Life in 1991 and 1992. A January Photo Digest ad called the IS-1, "The New Shape of Photography" "A new Concept" and "The World's First Integrated System Zoom Lens Reflex."
The August issue's ad called the camera "as astonishing as the pictures it takes."
A December 1991 ad in Photo Life magazine reuses the same language from another ad stating that the camera has a "uniquely ergonomic design that complements today's active lifestyle."
The largest ad I came across was one of those multi-page deals you see sometimes that structure themselves like reviews but are labeled "special advertising section" in the top corner.
In "I Did it all with the IS-1", published by Popular Photography in January 1992, we are immediately informed that Joe's sick, and our protagonist needs to get to the airport right away and doesn't even have time to grab his SLR and accessories.
"Thank goodness for the Olympus IS-1. Its smooth, low contoured shape slips easy as pie into the portfolio. Just bring the 28mm and 200mm lenses, the macro kit and some extra film."
Funny how he didn't have time to bring the SLR and a couple of lenses but had plenty of time to bring his IS-1 and a couple of adapters.
Throughout the "special ad" the gentleman is met with a slew of different scenarios for the IS-1 to tackle. A disbeliever on the flight, a casual group shot after a business meeting, Aunt Louise's prized flower, Uncle George's restored car, a football game, an impromptu modeling shoot, and some creative night photography.
Of course, everything is fabricated and readers will be able to figure that out but the message is clear, the IS-1 is versatile and with just a couple of accessories will perform like an SLR.
Olympus at this time also had an ad campaign both in print and on television titled: Never Miss another O. This wasn't just for the IS-1 as seen here in this commercial for the Infinity Super Zoom 3000.
Here's a two-page ad published in June 1991 for the IS-1 featuring a boxer. "Without O, there'd be no boxers, no hope, no glory. There'd be fighters, but no contenders. There'd be no gold metals. And there'd be no Olympus IS-1 to capture all these moments."
Another boxer-themed one-page ad was published in October. With a very similar message. Another one on the following October seems to just line up the 'O's. and of course, we couldn't have Christmas without O.
"There'd be no snowflakes. No Eggnog. Nothing to Open. There would be Santa Clause, but he wouldn't be jolly." Lucky for Santa, there's no O in diabetic, I guess?
It's all kind of strange.
Olympus would use this campaign for several cameras until at least 1994 as far as I can tell.
Speaking of Christmas, the IS-1 would make it to Outdoor Photographer's winter guide at the end of 1991, claiming it will "capture all the merry moments."
It would make Popular Photography's top camera list for 1992 and 1993 but quickly replaced with the IS-2 and IS-3 DLX.
Now while there is some conflicting information online as to when the IS-2 was released, I believe it was announced around the same time as the IS-3. In this article, "Proof Sheet", the IS-2 is being introduced alongside a couple of point-and-shoots. They refer to it as "The middle member of Olympus's all-in-one Zoom Lens Reflex Family."
There was a reveal of the IS-3 DLX from the "Spotlight on Photokina" published three months previous where they state that the IS-3 DLX is based on the highly successful IS-1, and to look for another camera from Olympus soon.
It's anyone's guess why the IS-3 would be announced first but it seems to me they were trying to pair them together to offer the consumer choice.
At any rate, for its time the IS line was very successful and would continue on with multiple models until the early 2000s.
Field Testing
For my field test, I utilized two Olympus IS-1s. One loaded with Ilford HP5 Plus and the other with good 'ol Kodak Gold 200.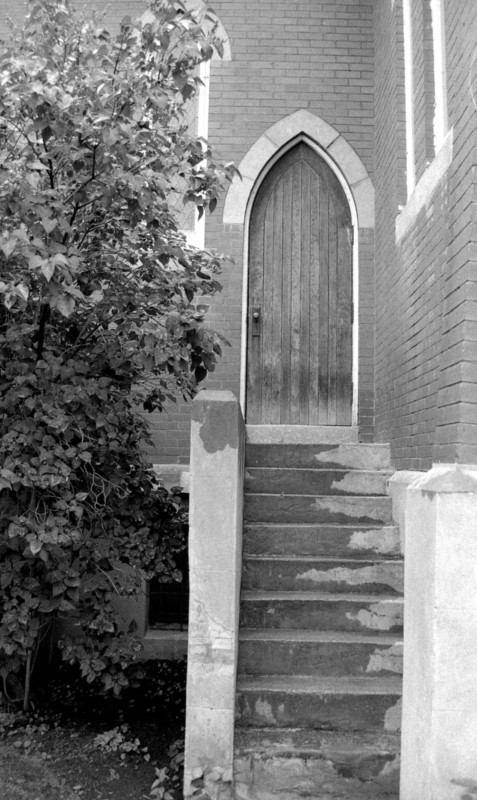 My field test went pretty well. I was able to utilize a few of the features like fill flash, spot meter, and even the power focus.
Here's an example of using the spot meter and power focus under this bridge. I had some issues locking focus in the dim light and I knew the contrast in lighting would throw off the light meter.
Here are a couple of examples of using the fill flash. First, this tree with the knitted arms wrapped around was very dark, and it ended up doing a decent job of balancing the light with the background. Same with this truck in the shade.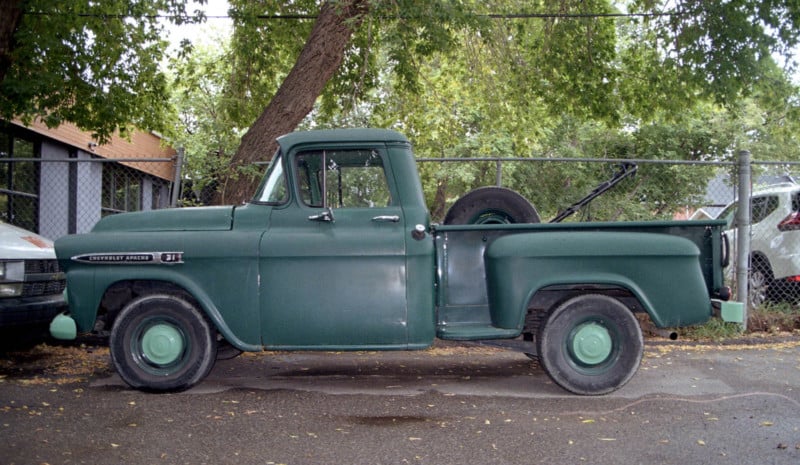 Let's talk about some pros and cons.
Pros
Under the Radar
Because this camera is not hip or cool, it's inexpensive. Looking online you'll see most go on eBay for under $30 Canadian dollars. If you're looking to get into film this would offer you everything you need to get started at the cost of two or three rolls of Portra. A decent zoom, a built-in flash, and both automatic and manual modes.
A Great View
The viewfinder on this is surprisingly good. It will indicate when you've achieved focus, and when power focus is on. It displays both shutter and aperture settings, as well as if exposure compensation is being used and whether your flash or spot meter is on.
Cons
No ISO Control
As far as I can tell, and I've read the manual three times now, there is no way to change the film speed. You can trick the camera by using exposure compensation but that's about it.
A Hard Load
Film loading is frustrating. I'm not sure if it's just the two models I have but the canister flips up no matter how carefully I place it. I have to hold the canister down almost until the door is closed and give it a good push to get it to snap shut.
In Summary
Overall it is hard not to recommend the camera at its current price point. It's unique, inexpensive, and produces images I thought were better than most point and shoots and probably on par with some SLRs. I will say though that the next ten years will probably see a drop in the number of working models. I would imagine these are hard to fix when they fail, and the rubber buttons may start to degrade. I also noticed one of my models had a harder time focusing than the other. So working quality will vary.
While this may not be the very first bridge camera, but just like the model T, it's the one that defined a genre.
---
About the author: Azriel Knight is a photographer and YouTuber based in Calgary, Alberta, Canada. The opinions expressed in this article are solely those of the author. You can find Knight's photos and videos on his website, Twitter, Instagram, and YouTube.