The Original Sony Alpha 9 Appears to Have Been Discontinued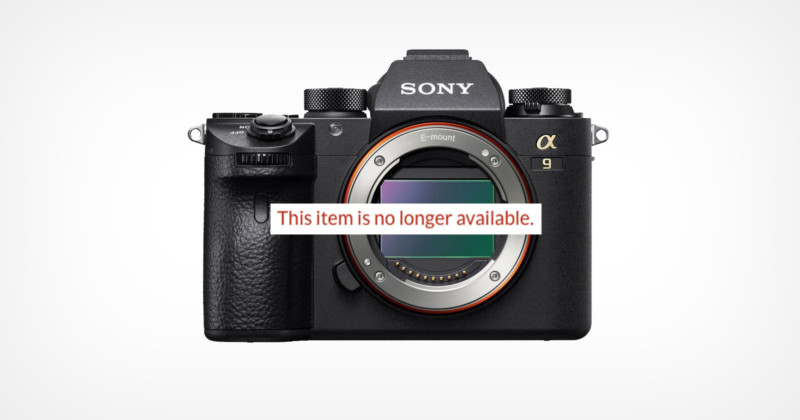 Sony's original Alpha 9 camera has appeared as discontinued through a few retailers, including Adorama, leading to the appearance that the company has retired the sports camera that was originally announced in 2017.
Spotted by Sony Alpha Rumors, the Sony Alpha 9 camera is now listed as discontinued on both B&H and Adorama. PetaPixel reached out to Sony, but the company was unavailable for comment. That said, a look at Sony's official website shows that the camera had not been discontinued but is listed as simply out of stock.
Some dealers may have marked the Alpha 9 as discontinued because they are simply unable to purchase more of them at this time.
Sony has a history of maintaining the availability of older camera models at a lower price than new options for years after a replacement has been announced, and the Alpha 9 is barely four years old. Even though the Sony Alpha 7R Mark IV has been on the market for some time, the previous Alpha 7R Mark III is still available, for example.
Due to the ongoing silicon shortage and production delays likely caused by the AKM building fire last year it makes sense that Sony would be quietly putting the brakes on the production of some of its older cameras since the company has had to publicly note that it is struggling to meet the demand for current-generation cameras.
On August 6, Sony published a "notice and apology" on its official Japanese website stating that the Alpha 7S III was experiencing production delays and that it is possible that those who wish to purchase the camera would have to "wait a while" to get one.
Earlier this year, PetaPixel reported that while Sony intended to announce and release multiple cameras in 2021, the AKM fire and ongoing parts shortage would result in delays. Now more than halfway through the year, it's clear that production issues are affecting more than just new products.
The Sony Alpha 9 performs nearly identically to the upgraded Sony Alpha 9 Mark II — announced in 2019 — aside from the addition of more networking options on the new model. Since parts are hard to come by, Sony likely made the decision to focus on producing the newer version for now until it is able to get its production operation back to full capacity. If Sony were to officially discontinue the Alpha 9, it would likely be because its imaging performance is near identical to the new model, and having two cameras of the same performance available at the same time during an unprecedented shortage of parts does not make a ton of business sense.
Should Sony provide more information about the Alpha 9, PetaPixel will update this article accordingly.