The Android-Powered Zeiss ZX1 Camera Has Been Discontinued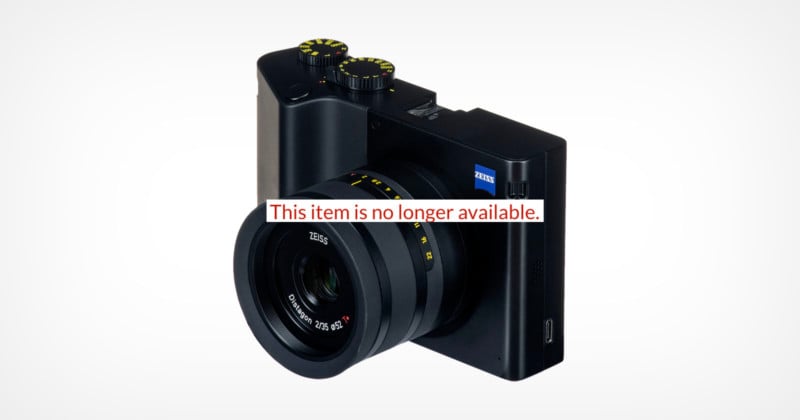 The $6,000 Zeiss ZX1 compact, fixed lens, camera originally released in 2020 has been discontinued. While Zeiss still has web pages for it online, its only two authorized resellers have listed it as no longer available.
The Zeiss ZX1 had an extremely long development cycle, even by camera standards. While it was finally announced as coming to market in the fall of 2020, it had been announced publicly two years prior, meaning that Zeiss had been working on it for even longer. The photography industry climate changed quite a bit between 2018 and its eventual launch time, which may have affected its desirability.
The ZX1 provided a somewhat unique value proposition in that it provided a smartphone-like workflow inside of a dedicated camera with a larger sensor and higher-quality optics: 37-megapixel full-frame sensor with an ISO range of 80-51,200 (developed in-house by Zeiss), a fixed 35mm f/2 lens, a 1,920×1,080 pixel EVF, and a 4.3-inch 720p fixed rear LCD touch display.
The camera ran a version of Android that allowed it to natively run Adobe Lightroom. The camera also included 512GB of onboard SSD storage since it didn't have a card slot. The exclusion of a card slot was a curious decision, but the built-in storage would have very likely been required no matter what in order to store the camera's operating system and any installed software.
In addition to being an unusual design, it was also Zeiss's first full-frame digital camera product.
While the ZX1 wasn't the first to integrate Android into a standalone camera — Samsung, which also bowed out of the camera market, tried it with the NX back in 2013 — it currently is the most recent example.
The camera was met with mixed reception. While on the one hand, it received notable awards for its design and execution, photographers never really got the sense that it was popular for end users. While that might have had to do with its design, it was likely more due to the camera's price: it cost $6,000.

Zeiss did support it with firmware updates for a time after release, but nothing in the last year.
Three years later, that has come to a head as it is listed as discontinued with its only two approved dealers in the United States: Adorama and B&H Photo, as spotted by Sony Alpha Rumors.
As the quality of photos that can be captured with a smartphone has continued to increase, camera makers have tried multiple strategies for combining the benefits of a smartphone with the image quality of dedicated cameras. To date, none of these hybrid products has met with much success, and it's not clear if this kind of combined experience has enough of a draw to pull users away from smartphones or traditional cameras and into such a middle ground.