Filmstock is a Free Service That Helps You Find Elusive Film and Cameras
Filmstock was founded on the principle of making it easier for enthusiasts to find and purchase rare film cameras and film stocks from shops around the United States. It allows users to customize searches, track specific items, and be alerted as soon as they are stocked.
Built as a passion project by photographer and technology project manager Alex Bowman — former founder of home-buying matchmaker Casamatic — Filmstock is simple: it is a film camera and film stock finder. It searches the inventories of many shops that sell film cameras in the United States and finds the cheapest place to buy film. It also allows anyone to set up an email alert when a camera that matches a specific search is found and alerts them when products are re-stocked or go on sale.
Bowman says that he originally built the platform for himself. He and his wife usually spend their spare time traveling, but due to the constraints of the pandemic, Bowman found himself with more time to funnel into his hobbies. He explains that since he has a passion for all things analog, he wanted to set up a way to get his hands on a Minolta CLE and Kiev 60, preferably CLA'ed by a trusted shop.
"I was hitting up a few shops' websites pretty much daily, I thought to myself: why don't I just code something that checks the sites for me, and tells me when one of those cameras becomes available?" he tells PetaPixel.
Once he started on the project, he decided to make it available to anyone who might be interested in the service rather than keeping it to himself. And since he was already checking sites and shops for film cameras, he decided to add the ability to look for film as well.
"One of my favorite stocks, ColorPlus, can be hard to find in the US, and I prefer not to buy film in bulk quantities. I just don't shoot enough, especially during the pandemic," he says, giving an example of one particular film he uses Filmstock to track.
Filmstock works by regularly checking stocks of cameras and film at trusted shops. For cameras, when it finds something that matches an alert that has been created by a user, that user is emailed immediately. For film, it keeps the film page constantly refreshed so Filmstock users always know where to find the best prices. If a user tells Filmstock to track a specific film, it will send an alert to that user if it goes on sale of if it becomes restocked after being out of stock for a while.
"We currently source film and cameras from 12 shops in the US, and are regularly adding more shops," Bowman says. "Suggestions are always welcome!"
Simple and straightforward, Filmstock is free for anyone to sign up and use. As mentioned, the service currently only tracks shops in the United States, but Bowman says he has the desire to expand the service internationally. He also wants to add insights like reviews of cameras and film, but also things like shop reviews, price trends, and how quickly cameras tend to sell after being listed.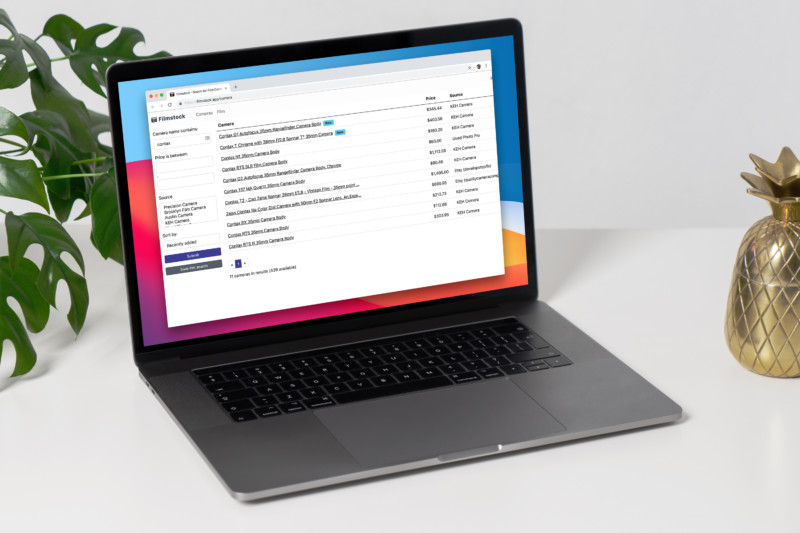 "I want Filmstock to be a one-stop resource for all things film camera and film stock-related: helping film photographers easily find the film cameras they have their eye on, while making it dead simple for them to find their favorite film in stock and at the lowest price," he says.