Corel's PaintShop Pro 2022 Comes With New AI Photo Editing Features
Corel has announced PaintShop Pro 2022 and PaintShop Pro 2022 Ultimate — an all-in-one photo editing and graphic suites that has received major upgrades from its earlier 2021 versions.
The editor first introduced AI-powered features and tools in its 2021 version, and the latest software further expands on the AI capabilities to make editing more simple alongside several new tools. Both PaintShop Pro 2022 and PaintShop Pro 2022 Ultimate are designed for photographers and creators of any level of expertise.
"We're leveraging the power of AI to simplify tedious tasks, re-imagining the photographer's flow through the application, and delivering new creative content to offer an exceptional experience from start to finish," says Chris Pierce, Director of Product for Photo and Digital Arts at Corel. "PaintShop Pro has long been known for its depth and impressive professional photo power. But with this latest release, we've found new ways to make the entire creative editing process easier, and frankly more fun, for a full range of photo software users."
Below is a list of the most notable new features found in PaintShop Pro 2022 and PaintShop Pro 2022 Ultimate:
AI Background Replacement: Corel says this feature will instantly change the background of an image. The company claims that the new AI Background Replacement tool intelligently detects and masks people in a photo, which enables the seamless replacement of backgrounds and experimentation with different scenes, color schemes, and more.
AI Portrait Mode: Corel touts PaintShop Pro's immersive technology as capable of automatically analyzing and appling a bokeh blur to a background. The company says that headshots can be enhanced by adding a softly blurred background to ensure the focus of an image remains on the subject.
AI Style Transfer: Advancements to Style Transfer enable the application of even more artistic features to images. With new Color Matching and Smooth Image options, users can now control and level the detail, texture, and color in stylized images.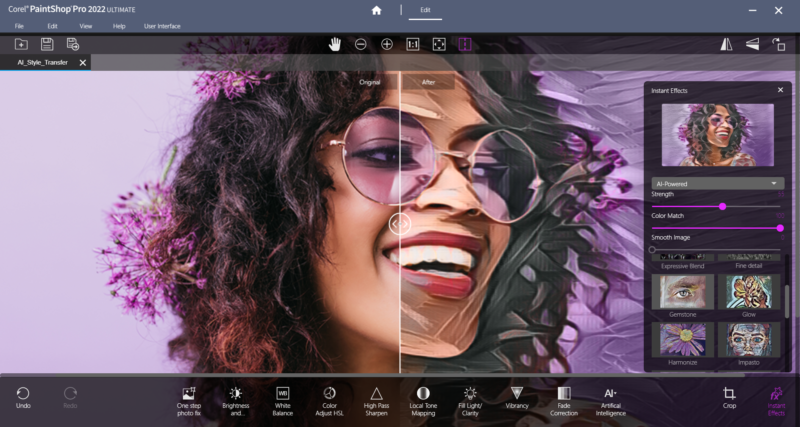 Frame Tool: Corel says this tool allows photographers to place photos or other raster objects into shapes quickly, easily, and intuitively.
"Work with a variety of frame shapes and sizes to achieve the desired look and accelerate the creation of digital layouts. Draw frames to use as handy placeholders or over a selected object, image or text to create standout, polished results," he company writes.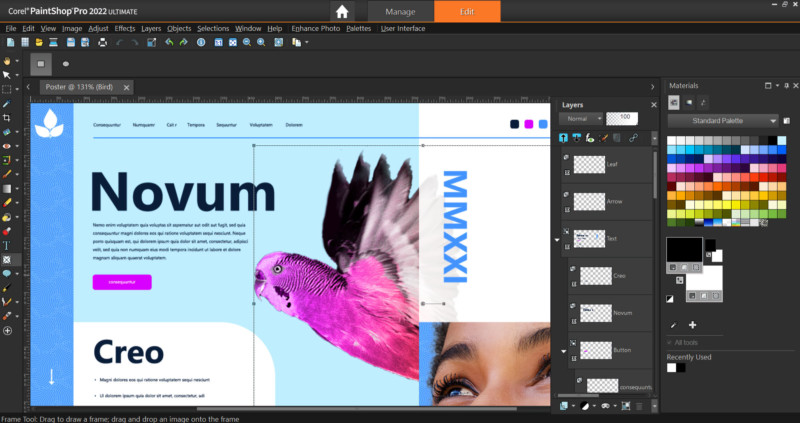 File Support: PaintShop Pro now supports both HEIC and HEIF, which allows users to upload images captured with an iPhone or iPad without needing to convert the file format first.
Read also: How to Convert HEIC to JPG
Usability: Corel has redesigned the system with beginner photographers in mind. The new Workspace tab includes built-in tutorials and learning content to help master the product with ease. The company says that new thumbnail previews for recent files make the navigation process much more seamless. Plus, with enhanced document-aware scaling, adding creative effects like drop shadows, inner and outer bevels and texture to large images is more effective.
PaintShop Pro 2022 Ultimate has several additional features that are not available on PaintShop Pro 2022, such as:
Highlight Reel: Corel says that photos and videos can be quickly imported "in a matter of minutes" and the new Highlight Reel analyzes, extracts, and compiles the best parts together.
MultiCam Capture Lite: This new feature promises to allow for the easy creation of multiple types of popular videos that require more than one camera perspective.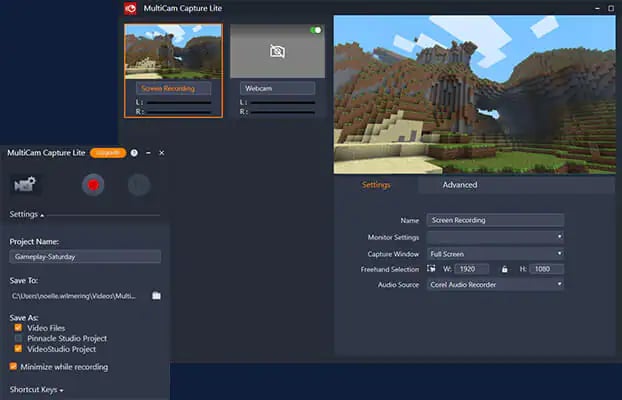 PaintShop Pro 2022 is available with a perpetual license for $80, while PaintShop Pro 2022 Ultimate costs $100. A detailed comparison list between the two editors and the past versions can be found on the PaintShop Pro website.