Texas Tourist Arrested After Crashing a Drone into the World Trade Center
A Texas tourist was arrested after he accidentally crashed a drone into 7 World Trade Center, which triggered a massive city and federal law enforcement response.
According to a report on New York Daily News, 22-year-old Texan Adam Ismail — who describes himself as a videographer, investor, and financial trader from the Dallas area — learned the hard way that New York City does not allow any drones to be flown in the city. Hoping to capture some footage of Manhattan, Ismail sent his DJI Air 2S about eight stories into the air and accidentally wedged it between a metal facade and windows above the front entrance to 7 World Trade Center.
Ismail says he didn't even know that the building was part of the new World Trade Center, so any links to the terrorist attacks that brought down the Twin Towers on September 11, 2001 did not occur to him. He was more concerned with trying to capture footage for his roughly 3,000 Instagram followers.
"I was making a personal travel video to show my followers on social media," he said. "I post on Instagram. I need to make my YouTube pop off," he told New York Daily News.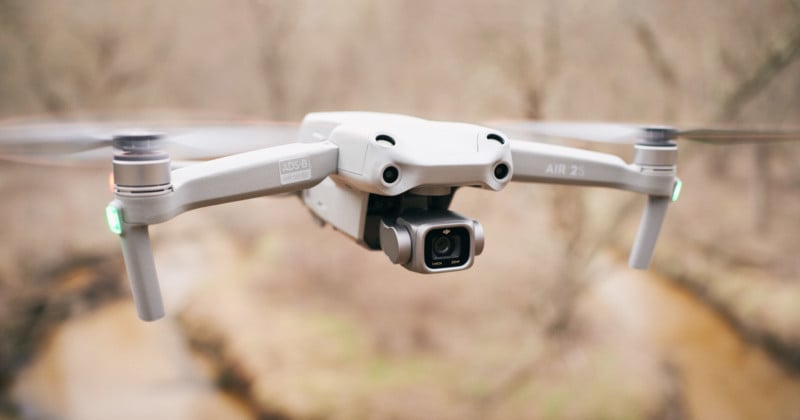 What happened next he describes as "quite a New York greeting," as he was swarmed by New York Port Authority police, New York Police Department Counterterrorism officers, and FBI who arrested him and confiscated his drone — which was not returned to him.
"Now I've got a great New York story," he said. "Everybody was a good sport. I didn't give the cops a hard time, and they didn't give me a hard time. They just had to check that I was doing what I said I was doing."
Ismail was issued a summons for violating the city code that bans personal drone use but was not imprisoned. Violations of the drone rules in New York are treated as a misdemeanor.
"I'm glad I'm not in jail," Ismail said.
As noted by DPReview, Ismail is not the first tourist to face charges for flying a drone near the World Trade Center. In early April, a Pennsylvania man was arrested for crashing his drone onto the roof of 3 World Trade Center. He was arrested when he attempted to gain access to the roof to retrieve it. He refused to cooperate with the police, gave them a fake name, and illegal drugs were also found on his person. He was charged with reckless endangerment, drug possession, false impersonation, and violating drone rules.
---
Image credits: Header photo licensed via Depositphotos.