Lee Filters Unveils System Specifically for the Nikon Z 14-24mm f/2.8
Lee Filters has announced a new LEE100 holder designed specifically for the Nikon NIKKOR Z 14-24mm f/2.8 S ultra-wide zoom lens.
The new LEE100 for the Nikon mirrorless 14-24mm lens is larger than the standard holders for the 100mm filters and is made from aluminum alloy and features what it describes as a bespoke compression system that allows for safe and secure placement on the lens barrel. The mount will lock securely on the lens without risking any damage to the barrel or hood mount. The company claims it has an optimized vignette performance by leveraging a set of visual "smart alignment" markings that will help users correctly position the LEE100 Mount on the lens as well as an integrated gasket and anti-reflective coating to protect against any light leaks.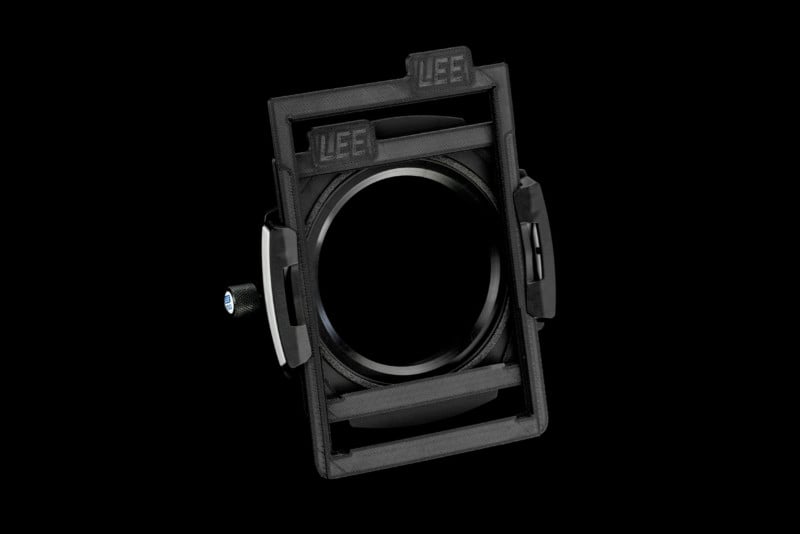 While this is a new filter holder design, it will use the same interchangeable and modular guide blocks as the standard LEE100 system, allowing photographers to continue using any existing LEE 100x100mm or 100x150mm graduated filters they have in their kits. The company claims the system has integrated handling tabs on the filter frames that allow for easy positioning without having to directly touch the filter surface, helping eliminate fingerprints and smudges, while increasing the filter's usable visible area. The mount also contains a physical stop built into the filter frame to optimize the filter's position relative to the lens. This will ensure the edge of the filter never accidentally drops into the shot.
The company claims that the new LEE100 system for the Nikon 14-24mm S lens is as strong and lightweight as the rest of the LEE100 line-up, can be attached or removed with just one hand using the spring release, and maintains the twin-slot filter guides that will give users a full 360-degree filter holder rotation. To make the most of this new mount, Lee has also launched a new line of foamless 100mm "Big" and "Little" stoppers. These new versions omit the foam light seal that the standard stoppers have, as it would cause vignetting when used on the Nikon Z 14-24mm f/2.8 S Lens. It is worth noting though, that this system will not be compatible with the LEE100 clip-on circular polarizer.
The new LEE100 filter holder kit for Nikon's NIKKOR Z 14-24mm f2.8 S is available now for about $208 USD (£149.99), and the new foamless stopper filters are about $168 USD (£121.20) each.