Canon to Have Olympic Gear Rentals Despite Contact Tracing Concerns
Canon has announced that it has established a full professional photo service center inside the Tokyo 2020 main press center to support Olympics photographers despite the complications with how this would affect contact tracing.
Last week, photographer Jeff Cable explained that he was told that photographers would need to supply their own camera equipment to cover the Olympics, breaking from the tradition where camera companies would have elaborate booths with huge libraries of cameras and lenses available to check out.
Just last week, Cable told PetaPixel that he is bringing all of his own equipment to Japan and has been told to only expect Canon to have enough equipment there in support in dire cases, such as if a camera or lens were to break. This requirement was supposedly imposed by the IOC to reduce the complications with contact tracing should an outbreak of COVID hit the games.
But the rules or regulations appear to have changed in the last two days, as Canon has announced that it will have a full-service booth for press photographers to take advantage of.
Canon — who is a major sponsor of the games — would not make such a grand announcement if it was not given permission by the IOC to do so, which means that within the last few days the rules for photographers have changed yet again.
"Canon has provided on-site support for press photographers, including camera and lens maintenance and technological support, behind the scenes at major sporting events around the world," Canon writes. "The Tokyo 2020 Games are no exception — there too, Canon will apply its professional support know-how acquired over its long history in order to provide flexible and appropriate support for photographers and the various requests and equipment troubles they may have."
The photo center will operate under what Canon calls a "zero downtime" model, which means that photographers will offer extremely fast camera service, equipment repairs, and loans of replacement equipment so that photographers can always be ready and in the best possible condition.
"The Canon photo service center will provide such equipment as the company's professional flagship camera, the EOS-1D X Mark III, as well as the EOS R5 and EOS R6 mirrorless cameras and super-telephoto lenses. In addition, elite and highly trained staff will be working on-site to support photographers until the end of the closing ceremonies of the Tokyo 2020 Games," Canon continues.
Canon says that the service center will take "thorough precautions against the spread of COVID-19 infections" in order to ensure that photographers and staff may use and operate the booth safely. In photos, dividers and plastic barries are visible around the booth between those who might be standing in line and those who are behind the desks.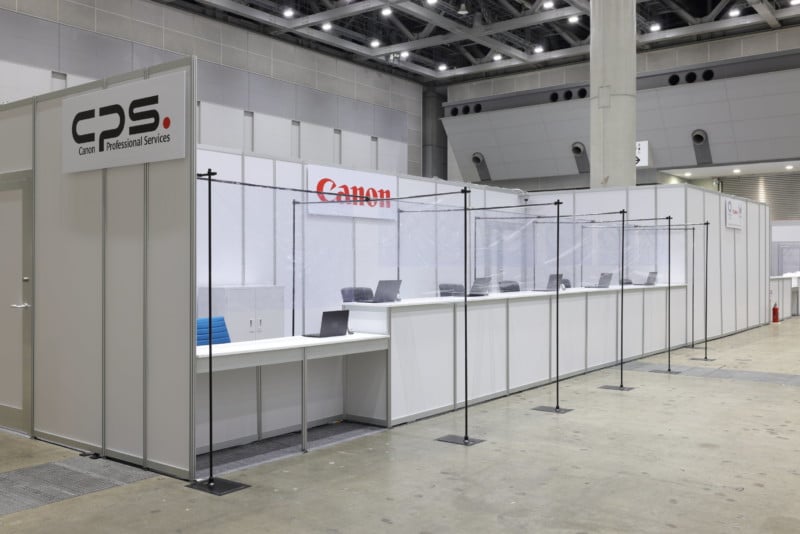 In a blog posted two days ago, Cable again states that his expectation was to provide all his own equipment.
"This is the first Olympics where I need to take everything with me, since Canon is not allowed to loan products to photographers (due to Covid protocol) unless it is a dire emergency. And yes, this has caused me a little extra stress this time around," he writes.
As the opening ceremonies for the games inch closer, the turbulent nature of the situation may be concerning. For example, in addition to the sponsors who pulled out of major aspects of the games last week, Toyota has announced that it is pulling out its games-related TV ads and won't take part in the opening ceremonies despite being one of the major corporate sponsors.
For photographers, the main concern thus far appears to be related to communication and what they can expect once on the ground. Answers to questions such as which forms they need to have, how those need to be submitted, what the exact regulations are surrounding movement restrictions, and when newcomers will be allowed to leave their hotel room quarantines all appear to be vague. Changing the rules around gear rentals this late in the schedule is yet another confusing communication decision that, while ultimately it is helpful for photographers, shows how fluid the situation in Japan currently is.
---
Image credits: Photos by Canon Global and used with permission.