Couple Learns Hard Lesson About Buying Gray Market Nikon Gear
An unfortunate couple in Chicago learned how camera manufacturers treat what is known as "gray market" equipment when Nikon refused to service their P1000 camera. They were confused, as they didn't buy it from a shady, unknown site, but from Walmart: an authorized Nikon dealer.

As reported
by CBS Chicago,
Lisa and Bruce Gaylord purchased a Nikon Coolpix P1000 from Walmart's website in 2019 for $800 so that Mrs. Gaylord could photograph birds during the migration season. Unfortunately, just before the season kicked off in 2021, Mrs. Gaylord found that her camera's electronic viewfinder stopped operating and the lens no longer extended. She says she thought it was a battery issue, but dismissed this as a possibility when multiple battery swaps did not solve the problem. It was clear that the camera was broken.
When she tried to reach out to Nikon to get it repaired, the company informed her that based on the serial number, the camera was classified as gray market and that not only was it not under warranty, Nikon would not service it.
"They're like, 'We think it's a gray market' which I had no clue what it was," Mrs. Gaylord said.
Nikon calls any product that is imported and sold by anyone other than Nikon USA or a Nikon USA authorized dealer a "gray market" product. While these are often genuine Nikon products, they were intended for sale in other countries and therefore might not meet Nikon's specifications for sale in the United States. They may not perform as expected and are not covered in any way by Nikon USA warranties and are also not eligible for Nikon USA repair service.
While Canon has a similar gray market warning on its website, the company is known for servicing some gray market items for a fee even if the company officially states that it may not.
In the video report above, CBS Chicago shows the listing and a few other examples from Walmart that name the P1000 as an "Intl Model." And while the news station was able to verify that some similar listings state there is "no warranty," others had no explicit gray market warning — it was obvious there were either no rules or poorly enforced ones regarding how third-party sellers listed products.
A quick search of the current options on Walmart shows that an "Intl Model" version of the P1000 is still available and can be purchased. Amazon has a similar listing for the camera as well that shows it as an "International Version."
What is confusing to buyers like the Gaylords is that Walmart and Amazon are both listed as authorized Nikon dealers, and for buyers who aren't looking for the exact right phrasing on a product listing, the assumption is that anything found on the site is legitimate. But Walmart and Amazon often have a lot more in common with eBay than many might think, as both allow third-party companies to list products for sale on either platform and neither Amazon nor Walmart are associated with the sale other than acting as a platform to initiate the exchange.
It should be noted that B&H Photo and Adorama both have a solid history with disclosing gray market products, and both have detailed pages that explain what each of the company's policies regarding them.
On its website, Nikon lists nine terms that it says are indicative of a product that would be classified as gray market: Import Model, Warranty via Seller, Gray/Grey Market, Nikon Import, USA Seller Warranty, Off Market, Direct Import, USA Coverage by Seller, and Seller Warranty.
None of those have any variation of "international model," so even if the Gaylords had checked with Nikon's website prior to making the purchase, the existence of nine other examples other than what they were seeing on the Walmart store would unlikely raise any red flags unless the fine print at the bottom of the listing was carefully analyzed. In short, for most buyers, the problems with the camera are not obvious.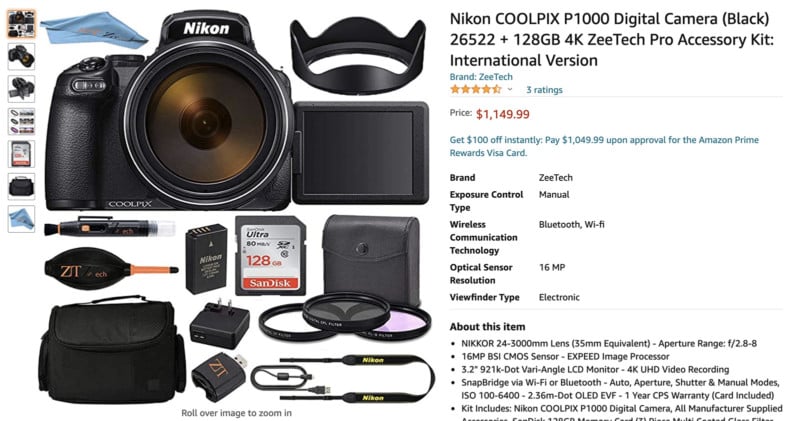 Nikon in particular has a history of its absolute refusal to repair gray market items. In 2015, Matt Saville of SLR Lounge wrote a detailed story about his experiences with attempting to service gray market cameras that highlighted the issues even an educated buyer might face.
The issue of repair has become more important lately, especially with the passage of news rules surrounding the "right to repair" movement. In early July, President Biden ordered the Federal Trade Commission to look into evaluating new right to repair rules, and on July 21, it published new guidelines that it would use to aggressively pursue action against companies who make it difficult to repair their products. It is unclear how or if the right to repair encompasses gray market items or if it has any bearing on Nikon's 2019 decision to close down its authorized repair program.
PetaPixel reached out to Nikon about the right to repair, its former authorized repair program, and the Gaylords' situation, but the company did not respond ahead of publication.
Whatever the case, the Gaylords argue that it should fall on online retailers like Amazon and Walmart to make it more obvious if a listing is for a gray market product, because now, the two are calling the busted P1000 their "$800 paperweight" as they have no means to get it repaired.