Mt. Fuji's 5 Best Landscape Photography Locations
I have been visiting the surrounding areas of Mt. Fuji for the last ten years and would have to say the easiest way to get around quickly is in a hire car. Most of the best viewing points are from the lakes and hilltops. The distances to each lake with public transport are far and not frequently available.

Most tourists take a day trip from Tokyo, but I would suggest an overnight stay. This will give you a chance to catch a sunset and sunrise. Mountain weather can be very unpredictable so be prepared to have heavy cloud cover on Mt. Fuji.
Here is a link to check live webcams in many key locations. I usually go in Autumn or Spring to capture the beautiful autumn leaves and cherry blossoms. There are many other points of interest to shoot so here are some suggestions for landscape photography locations worth exploring.
Gear Used
Canon 5D Mark III, Carl Ziess Distagon 18mm, Sirui 024x carbon fiber Tripod, Nisi filter (CPL, 6 & 10 stop filters). Editing with Adobe Lightroom, Photoshop, and Nik Software on a 13-inch Macbook Pro.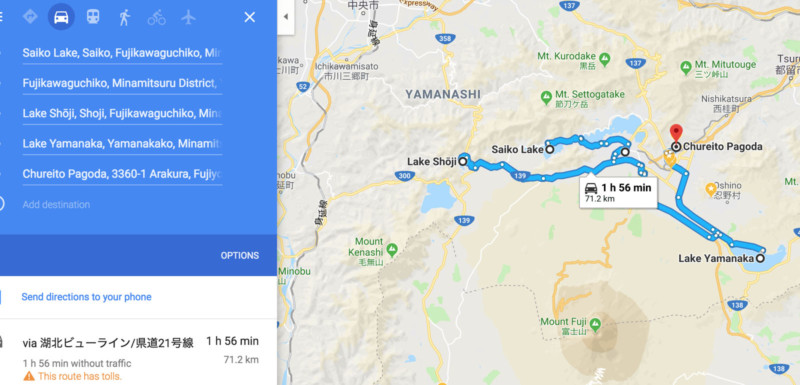 #1. Lake Kawaguchiko
On the Northern shore, you are certain to find great vantage points from Oishi Park in autumn or spring. Be prepared to run into crowds of tourists looking for the best trees with Cherry Blossoms or Cypress leaves.
If you are looking for some nice light then early morning or late afternoon in the golden hours are perfect up to 2 hours before sunset or after sunrise. Keep in mind that the sun drops earlier out of view as surrounding mountains can block off the sun rays. Sunrise and sunset times vary throughout the year so best to check using Google Earth or special apps like Photo Pills, Sun Surveyor, or Photo Ephemeris to name a few.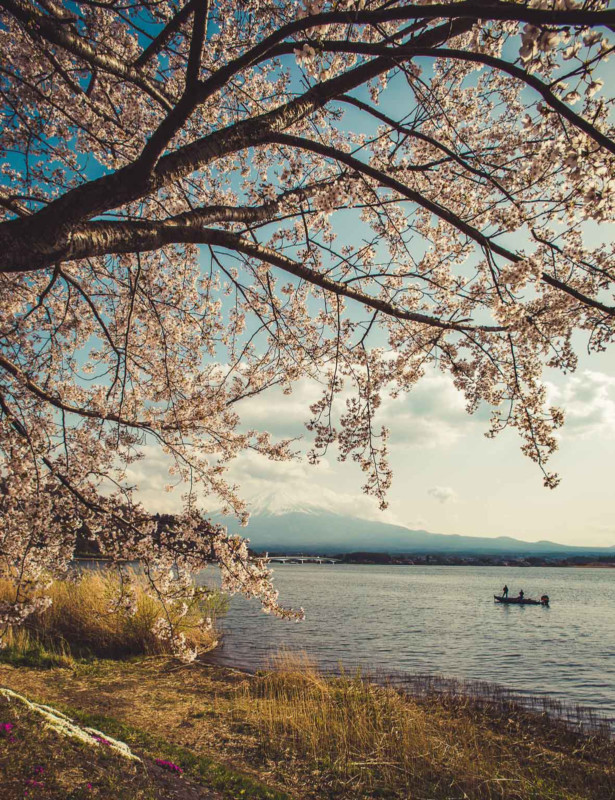 #2. Lake Saiko
If you continue driving along the shoreline heading on Kohoku View Line road you will go through a tunnel to see Saiko immediately after.
Saiko Nebahama Parking lot is the best spot to stop for a view looking back at Mt. Fuji. Great leading lines can be used with all the colorful canoes and fishermen dotted along the banks.
#3. Lake Shojiko
Only a 12-minute drive from Saiko will take you to a campsite along the western shoreline. I would suggest a mid-afternoon drive to be able to access all 3 lakes as quickly as possible.
Many City slickers escape to these areas for a weekend camping of R&R.
#4. Lake Yamanakako
Since this lake is on the Eastern side of all the five lakes, I would suggest going here in the morning after a sunrise shot at Chureito Pagoda.
The weather can be quite unpredictable as seen in the image below which was shot in early April of 2017. I was expecting some cherry blossoms but instead I got snow and some white swans.
#5. Chureito Pagoda
Iconic pagoda on a hilltop facing Mt. Fuji in Arakurayama Sengen Park that's reached via 398 steps. This should get your heart pumping and build up your appetite before breakfast.
Tripods and drones are not allowed up here. In the distance, you can sometimes hear the defense force training with gunfire and canons.
Every morning senior citizens make the climb and do their daily exercises. What a beautiful day to start each day.
Other Points of Interest
Fuji Q Highlands Amusement Park
Has the steepest roller coaster in the world with a 124-degree drop angle and 14 inversions. Bring your puke bag. Good luck trying to enjoy the view of the tallest mountain in Japan at a majestic height of 3776m. Mt. Fuji is an active volcano that last exploded in 1707.
Shiraito Falls
The Shiraito Falls (白糸の滝, Shiraito no Taki) are located in the southwestern foothills of Mount Fuji. Ranked among the most beautiful waterfalls in Japan, the 150-meter-wide cascade is fed by the volcano's spring water and flows off the edge of a 20-meter-high cliff in thin white streams that resemble hanging threads of silk – hence its name. The base of the waterfall is easily accessible from the road via a walking trail in just a few minutes.
Lake Ashinoko, Hakone
Lake Ashinoko (芦ノ湖, Ashinoko) was formed in the caldera of Mount Hakone after the volcano's eruption 3000 years ago. Today, the lake with Mount Fuji in the background is the symbol of Hakone. The lake's shores are mostly undeveloped except for small towns in the east and north and a couple of lakeside resort hotels.
---
About the author: Alfonso Calero is a professional photographer of over 20 years based in Sydney, Australia. The opinions expressed in this article are solely those of the author. You can find more of Calero's work on his website, Facebook, and Instagram. This article was also published here.